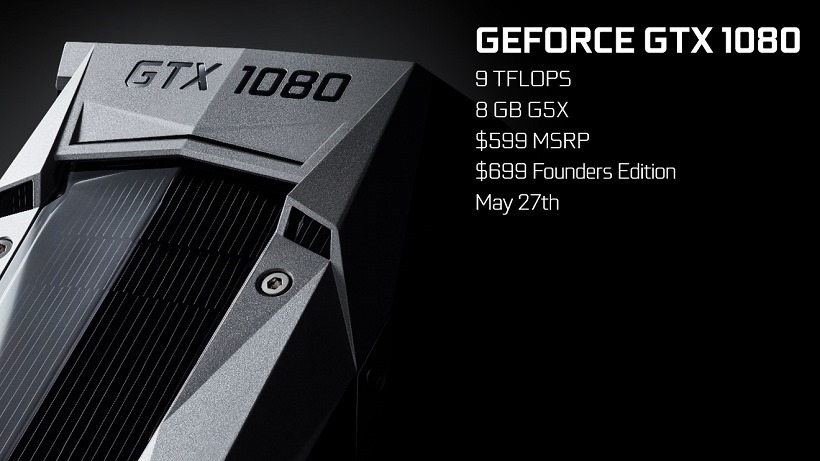 The order of 10 is Nvidia's new mantra, and it was on show in full force during an event over the weekend which finally revealed two new Pascal desktop GPUs coming to market very soon. Top of the pecking order is the new GTX 1080 – the new king of the hill that offers performance better than Titan X, for the fraction of the cost. And a hell of a lot less power consumption too.
The GTX 1080 takes all of power efficiency groundwork that Maxwell laid out, and adds a healthy dose of horsepower behind it. Launching on May 27th for $600 (the same price as the GTX 980 when it launched), the GTX 1080 boasts more power than Nvidia's previous crown holder, the $1000 Titan X. That price disparity isn't fiction, and it's Nivida's claim to bring 4K and VR Gaming right down to the enthusiast market, with reasonable prices.
Nvidia seems proud of their new Pascal card too, claiming even further that their new card outpaces two GTX 980s in SLI. That's a massive leap forward from generation to generation, with the new 16nm FinFETs certainly giving Nvidia more headroom for pixel pushing power. even more impressive is the fact that the card runs on a single 8-pin power connector, while being able to hit 2.1GHz on its core clock while being air-cooled with the new, more aggressive NVTTM cooler.
The GTX 1080 will ship with a large 8GB of GDDR5X memory, which is quite a bit faster than the standard GDDR5 memory featured on the Maxwell cards. That makes a big difference when the resolution starts scaling up, especially when more than one monitor is involved. Nvidia is tackling that particular problem too with new software called Simultaneous Multi Projection – which will make widescreen and multi-display rendering more efficient, and more visually pleasing.
The GTX 1070 clocks in at a lower $379, but Nvidia claims that it too manages to outperform a Titan X head to head. It's shipping with some lower clock speeds and 8GB of the slower GDDR5 memory, but still isn't a slouch on the best of days. This might be the more important card of the two however, especially given the extreme popularity of the GTX 970. If the GTX 1070 manages to offer the same price to performance, it could soon turn into the go-to card for the majority of PC gamers.
Either way, Nvidia impressed on Saturday with Pascal – a massive step forward for architecture that has been years in the making. It's rare to see such a leap forward in such a small time, which could render Maxwell the most short-lived term in Nvidia history. But with upgrades as tempting as this, does it really matter?
Last Updated: May 9, 2016