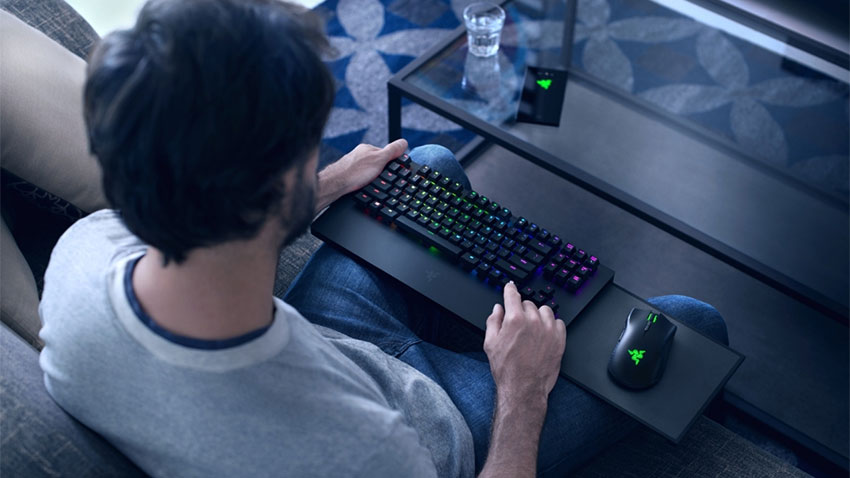 The Xbox One has official mouse and keyboard support, allowing those who favour that combination of inputs to play on console. Though many USB mouses and keyboards will be supported, the first official set comes via Razer. Released at this year's CES, the Razer Turret is a mouse and keyboard combo that's designed for couch play. There's a slider mousepad that extrudes from the keyboard, while the whole set up is designed to be comfortable sat upon your lap. Razer has also released a list of existing and upcoming games that have full support for the pc-centric inputs.
Here are the initial 22 games that have mouse and keyboard support:
Bomber Crew
Children of Morta
Day-Z
Deep Rock Galactic
Fortnite
Gears of War 5
Gears Tactics
Minecraft
Minion Masters
Moonlighter
Roblox
Sea of Thieves
The Sims 4
Strange Brigade
Surviving Mars
Vigor
War Thunder
Warface
Warframe
Wargroove
Warhammer: Vermintide 2
X-Morph: Defense
None of it is too surprising. Of course, Fortnite has support, as it already does on PlayStation 4. Presumably, the player base will be split by input on Xbox One just as it is on Sony's system. Thanks to the game's focus on building, keyboard and mouse players are at a huge advantage, so it makes sense.
It looks like Gears of War 5 and the turn-based spinoff Gears Tactics will both offer support too, though that's not a surprise. Gears of War 4 is on PC, and is one of the very few games where controller and keyboard and mouse players can happily play together. Ranked matches in that game mix Pc and console players together, and Gears Developer The Coalition has found there to be little in the way of skill disparity.
The curious omission of course is PUBG, as that was one of the first games trumpeted to have keyboard/mouse support. Turns out that information is false, and PUBG corp says they have no intentions of adding support just yet.
And that's actually the nicest thing about the Xbox One's keyboard and mouse support: it's all up to the developer whether they want to implement it, and how they want to implement it. If they want to mix controller and k/m players, they're free to do so. Either way, it's all optional for players, so it all comes down to choice – and choice is never a bad thing.
Last Updated: January 9, 2019