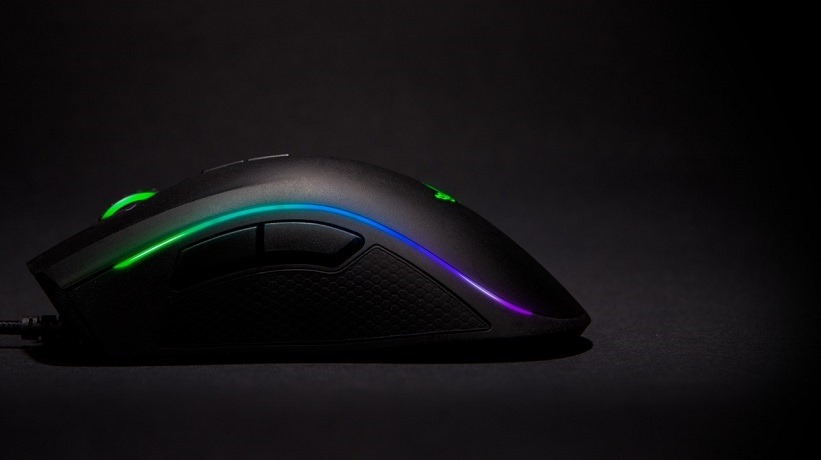 When it comes to choosing a mouse for my daily PC gaming, I've been picky over the years. I settled on the underrated Microsoft Sidewinder series for a while before making the jump to Razer, forgoing the company's tried and tested Deathadder and skipping straight ahead to the very first Mamba. It's a mouse that's served me well for years, and continues to do so today. The Razer Mamba Tournament, however, makes me want to question that decision.
The Mamba Tournament is not a direct replica of the traditional Mamba, instead taking most of its design cues from the cheaper (and more popular) Deathadder. It retains the two left-mounted optional buttons along with your standard left and right clicks, but adds in an extra two on the top that are exclusive to the Mamba's design. These two buttons, located just below the textured scroll wheel, allow you to modify DPI settings on the fly. Something that I believe should be standard on all gaming mice.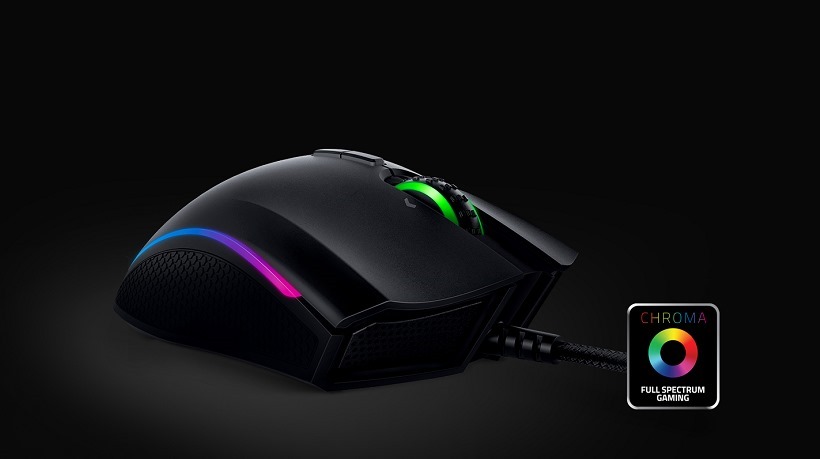 The mouse itself is finished with a sleek black coating, which does well to not pick up any hand oils or sweats you produces while gaming for long periods. The textured sides help grip enormously too, and the additional space on the right side of the mouse allows for a comfortable grip with ample space for you ring and pinky fingers. Holding the Mamba Tournament is a treat, and I went for hours without really need to adjust out of discomfort. It's simply lovely.
The additional weight on the Mamba Tournament over the Deathadder is also welcome, although may come down to personal preference. There's no sort of weight system involved here, but I personally love my mice to be a little heavier for more precise movement. It's a small but noticeable difference. The Mamba Tournament can't be used wirelessly however, although the lengthy braided USB cable is more than enough for even the most confusingly weird setups.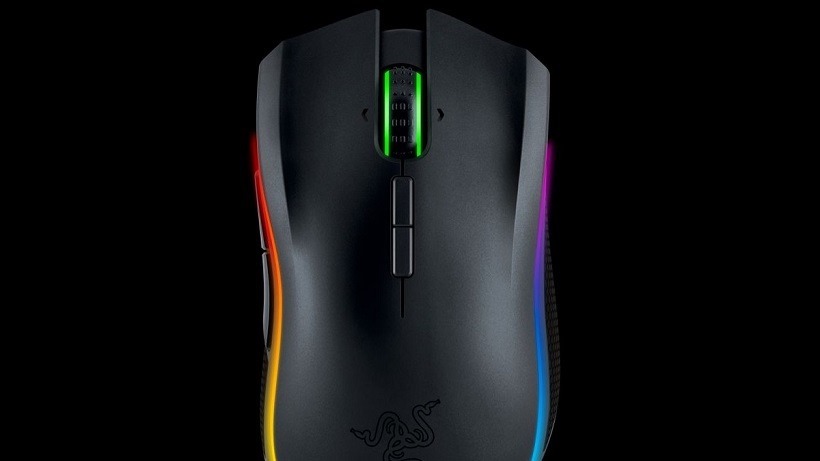 Keeping in line with the just as confusing push to augment every peripheral on your desktop with lighting, the Mamba Tournament features full RGB lighting across three parts of its design. Two strips running down the side of the mouse and the mouse wheel are able to light up in a kaleidoscope of colour, making it look like your mouse is vomiting rainbows when you first power it up. It's all powered by the rather fantastic Razer Synapse 2.0 software, which gives you a huge amount of control over your lighting and profile options.
In terms of raw lighting, Synapse lets you set a variety of different animations to the Mamba Tournament, ranging from solid, single colour lighting to single or split waves. The colour spectrum these make use of can be tweaked to your pleasure, as well as the speed and direction of compatible animations. If having a consistently lit mouse isn't your thing, you can set specific on/off commands too. Want the running rainbow off during a game? You can do that. Want it only to come on after a click? That's there too. Synapse is powerful, and there's almost certainly an option for the setting you're looking for.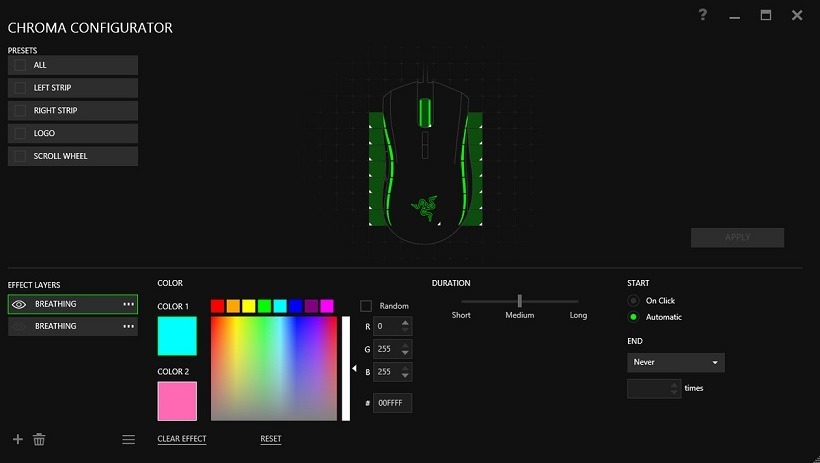 Outside of simple colours, Synapse also doubles up as a powerful tool for recording profiles individually for games. Mapping keys or recording macros for the additional side buttons is simple and fast, and can be done on a per game basis by assigned them to specific executable. This isn't exclusive to the Mamba Tournament or Synapse, but both should be commended for how fluid and easy they make the entire process. That can't always be said for competitors (looking at you sometimes, Logitech).
If there is a gripe to be had with the lighting in particular, it's the presences of a few dead spots across the strips running along the side. When animated it's difficult to see, but switch over to solid lighting and the small issues makes itself apparent. There are some noticeable gaps between the lighting segments on the mouse, which can lead to some bothersome dead zones. It's really a small issue, but if RGB lighting is as important to you as all the companies pushing it like to make it out to be, then it's something to note.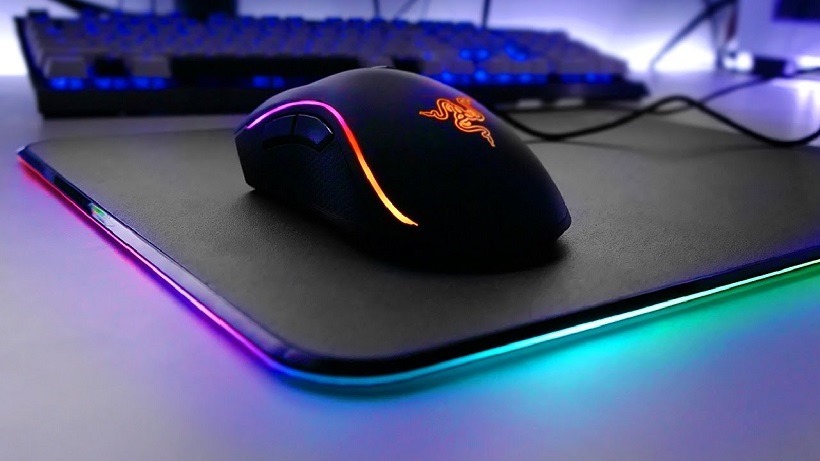 All of this would be pointless to list out if the Mamba Tournament didn't do its job properly, and on the front there's really nothing to fault. Using it with fast first-person shooters such as DOOM and Overwatch or just simply browsing, the Mamba Tournament stayed comfortable and accurate in any situation. Having the DPI buttons underneath the mouse wheel instead of aside the left-click (as is on the traditional Mamba) is a little disappointing in practice though, as it prevented me from changing the settings on the fly easily within a game. At least not without taking my hand fully off the mouse first.
These are small by blips on an otherwise exceptional product, that I'm happy to say has replaced my trusty old Mamba for the time being. It's not the perfect mouse, but Razer has once again delivered a quality product with all the extras the industry demands of it now. The Mamba Tournament Edition is a strong contender for your attention if you're in the market for a new mouse, especially if you're not up for breaking the bank for more expensive alternatives.
Last Updated: June 22, 2016
Razer Mamba Tournament Edition Chroma

The Razer Mamba Tournament Edition is a flashy, comfortable and exceptional mouse, ticking all the right boxes for an all-round performer. There are small issues with the RGB lighting and the position of a few buttons, but they're negligible when taking into consideration the full, near-perfect whole.