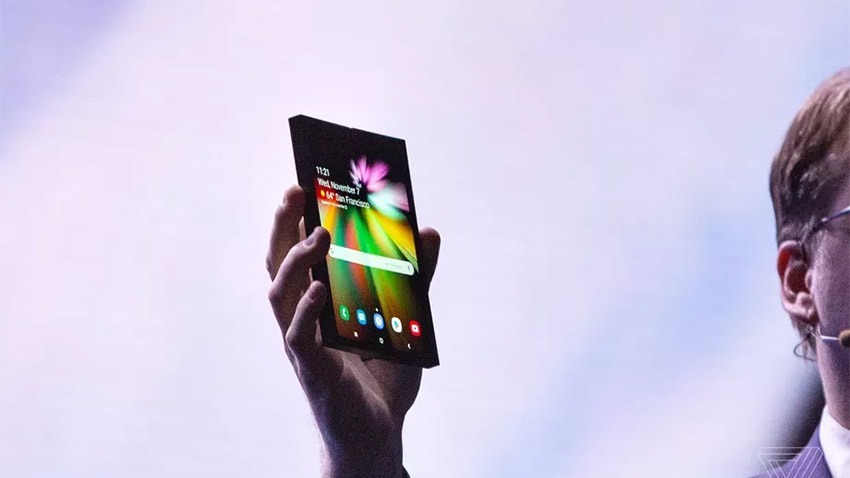 For some or other reason, foldable phones are probably the next big thing in mobile technology. Bored with just stuffing faster processors in their iterative devices, and tired with just adding more camera lenses to the back, manufacturers now want to create devices that function as both tablets and phones.
That's precisely what Samsung's doing, revealing the specs (but not much else) about its impending devise using its Infinity Flex Display. It's a tablet sized device that when folded, has a candybar-style form factor.
When folded, the device has a resolution of 840 x 1960. Operating in tablet mode, you'll get 1536 x 2152. Because of the odd form factor, it'll have a 21:9 aspect ratio, which makes it not especially suitable for watching videos, playing games, or anything beyond using it as a phone and messaging device. The unfolded 4.2:3 ratio with its 7.3 inch screen will be used for that, then. There's a lowly 420dpi though, so it's obvious the technology still needs to mature.
Beyond that, there's not very much information. Google has pledged support for "foldables," as they start rolling out in a few months. Samsung's got competition in that sector from Huawei, Lenovo, Xiaomi and LG, who're all working on their own foldable phones. Royole recently received its own flexible phone, which is the first commercially available device of the type.
While I can't say this sort of thing really interests me right now, then the technology has advanced a little more I'd be down for a phone that seamlessly unfurls to become a tablet.
Last Updated: November 8, 2018