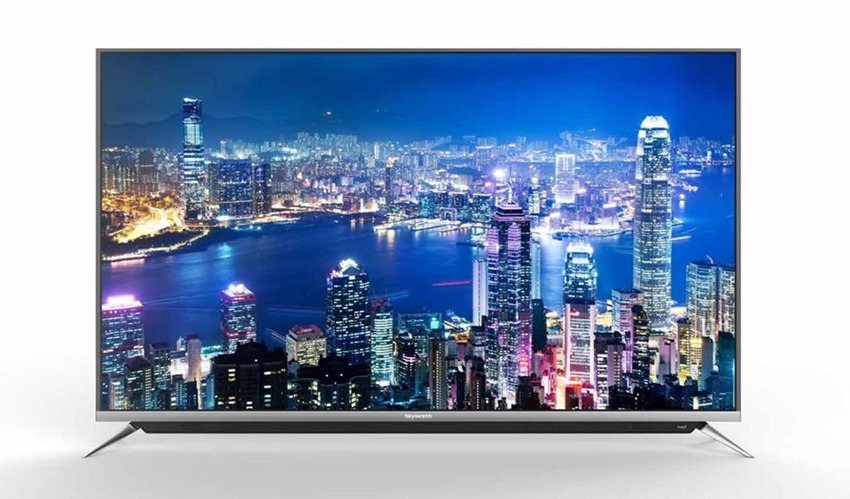 Skyworth likely isn't a name you're particularly familiar with. Though the multi-Billion-dollar company has been around for 30 years, their audio-visual range has only recently begun to emerge as a serious player in the local market. Like its bedfellow Sinotec, there's a focus on delivering great tech at affordable prices. With a manufacturing plant in South Africa, they're able to import the requisite components from China and build sets locally, helping bring costs down by avoiding the hefty import costs associated with assembled electronics.
For the last few weeks, I've been enjoying the 49-inch version of their G6 Android TV. It's a UHD set that packs in a fair number of frills, while keeping things affordable – but is it worth buying?
What's in the Box?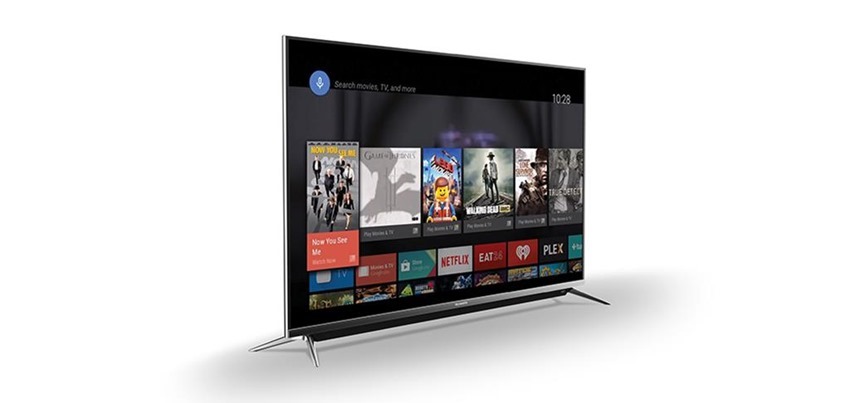 Inside the package, surrounded by layers of polystyrene and foam, you'll obviously find the screen itself. It comes with two metal stands for either side of the set that can be affixed with the included screws. Optionally, it does support standard VESA mounting options if you prefer your TV attached to the wall. It comes with a figure-8 power cable, a cable connector for legacy AV equipment, and not one, but two remotes. Also included is a Bluetooth video game controller that can be used on the TV, or with mobile phones. While Android TVs aren't the best places to play games, the controller is handy and a nice value-added pack-in. For what it's worth, it's a nice controller that liberally borrows from both the Xbox One and PS4 controllers. It's coated in a nice rubberised material, with triggers that feel similar to the PS4's and familiar symmetrical sticks, but with the button layout of an Xbox controller. The middle of it extends upwards and can act as a mount for a phone.
Design, inputs, look and feel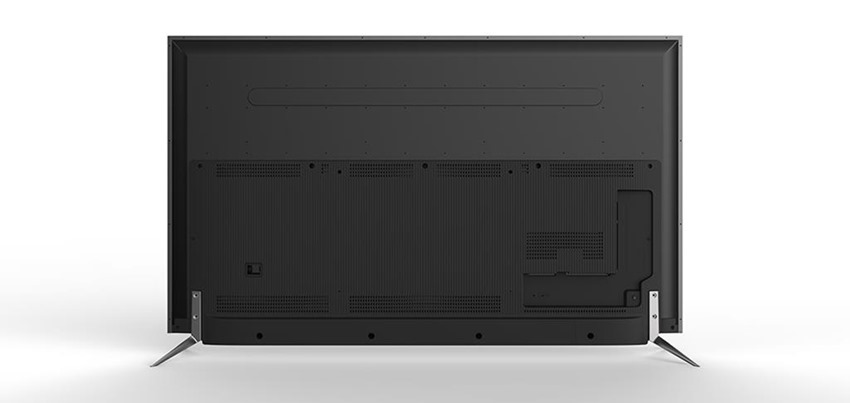 The Skyworth G6 is not a premium set and can hardly be called sleek, as can be told by its plastic construction at the back. It's a curiously light set too. Thankfully, the bits you can see are better. There's a slim silver trim around the edge of the set, with a "sound bar" type speaker running across its bottom panel. Along the left side, you'll find the primary HDMI input and a USB port, with another two HDMI ports at the back, along with a second USB. There's also the standard RF input for your aerial, and a port for the AV connector used for older equipment. You'll also find an ethernet port if you prefer wired connections, and an optical out port for connecting to an amp or AV receiver. There are very few buttons, with a single joystick at the back that controls everything for when you can't find either remote.
Setup and use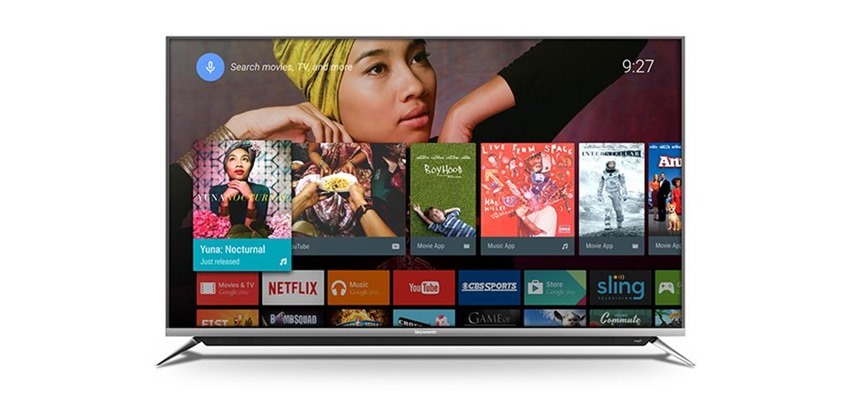 Because it runs on Google's Android TV operating system, setup is a breeze. After switching the unit on, you can do the rest of the setup from within the Google app on your phone. It'll automatically beam your Google account info, Wi-fi details and more straight to the TV through Bluetooth so you don't have to stand pecking away at a remote control to fill in details. If you use Google smart lock passwords, it'll even automatically fill in those details for built-in apps like Netflix. For apps that don't play nice that way, you can use your phone as a remote control for the TV, and as a virtual keyboard. One thing to note is that even though every bit of supporting material for the set says it comes with Android TV 6.0, it comes backing Android TV 8.0, which means it has the newer and far more intuitive lean back interface.
It comes pre-loaded with most of the apps that you'll need to enjoy a life of streaming, with Google stalwarts like Play Music and Play TV, but also Netflix. Because it runs on Android TV (and not just Android), it's certified by Google. That means it's one of the few TVs or set-tops that can run DStv Now – and it does so perfectly. One big problem with Android TV, still, is the dearth of apps. Not all Android apps will work with Android TV, which means that some of your favourite media apps might be missing. They're also often geo-restricted, so I had to resort to side-loading to get the Android TV version of Hulu on the system. You can, however, download VLC, so there should be no problem playing just about any media you can think of from USB. Of course, as an Android TV set, it has built-in Chromecast so you can beam media to your TV from your phone, mitigating the lack of Android TV versions of your favourite apps. As a note, Netflix in 4K (provided you subscribe to the highest tier) works flawlessly.
As I said, it comes with two remote controls. The first remote is standard TV remote with the buttons you'd expect, along with a dedicated Netflix button that automatically launches the video streaming service. The second, more simplistic one is modelled after the basic Android TV one. That does mean that it supports voice searching, letting you press a button then ask Netflix to put on the latest episode of whatever it is you're watching, or play a specific song. I have my own set-top Android TV box, and I have to say that this seems to work better. That may be down to the faster processor and higher RAM count, but it was a lot more responsive to my commands than my existing set up. The first two HDMI ports support ARC, so the sound will magically be pushed to a connected AV system.
The screen itself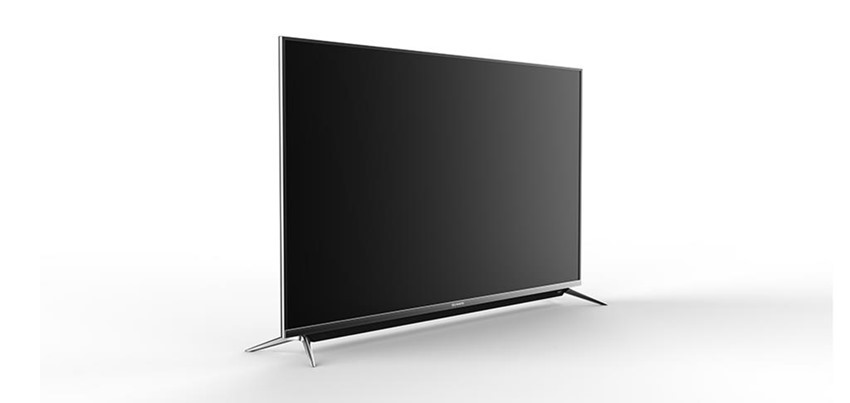 The panel itself is an LG-sourced LED IPS panel, with an 8ms response time, running at a standard 60Hz. I was surprised at how good things looked, considering its price. While there's no local LED dimming and a slight, largely unnoticeable bit of LED edge bleeding, black uniformity was surprisingly good. Out of the box, I did find it to be oversaturated at first, with colours far too bright and red for my liking.
Tuning it was not especially easy, as finding the right settings was troublesome. Instead of being able to set universal settings through the Google TV interface, I had to tune everything by first going to the input menu, and then heading off to advanced options. It would have been nice if the interface was a little clearer about that, but once I configured everything to my tastes, I was impressed with the colour reproduction. There was little to no noticeable colour banding, despite it being an 8-bit panel. While the G6 screen has a glossy finish, it handles reflections well, and I was able to watch TV and play games in a bright room, without staring at my own visage in the screen.
HD content upscales well, though it can be slightly soft. I had no problems with watching standard Blu-Rays and streamed 1080p content, while 2160p content is crisp and impressive as it should be. Unfortunately, despite supporting 4K (with HDCP 2.2), the set doesn't have any HDR support. With its 250nits peak brightness, it wouldn't really be able to handle HDR content well anyway. It does handle 4k @ 60Hz @ 4:4:4, though that required wading through menus to enable as well. Thankfully, that doesn't mean it's a wash for gaming. Despite the lack of HDR, it works well for gaming thanks to low input latency. While I don't have the equipment to measure input latency and have to work of feeling, I can say that inputs were better than they were on my own LG set, which has about 32ms of input latency. Games looked great in 2160p, and they felt great too.
And that soundbar?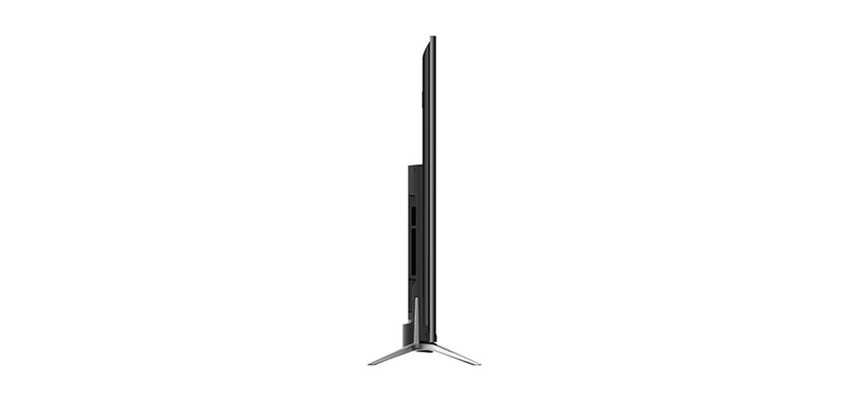 There's a pair of front-facing speakers in a bar along the edge of the screen. They're…well, they're just ok. While they do get suitably loud, they don't sound especially good. They'll absolutely do, and they're better than many other built-in TV speakers, but if you like decent audio at all you're going to want to connect the TV to an AV receiver or get a decent soundbar.
Negatives and niggles
There are, of course, a few niggles that bugged me. The first is that I could not get the set to output 5.1 through ARC, no matter how much I tried. That means only stereo through ARC, but I did get it to pass through 5.1 Dolby Digital through its optical port. I also did have a few HDMI CEC control issues. For whatever reason, the TV and my amp fought over which device was responsible for setting the volume, so trying to change it resulted in it jumping up by two notches, then jumping down by one, making the simple act of volume control needlessly frustrating.
So, do I recommend it?
For the current price, it's a decent set. Right now, the 49-inch variant is available for R6999, which is not a bad price for 4K set that size. The lack of HDR may sting for some, but if you want decent HDR then this isn't the sort of set you'd be looking at anyway. Its biggest strength (and sometimes its biggest weakness) is the Android TV operating system itself. As it's Google certified, it can run DStv Now without issue. While the front end of Android TV is intuitive, it can be curiously and needlessly fiddly when it comes to finer, more technical settings.
I enjoyed my time with Skyworth G6, and if budget (and DStv Now) is your biggest concern when it comes to a 4K TV, it's worth getting. The 49 inch is currently R6999 on special, while the 55-inch is R8 999. If you want the monstrous 65- incher, that'll be R15 899. a 75 inch version exists, but doesn't appear to be available locally.
Last Updated: November 14, 2018
Skyworth G6 4K Android TV

If size and budget are bigger considerations in your 4K TV purchases than HDR, then Skyworth's Google-certified Android TV's are worth looking at.