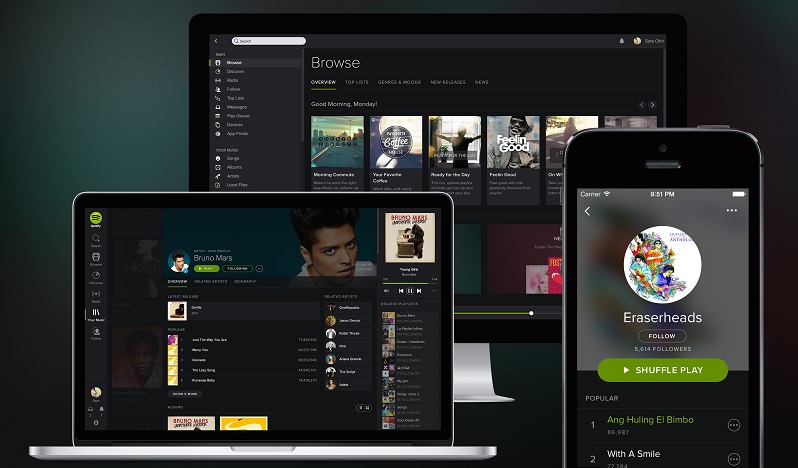 It appears one of Spotify's biggest issues (its small limit on downloads) is about to get resolved as according to a new report from The Rolling Stone, the company is planning to increase its limit from an arbitrary 3,333 songs per device across three devices to 10 000 songs per device, according five devices for a total of 50 000 songs should you want to have different music on multiple hardware options.
It's a healthy increase which should definitely please fans who want to be able to play an ample amount of music offline, and with the device count increase that means that you and your entire family could probably easily have their music needs met on each of your device of choice. However, there is one caveat to all this: A limit of 10 000 tracks limit in your personal library, is still remaining firmly in place. Given the recent increase in offload downloads however, it's a limit I can see them increasing in the near future as well.
10 000 songs is quite a massive amount of music still, though it is a number that can be reached quite easily over a few years of listening unless you're still trapped in the 1990s grunge era like Darryn is. It's definitely a move in the right direction though and only makes Spotify that much more attractive to people that haven't already started using it.
As for me, I'm old fashioned and prefer to own my music outright, especially if I love an album or an artist. It's an expensive habit that I am starting to get tempted to stop investing in and rather use something like Spotify for more recreational listening and to download new music I like. 10 000 songs is enough music to keep me going for a long time and I can still purchase the ones I listen to the most so that they remain mine for all eternity.
Or until all my backup hard drives crash.
Last Updated: September 13, 2018