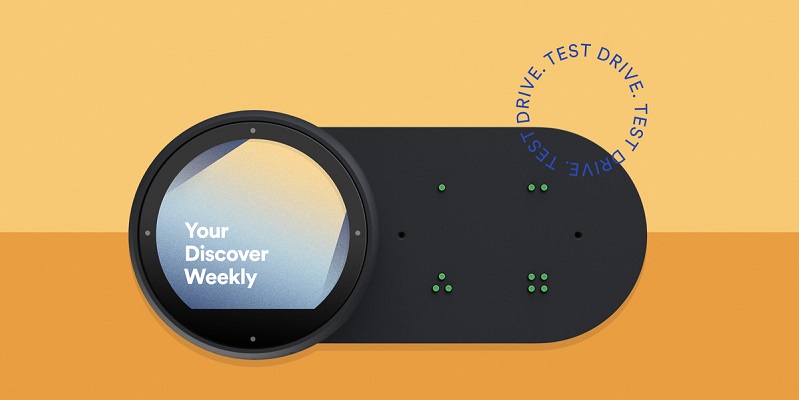 Spotify may be the leader in music-streaming globally, but like most tech companies these days, it doesn't have its sights set on being a one-trick pony. Spotify wants to continue expanding into other markets on their eventual path to world domination. And to begin this diversification, the company is reportedly testing its first piece of hardware: a voice-controlled smart assistant for cars meant to help Spotify learn how people consume audio while they're driving
The device, which was announced by Spotify via a blog post, is called Car Thing, plugs into a vehicle's 12-volt outlet (aka a cigarette lighter) for power and connects to both a person's car and phone over Bluetooth. The device can be activated by saying, "Hey, Spotify," followed by a request for whatever the person wants to hear. It'll be linked to a user's Spotify account so they can access their playlists. As part of the testing, some Premium users in the US will be receiving the device for free to allow Spotify to determine its effectiveness and readiness for the market before they decide on an official wider release.
The device itself includes a circular screen on one side, which will show what's being played. On the other side are a series of buttons that can be used to access playlist presets set up by the user. It's a device that certainly allows for some nice integration with people's music functionality, but in a world where devices can be connected to a car's blue-tooth system, one that I'm not sure people will find particularly useful outside of the company's own "data gathering" mission. Something which is also surprising given the big focus and fallout from many consumers on the amount of data companies store from them.
Still, expect this to be the sign of more to come from Spotify who has reportedly also trademarked the names Voice Thing and Home Thing suggesting that other similar devices could be coming in the near future. The company is still focusing on the lucrative music and radio market for now, but I also wouldn't be surprised if over time, considering these sort of devices become a success, that we will also see the company start making a play for other markets too.
Last Updated: May 20, 2019