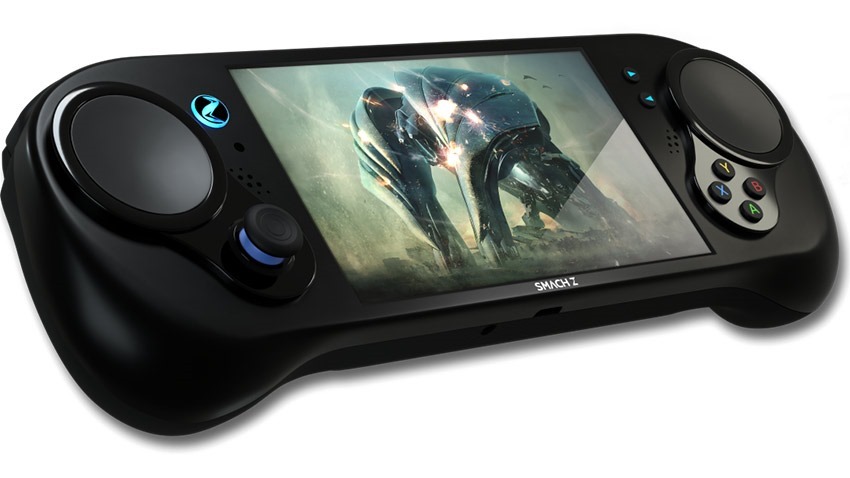 The Smach Z is a handheld mini PC that's incredibly ambitious. Perhaps a little too ambitious. It's been kicking about in some form or another since 2014, with the current iteration is a crowd-funded machine that'll let you play modern PC games at a reasonable frame rate, in a handheld that's effectively a Steam controller with a PC embedded into it.   That's the promise, but it's one I have a hard time believing.
I got to see the device at E3, and it was very far from being ready for prime time. The mould was bad, nothing really fit together and the device wasn't even a production prototype. It was running in a shell with everything being piped to it from a connected laptop. A further look into the thing, and it seems the whole crowd-funding campaign has been built on a bed of lies. Now though, after innumerable delays (the last ship date was given as last month, but that obviously didn't happen), the company says it'll be shipping the thing out next year.
The company sent out a press release confirming the scheduled delivery, along with two promotional videos that purport to be running on prototype hardware.
"The SMACH Z team confirms that providers are already working on components production and delivery. Mass production of SMACH Z, the device that promises to revolutionize the world of PC gaming, is scheduled for Q1 of 2019.

After two years of development, the device is ready to go to market with a 6-inch high-definition touch screen and hardware based on AMD Ryzen Embedded and AMD Radeon Vega 8 Graphics."
Given the numerous red flags with the systems development, I won't be convinced until I actually have one in my hands. It's available to pre-order on Smach Z, but I can't really recommend anybody do that.
Here's a look at the specs:
CPU: AMD Ryzen™ V1605B SoC at 2.0 GHz base 3.6 GHz boost
Cores / Threads: 4/8
GPU: Radeon™ Vega 8 Graphics. 8 CU 1.1 GHz
RAM: Up to 16GB DDR4 2133 MHz. 4GB (SMACH Z) || 8GB (SMACH Z PRO)
Storage: Up to 256GB SSD. 64GB (SMACH Z) || 128GB (SMACH Z PRO)
Screen: 6" FULL HD (1920×1080) Capacitive touch-screen
Battery: 5 hours of gaming. (4 cells of 3200mAh each. 46WHr)
MicroSD Card Slot
USB 3.0 type C
USB-A
Micro-USB
Display Port video out
Wi-Fi connectivity 5.0 Ghz
Bluetooth connectivity.
Front-camera 5-megapixels (PRO model only)
Last Updated: November 19, 2018