Which airline gives you the best in-flight entertainment? While options are always changing, here is the most updated list for the best choices in 2023.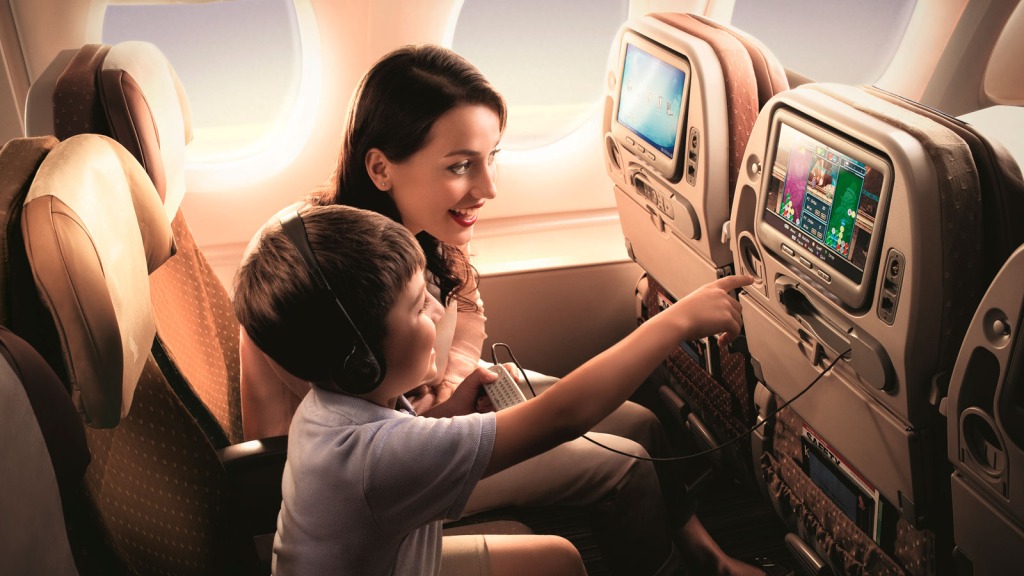 1. JetBlue
JetBlue has always been big on offering a great in-flight experience. They offer free movies, live television, free Internet, and even in-flight text messaging, which is great for entertaining the kids, says familytravelpath.com. Best of all, these options are offered at every single seat, so there is no need to share or to bring your own device to enjoy everything they have to offer. Most JetBlue planes provide charging outlets for AC and USB cables. This means you can enjoy the in-flight entertainment while you charge your devices. On top of all that, they also have a great selection of snacks to buy and excellent complimentary choices as well.
2. Delta
Our second choice is Delta because of its seatback screens in most of its planes, although not all of their screens are of the best quality. Some of them have trouble sensing your fingers as you tap and swipe. They often have issues with headphone connectivity as well. However, Delta does offer free movies and in-flight messaging. You will have to pay an extra fee for any Internet use, however. They have an impressive selection of in-flight entertainment, including 18 TV channels, according to USAToday. Delta is rolling out free Wi-Fi connectivity for its domestic flights this year, which helps push them a little closer to that top spot on our list. Their in-flight options include free snacks and charging ports for USB devices.
3. Southwest
Southwest comes in 3rd, because you still have to pay for Wi-Fi across the board with them, at the cost of $8 a day for each device (source). They do offer free Wi-Fi for some of their members, though. The big drawback with experiencing in-flight entertainment with Southwest is that they often have no screens in their planes. You have to bring your own tablet or phone and then hook up to the in-flight Wi-Fi. If you didn't bring your own device, you may not be able to watch anything on their flights. The in-flight Wi-Fi is only to connect your device for their entertainment selection, but you typically have to pay to browse the Internet and use normal Wi-Fi functions. Another disadvantage to using the Southwest is that they don't have onboard power outlets. There is a plan in the works to change that, but it has not fully taken effect.
Southwest offers a basic snack selection as well as snacks you can purchase. There is nothing sensational here to make them stand out, though.
Options to Avoid
If you need good in-flight entertainment to have a pleasant flight, especially on those longer trips, we would suggest you skip Spirit and Frontier. Both of these airlines offer budget friendly prices, but they have almost nothing to offer in way of in-flight entertainment. Frontier has no free food or entertainment, although Spirit gives you Wi-Fi at an additional cost.
Last Updated: February 8, 2023