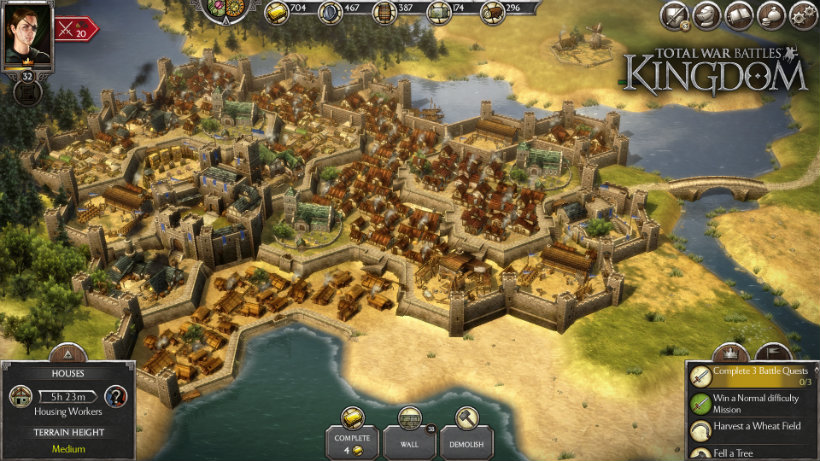 Total War Battles: KINGDOM is a new spinoff from the Total War franchise coming to iOS and Android devices, as well as PC and Mac. Releasing 24 March, it might be tempting for fans of the franchise while they wait for the game they really want – Total War: Warhammer. But what does it offer?
According to the PR sent to my inbox,
In Total War Battles: KINGDOM, players shape their lands to transform the wilderness into a powerful and productive Kingdom. Manage their Kingdom's economy, build castles and towns, grow the population and expand their territory. Players can raise powerful armies and go head to head with other players or AI enemies in large scale real-time battles.
With one persistent world, players will be able to continue their game across multiple devices, at home, work or out and about.
That sounds pretty cool, and much like Iron Marines, it's cool to see the RTS genre making its way onto mobile. Like Hearthstone, players can play the same game on PC or Mobile, taking progress with them across devices. That's all well and good, but then I saw the trailer:
Is it just me or does this look and feel a lot like Clash of Clans? Sure, there's no Liam Neeson in the trailer, but otherwise it has such a similar vibe. I guess it is in the same genre, and with Clash of Clans being so popular it makes sense that Total War would want to get in on the Cash of Clans. Maybe the mobile experience is great and maybe it's a fun spinoff from the Total War guys. Unfortunately, it just feels like a mobile cash grab to me. Then again, that seems to be the feeling I get from far too many mobile games these days.
Last Updated: March 18, 2016