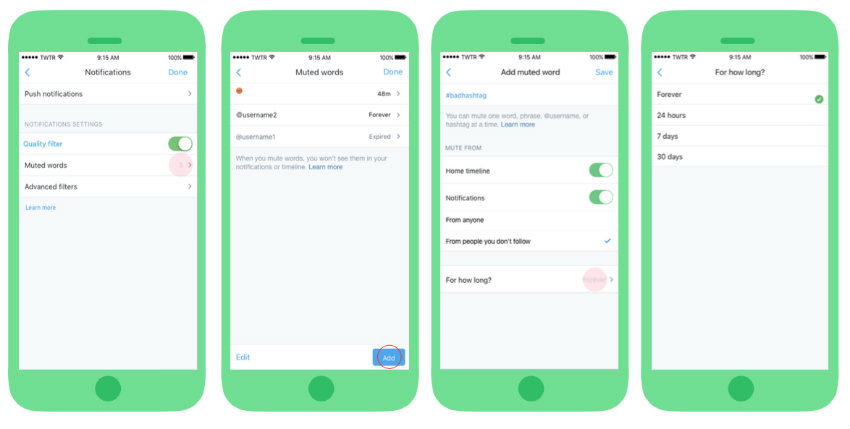 Twitter has been my favourite social media for a long time, but in recent months I've noticed that I'm just not on it as much. I still check it from time to time, but I'm just not as glued to my twitter feed as I once was. In fact, I'm finding better articles on my Facebook newsfeed lately, and more intriguing silliness on my Instagram feed, so Twitter is just a place I check now and then. A big reason for that is because most of the time when I do get dragged into a Twitter conversation, it's because someone is being a troll, or abusive, or generally just painful. And some people face harassment that is way, way worse. But now, Twitter is actually going to do something about it.
Announced on their blog (thanks Recode) the company is doing three things to improve the platform – using technology to reduce abusive content, adding new tools to filter and block, and being more transparent about their actions. The first action is pretty much a timeout for bad behavior that the tech picks up on:
We're working to identify accounts as they're engaging in abusive behavior, even if this behavior hasn't been reported to us. Then, we're taking action by limiting certain account functionality for a set amount of time, such as allowing only their followers to see their Tweets. For example, this change could come into effect if an account is repeatedly Tweeting without solicitation at non-followers or engaging in patterns of abusive behavior that is in violation of the Twitter Rules. Our platform supports the freedom to share any viewpoint, but if an account continues to repeatedly violate the Twitter Rules, we will consider taking further action.
I like this idea. If you are spamming randoms, but you still have a population of followers who want to see your content, even in "timeout" your account will still be visible. But at least those who aren't following you won't have to deal with your awful behavior.
The second action, though, will definitely be a big hit for those suffering from online abuse, as well as those just trying to dodge spoilers. From an abuse perspective, users can now filter notifications so that they don't even get notifications from unverified accounts or even go as far as only receiving notifications from users they already follow. As for muting, users can now mute users, keywords, phrases or entire conversations – and you can say for how long. Worried about spoilers from your favorite show, but know you will watch it that night? Mute the word for a day and then join in the conversation again tomorrow. Or, just mute all mentions of the American president in your timeline forever and live in a totally different version of the internet.
Finally, Twitter will also give more feedback when users do report bad behavior:
You'll start to hear more from us about accounts or Tweets that you've reported to our support teams – both when you report harassment directed at you or another account. You will be notified when we've received your report and informed if we take further action. This will all be visible in your notifications tab on our app.
I'm really glad that Twitter is taking a more proactive approach at last. Harassment is a big problem on social media in general, but it's particularly bad on Twitter, so this should help to make it a happier, safer place. I do worry that it will also make it more of an echo chamber for some people, especially those who choose to mute anyone they disagree with, but I still think this is a step in the right direction.
Last Updated: March 2, 2017