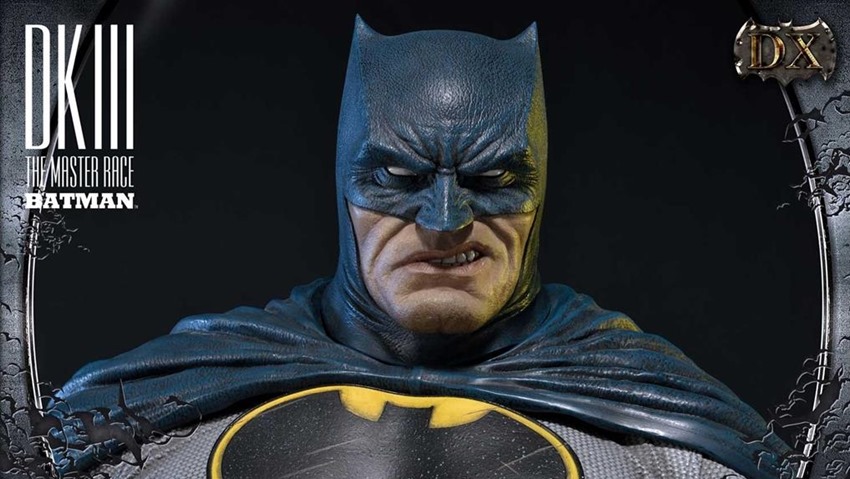 Fun fact: Everyone knows of The Dark Knight Returns. A landmark graphic novel by Frank Miller and Klaus Janson, this was the mini-series that redefined Batman for generations to come. Older, wiser and well past his prime, The Dark Knight Rises is in many ways a finale to the myth of the Batman. What most people don't know, is that Miller followed up on the series with not one but two sequels.
The Dark Knight Strikes Again from 2001 is an absolutely bonkers sequel that features a leaner and meaner Batman fighting back against Lex Luthor's iron grip over the United States of America. The Dark Knight III: The Master Race saga ups the stakes, and features the planet under siege from a cult of religious zealots who escaped from the Kryptonian bottle city of Kandor.
Both mad and inspiring, Master Race isn't just a fun action romp but also a rebuilding of the trust that had been lost between Batman and Superman. A reunion of the world's finest, joining forces to once again fight back against impossible odds. Even with more years added  on to him, this version of Batman is still as ruthless and as dangerous as he ever was. Especially at the end, if anyone who read the series will know.
Anyway, if you are a fan of Miller's Dark Knight series, then you'd probably like to have some memorabilia with which to honour the series. Merch that ain't cheap, but trust me: It don't shiv easy. Shhhh! Here's a look at the Prime 1 Studio The Dark Knight III: The Master Race – Batman 1/3 Scale Statue, which happens to be huuuuuuuuuuge:
Prime 1 Studio is proud to present 1/3 scale MMDCDK3-01: Batman from The Dark Knight III: The Master Race. The Dark Knight III: The Master Race, also stylized as DK III: The Master Race, is a nine-issue DC Comics limited series co-written by Frank Miller and Brian Azzarello and illustrated by Miller, Andy Kubert and Klaus Janson. It has been 3 years since Batman was last active. In that time, most believe that he is gone or dead, rejecting the idea that he would ever come back.

They were wrong. A photo of what appears to be Batman is taken, showing him mercilessly taking down cops who were going to shoot an unarmed boy. The media of course blows up, all that is talked about is the return of the Batman. The series is a sequel to Miller's 1986 Batman miniseries, continuing the story of an aged Bruce Wayne resuming his identity as a crimefighter, aided by his sidekick Carrie Kelley (Robin) and featuring an ensemble of DC Universe characters including Superman, Green Lantern and Wonder Woman.
That's 40 inches of Batman, or around three Darryns in Dingus measurements. There'll be two versions available: A $999 regular statue and a deluxe $1199 kit that throws in plenty of extras:
Size approximately 40 inches tall [(H)101.7cm (W)65.9cm (D)57.6cm]
Three (3) alternate portrait (Normal, Smirk, Angry) – Deluxe Version
Two (2) switchable chest emblem (Normal, Classic) – Deluxe Version
Two (2) interchangeable right-hand (Fist, Holding Batarangs) – Deluxe Version
One (1) interchangeable left-hand holding Sniper Rifle – Deluxe Version
One (1) interchangeable pair of hands holding a Grappling Hook – Deluxe Version
It'll be out next year December, which should give you some time to save up for those Billy-bad prices. Shhh!
Last Updated: October 26, 2018