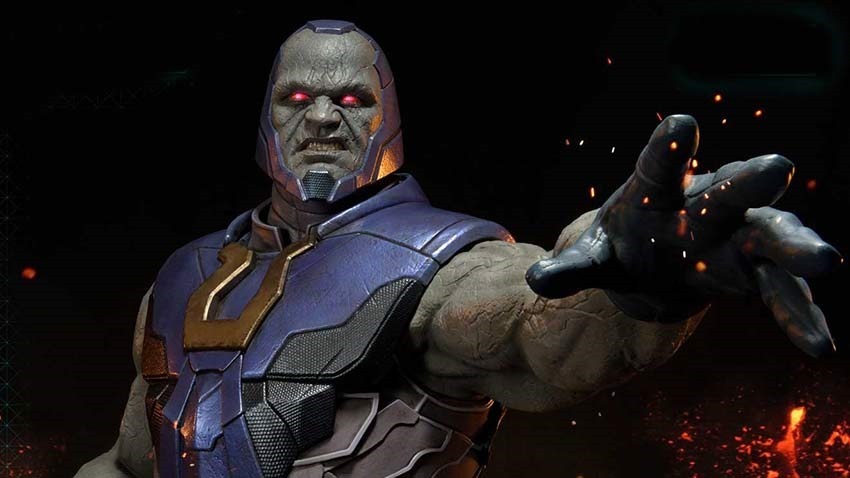 Marvel may have Thanos and his snap-happy Infinity Gauntlet fingers, but even that raisin-chinned big bad pales in comparison to the daddy of evil: Darkseid. The New God who rules Apokolips with an iron fist and his infamous Omega Beams, Darkseid simply…is. The living embodiment of the idea of tyranny, Darkseid is a force of nature whose only goal within his existence is to prove the futility of life itself.
Which makes for a heck of a fascinating antagonist, as Darkseid rises above the usual stereotypes of villainy and represents a different form of menace. Over the years, he has carved out a presence in multiple forms of media: Superman's 1990s animated series saw Michael Ironside give life to the tyrant, Smallville featured his presence as the antithesis to Superman and even the recent DC Universe movies hinted at his coming.
In video games however? Darkseid doesn't appear that often. He's more a welcome guest character in fighting games, something which he proved in the recent Injustice games. Injustice 2 saw him back for a second round of supe-powered fisticuffs. And I have to say, I did like his design in that sequel. A design which Prime 1 has captured with their latest replica statue:
There'll be two versions of the statue available: A $1199 version and a $1249 version that chucks in an angrier head. Both statues can take Darkseid's infamous patience pose, or you can change things up and give him a more dramatic pose with an open palm that stretches out to grab the anti-life equation that your bank budget has become.
They're also flipping massive: Approximately 34.4 inches tall (87.3cm), when fully assembled. If you feel like hailing to Darkseid, they'll be available in March 2020.
Last Updated: January 17, 2019