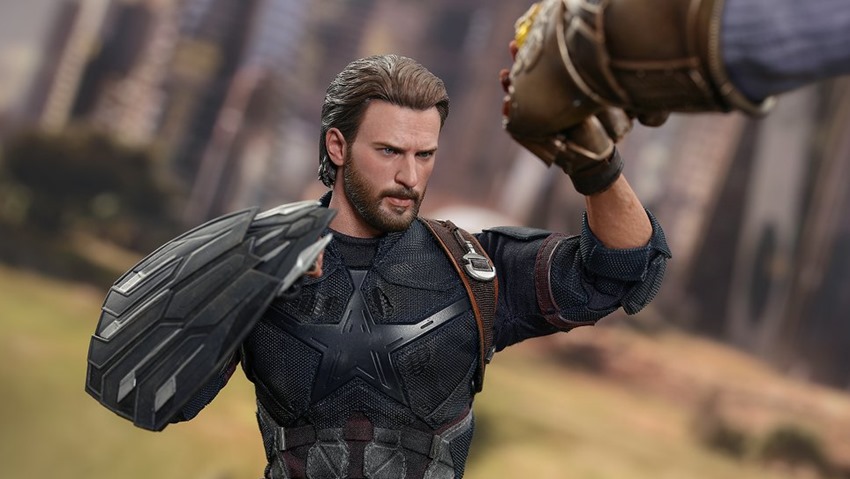 Hot Toys has been on a roll lately (not that one), unveiling new toys for their Avengers initiative on what seems to be a weekly basis now. We've already seen a new Iron Man, Thor and Black Widow revealed, but what good are Earth's mightiest mortals without someone to lead them? What you need is a sixth-scale super-soldier, a man out of time and ready to risk life and limb against cosmic bullies who would extinguish half of all life in the universe given a chance.
What you need, is Captain America. And his magnificent beard, because just look at this fella and try not to swoon over the eery plastic sculpting that went into his impressive super-soldier serum super-beard:
WHAT'S IN THE BOX?
The 1/6th scale Captain America Collectible Figure (Movie Promo Edition) specially features:
Authentic and detailed likeness of Chris Evans as Captain America in Avengers: Infinity War
Movie-accurate facial expression with detailed hair, beard and skin texture
Newly developed body with over 30 points of articulations which portray Captain America's muscular body in the film
Approximately 31 cm tall
Eight (8) pieces of interchangeable gloved hands including:
One (1) pair of fists
One (1) pair of relaxed hands
One (1) pair of weapon holding hands
One (1) opened left hand
One (1) gesturing right hand
Each piece of head sculpt is specially hand-painted
Costume
One (1) newly tailored red and dark blue-coloured Captain America suit with battle damage on chest to reveal scale patterns underneath
One (1) pair of newly tailored blue embossed patterned pants with pouches, knee pads, and red trims
One (1) pair of fabric coated dark blue-coloured elbow pads
One (1) pair of fabric coated dark blue-coloured knee pads
One (1) brown leather-like body strap
One (1) brown leather-like belt with pouches
One (1) pair of dark brown-coloured boots
Weapons
One (1) pair of newly crafted black-colored articulated Wakanda shields with silver-coloured trim
One (1) Mystery Weapon to be revealed after movie release
Accessory
A specially designed Avengers: Infinity War themed hexagonal figure stand with movie logo
Exclusive Accessories for MOVIE PROMO EDITION
One (1) Exclusive Mystery Weapon to be revealed after movie release
One (1) Outrider diorama with interchangeable rocky ground graphic card attachable to the hexagonal figure stand
When Captain America finally gets and throws his mighty shield, you can expect to hear a familiar sound of Vibranium dinging some Outrider skulls in the first or second quarter of next year. There's no price at the time of writing for this figure, although I'd wager around $240/R3000 for the rights to that marvellous beard and the figure attached to it.
Last Updated: April 12, 2018