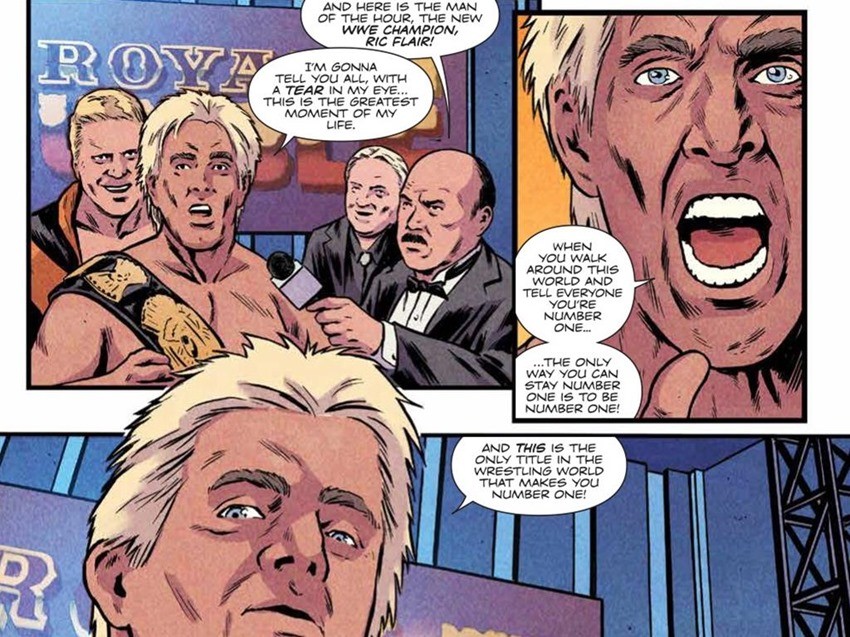 Writers: Ryan Ferrier, Michael Kingston, AJ Styles, Kevin Panetta
Artists: Kendall Goode, Daniel Bayliss, Kelly Williams
Imagine for a second, that there was no break from reality with the WWE. Imagine if the professional sports entertainment outfit was just as real backstage as it was on TV. Think for a second just how crazy it would be to live in a universe where you're constantly being filmed, watching matches backstage at an awkward angle and your skull has a permanent resting place for a steel chair.
That's always been part of the appeal of the WWE. This sense of the mythic, of sports entertainers with grand entrances and even grander personas. If that's a world of fiction in front of the camera, I'd love to live in it. Especially when the road to Wrestlemania begins with the Royal Rumble. Out of all the events that have defined the spectacle of the WWE, it's an over the top rope challenge that has captured the mania of the WWE Universe at its most mental over the years.
You think of Kane running rampant with his various records, of near misses and great escapes that saw 29 men eliminated and one plucky superstar being awarded with a ticket to the main event of the showcase of the immortals. That's a story worth telling, something which Boom! Studios ably does in a Royal Rumble primer.
Now here's the thing, there are some great stories within this comic book. There's Ric Flair winning his first Rumble and realising that he just stepped into the big leagues. There's the New Day remembering Kofi Kingston's miraculous escapes over the years and a flashback to AJ Styles and his surprise entrance a couple of years ago that was too sweet.
And then there's a story of the Macho Man Randy Savage on the run from a very pissed off and determined Ultimate Warrior. Sweet Luna Vachon, it is more glorious than Bobby Roode's entrance music. Written by Ryan Ferrier and drawn perfectly by Kendall Goode, it's a story of muscles flexing and heavy grunting.
It's an adventure of the Ultimate Warrior obliterating the Macho Man's car like a bonus level in Street Fighter II, of the near-suicidal madness of Jake "The Snake" Roberts in 1991 and how waffles can betray a king. It's everything I love about the WWE, distilled in a few pages of insanity as the Macho King that fills in the blanks between the Rumble of that year and the titanic match-up that resulted the Ultimate Warrior defeating the mountain of machismo at Wrestlemania VII.
Simply and maniacally superb stuff. It's out this week January 10 in your nearest comic book stores (SUPPORT YOUR LOCALS!) and online. And OOOOOHHHHH YEEEAAAAHHHH it's worth snapping into a Slim Jim for.
Last Updated: January 9, 2018