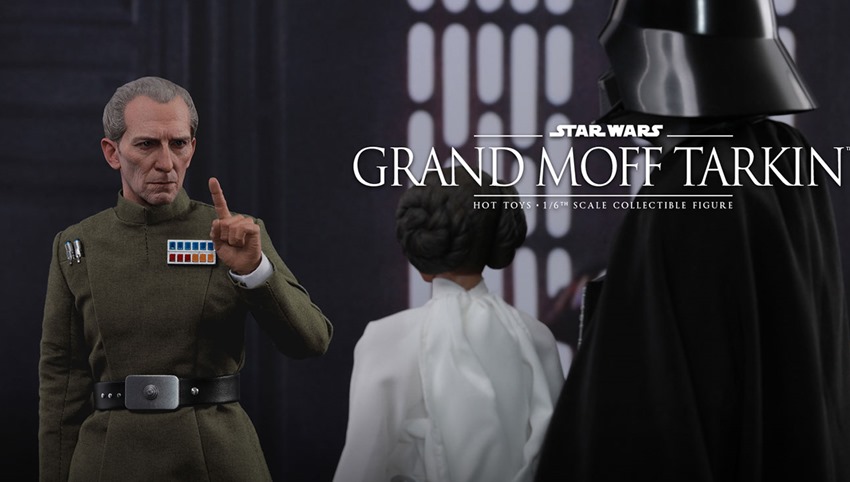 Hot Toys and Star Wars go together like McDonalds burgers and stomach pumps. There's a partnership there, which has resulted in some truly fantastic sixth-scale works of art over the last couple of years. Everything from Han Solo and Princess Leia in their original Episode IV outfits through to detailed stormtroopers and Darth Vader himself have gotten a chance to shine, and you can bet that more figures are on the way.
Like this Grand Moff Tarkin fella, who happens to have been resurrected via the uncanny valley magic of CGI in last year's Star Wars: Rogue One. Portrayed by the late Peter Cushing in A New Hope, Tarkin's role in that film was simple: The Emperor's right hand and a military tactician whose dedication to the Empire was unquestioned, he was the only authority on the Death Star that Vader answered to.
Pretty impressive really. Finally getting the sixth-scale treatment, the Hot Toys version of Tarkin looks even better than the nightmare fuel seen in Rogue One that stole the famous battle station out of director Krennic's dapper hands. He also comes with an adorable chair, so you know he means business. Here's the full description from Sideshow:
An ambitious, ruthless proponent of military power, Wilhuff Tarkin became a favourite of Supreme Chancellor Palpatine and rose rapidly through the Imperial ranks. Tarkin saw the Death Star as a way to crush all dissent to the Empire's rule with the fear of the station's planet-killing superlaser and made a terrifying demonstration of the station's power by destroying Alderaan in front of Princess Leia's eyes.

Sideshow and Hot Toys are very excited to officially present the highly anticipated sixth scale collectible figure of Grand Moff Tarkin from Star Wars: A New Hope! Meticulously crafted based on the appearance of Grand Moff Tarkin in Star Wars: A New Hope, the figure features a newly developed head sculpt with a phenomenal likeness, a finely tailored Imperial uniform, Grand Moff Tarkin's high back chair, and a specially designed figure base.
WHAT'S IN THE BOX?
The Grand Moff Tarkin Sixth Scale Collectible Figure specially features:
Authentic and detailed likeness of Peter Cushing as Grand Moff Tarkin in Star Wars: A New Hope
Movie-accurate facial expression with detailed skin texture
Body with over 30 points of articulations
Approximately 30 cm tall
Six (6) pieces of interchangeable hands including:
– One (1) pair of relaxed hands
– Two (2) pairs of gesturing hands
Each piece of head sculpt is specially hand-painted
Costume:
One (1) olive green Imperial officer uniform
One (1) leather-like belt with silver colored buckle
One (1) pair of black-colored leather-like boots
Accessories:
One (1) Grand Moff Tarkin's high-back chair
Specially designed figure stand with character nameplate and Star Wars logo
The price for this figure when he struts out next year July to interrogate your sixth-scale Princess Leia? A fully armed and operation $235. Alternatively, there's also a boxset available that bundles in an intimidating Darth Vader with the Grand Moff, if you feel like shelling out $470 for the pair.
Last Updated: August 11, 2017