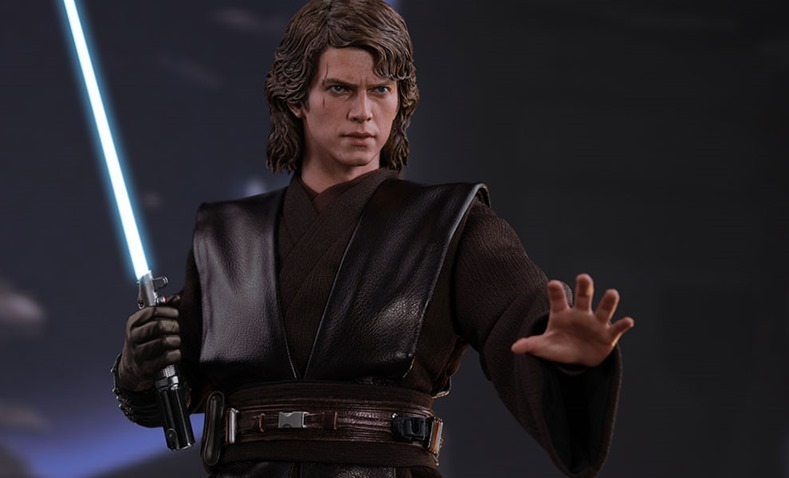 You know what? Sand does suck. I know that given the chance to wield a lightsaber, I'd most likely use it to turn my nearest beach into a floor of glass. Sand sucks, something I learnt to a devastating degree that fateful day that I picked up New Age Gaming's infamous Spec Ops: The Line issue and found myself covered in the coarse stuff.
At least I hope it was sand. That's something that you're going to want to keep away from the latest Hot Toys Star Wars figure, as you can bet that Groot Anakin Skywalker will go on a murderous rampage on your shelf. Also, he loves being on your shelf. After all, that's where the high ground is. HIGH GROUND ANI! Here's a look at the Anakin Skywalker figure, which is so amazing that it's more lifelike than the actor it's based on:
WHAT'S IN THE BOX?
The Anakin Skywalker Sixth Scale Collectible Figure specially features:
An authentic and detailed likeness of Hayden Christensen as Anakin Skywalker in Star Wars: Episode III Revenge of the Sith
A newly developed head sculpt with movie-accurate facial expression and detailed skin texture
Detailed hair sculpture of Anakin Skywalker's hair style
Body with over 30 points of articulation
Approximately 31 cm tall
Eight (8) pieces of interchangeable hands including (bare left hands and gloved right hands):
– One (1) pair of fists
– One (1) pair of lightsabers holding hands
– One (1) pair of the Force-using hands
– One (1) relaxed right hand
– One (1) opened left hand
An interchangeable mechno right arm
Each head sculpt is specially hand-painted
Costume:
One (1) brown-coloured under-tunic
One (1) dark brown-coloured leather-like tunic
One (1) brown-coloured Jedi robe
One (1) dark brown-coloured leather-like belt
One (1) pair of brown-coloured pants
One (1) pair of dark brown-coloured leather-like textured boots
Weapons:
One (1) LED-lighted blue lightsaber (blue light, battery operated)
One (1) Count Dooku's red lightsaber (does not light up)
Accessory:
Specially designed figure stand and with character nameplate and Star Wars logo
Sideshow Collectibles say that Ani are you Ok Ani will retail for $235, provided that you feel like waiting until July 2018 to get your hands on him. HIGH GROUND!
Last Updated: August 30, 2017