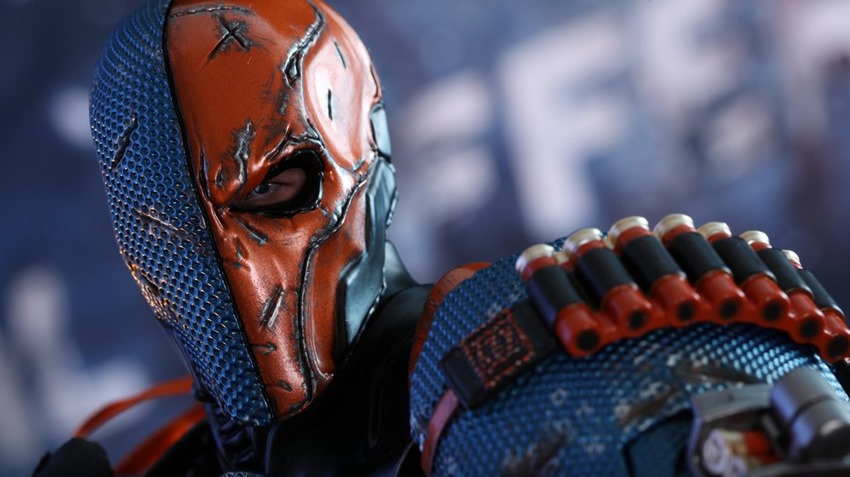 I may have gone overboard in the last two years, with my Batman collection. Right now, I have a shelf above my head that is home to almost a dozen Batmen. Everyone from Michael Keaton to Adam West and I ain't stopping any time soon. I know which figures I still need to collect, but I also know which figure I want the most.
It's a sixth-scale replica of one of my favourite Batman costumes: The Arkham Origins dark knight. Easily my favourite game in the entire series, I freakin' adore that costume. It's realistic, it's as rough as the man inside of it and there's a bulky charm to the design. That's the Batman figure that I want, but Hot Toys has shown no sign yet that they're developing one.
Well until this week that is. While the story here is of the upcoming Deathstroke figure that'll fit in perfectly with anyone who's rocking an Arkham Knight series of Batman replicas, it's the fact that Hot Toys is labelling this collectible as an Arkham Origins version of Deathstroke that has me all hot under the collar.
Sure, the character models may have been exactly the same between games, but if this figure is an indication that I'll finally get my favourite Batman on my shelf? Ooooohhhhh mmmmyyyyy. While I go take a cold shower, here's a closer look at the one-eyed bandit known as Deathstroke:
Slade Wilson, AKA Deathstroke, is one of the world's greatest and most deadly mercenaries in DC Comics. He was part of an experimental super-soldier program which allowed him to gain metahuman strength, speed, and healing abilities. Today, Hot Toys is very excited to officially introduce the 1/6th scale collectible figure of Deathstroke inspired by the designs from the highly acclaimed video game Batman: Arkham Origins.

The collectible is expertly crafted based on the appearance of Deathstroke from the game featuring a newly developed helmeted head sculpt with one-eyed mask, a meticulously tailored multi-layer Deathstroke suit with battle damage and weathering effect, an interchangeable battle damaged chest armor plate specially designed for the alternative katana holding pose, an array of detailed weapons including Deathstroke's ballistic staff handle with interchangeable ends displaying different battle modes, a remote claw, a pistol, a katana, two grenades, several detachable bullets off from the shoulder armor and a figure stand with specially designed backdrop!

The 1/6th scale Deathstroke Collectible Figure specially features
Authentic and detailed likeness of Deathstroke in Batman: Arkham Origins game
A newly developed Deathstroke helmeted head sculpt with one-eyed mask
Approximately 32cm tall
Newly developed specialized muscular body with over 30 points of articulations
One (1) interchangeable battle damaged chest armor plate
Nine (9) pieces of interchangeable gloved hands including:
One (1) pair of fists
One (1) pair of relaxed hands
One (1) pair of hands for holding remote claw
One (1) pair of hands for holding katana
One (1) energy staff holding left hand
Costume
One (1) newly designed and greatly detailed orange and blue – coloured battled damaged Deathstroke armor with weathering effect
One (1) silver-coloured under shirt with scale-pattern
One (1) pair of black-coloured pants
One (1) black-coloured leather-like utility belt with katana sheath and pouches
One (1) black-coloured leather-like belt with pouches around the belt and pistol holster on thigh
One (1) thigh holster with pouch
One (1) pair of black-coloured boots
Weapons
One (1) ballistic staff handle with two (2) sets of interchangeable ends (collapsed and expended)
One (1) remote claw with articulated claw
One (1) pistol
One (1) katana
Two (2) grenades
Seven (7) bullets attachable to left shoulder armor
Accessory
Specially designed figure stand with game logo, character nameplate and backdrop
How much will it cost ya? THE HEAD OF THE BAT! Or alternatively, around $250/R3500 when Deathstroke ships out to Gotham City next June.
Last Updated: June 29, 2018