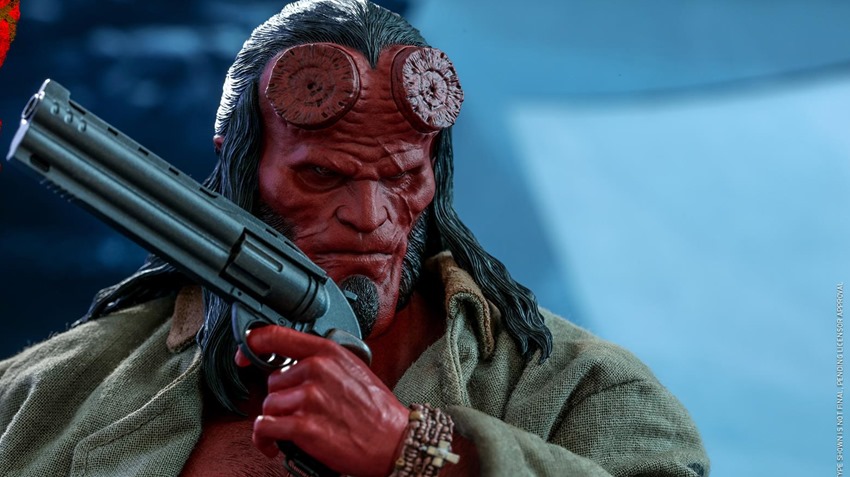 OKAY HOT TOYS! I get it, the Marvel license has probably spin more money for you than gullible paying to be told about Bitten-coins and Ethereal crypto-currency. While I've run out of hobos to murder so that I can sell their organs on the black market and buy more Iron Man figures (The House Party Protocol collection will be mine, oh yes), I'm kind of looking to diversify my toy chest.
While Hot Toys does still have a few DC projects in the works, it's the Movie Masterpiece line that has held my interest as of late. Their recent Neo from The Matrix was amazing, having a mini Johnny Depp in Jack Sparrow gear was piratastic and if I had more cash I'd probably buy all the Star Wars figures. Their next figure though? A fantastic replica of a great character from a terrible movie.
I must say, the Hot Toys Hellboy is devilishly handsome as well:
Hellboy is caught between the worlds of the supernatural and human. An agent with The Bureau for Paranormal Research and Defense, he battles many creatures and an ancient sorceress bent on revenge. To celebrate the grand release of Hellboy in cinemas, Hot Toys is thrilled to present the devilish Hellboy and his Right Hand of Doom in the latest 1/6th scale collectible figure inspired by the movie.

Skillfully crafted based on the appearance of Hellboy from the movie of the same title, the highly-accurate collectible figure features a newly developed head sculpt with two styles of interchangeable horns translating all the intricate details, a specially painted body showing detailed skin texture with enhanced articulations, perfectly tailored outfit, an array of weapons and accessories including the iconic Excalibur sword, pistols, sword of fire and lighting effect accessory for alternative display styles, a movie-themed figure stand with burning flame diorama accessories and character backdrop.
Horny fella, isn't he? No release date or pricing at the time that this post was written, although I wouldn't be surprised to see ol' Dave up there command a premium price of around $260 when US stores update their digital shelves.
Last Updated: April 18, 2019