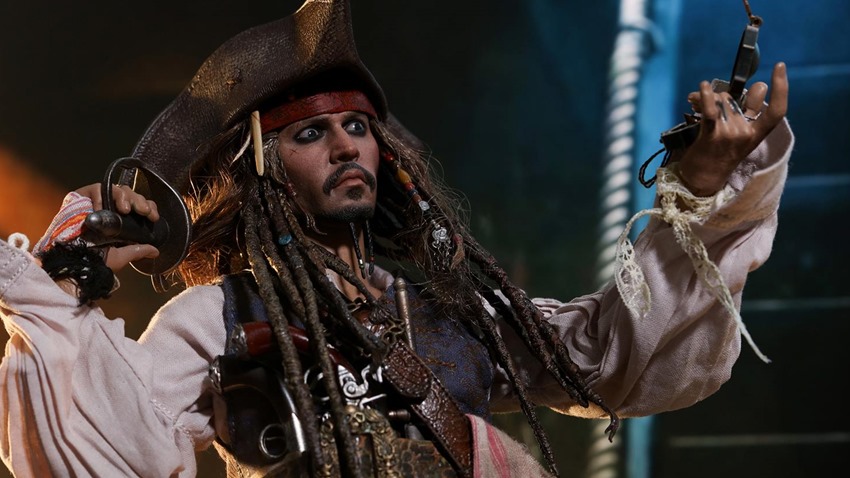 How much is a collectible really worth? To the right buyer, the perception of said value rests on numerous factors: Availability, quality and ease of access. It's an idea that Hot Toys have managed to build on, sort of creating the illusion that some of their plastic fellas are proper rare. The original idea is that once a figure has had its initial production run, that's it. No more will be made, with plenty of the sixth-scale offerings popping up on eBay at massively inflated prices not too long after.
It's a sound idea for collectors, but one that kind of becomes undone when the figure in question belongs to a film that has more sequels than International Pirate Day has of annoyingly excessive use of R consonants. This all comes full circle to Disney's Pirates of the Caribbean. As far as Hot Toys figures go, Johnny Depp's Jack Sparrow is one of the holy grails.
The last such figure from the Stranger Tides entry easily demands double and triple its price tag on eBay, as people are oddly fascinated with owning a sixth-scale Johnny Depp who looks like he may have escaped a pirate fashion show. Fast forward a few years and Depp is back yo. With a brand new figure to boot. Check this masterpiece out before its gone for good. Until the next sequel.
"The dead have taken command of the sea. They're searching for Sparrow!" Coming up, another legendary Disney production, Pirates of the Caribbean: Dead Men Tell No Tales is just around the corner. After 6 years, the highly anticipated blockbuster will finally be released later this month.
Cursed by Captain Jack Sparrow into the Devil's Triangle, the terrifying Captain Salazar is resurrected and made a dead set at taking out all pirates at sea, particularly seeking out Jack Sparrow at all cost for his revenge. It's been a long voyage since the Pirates of the Caribbean: On Stranger Tides in 2011. Hot Toys is very excited to bring an all-new Captain Jack Sparrow 1/6th scale collectible figure on board from Pirates of the Caribbean: Dead Men Tell No Tales as the latest addition to fans beloved DX Series.
Made with meticulous craftsmanship, the remarkable head sculpt features 2 interchangeable faces with patented Interchangeable Faces Technique and separate rolling eyeballs, highly intricate and brand new tailored costumes based on Jack Sparrow's iconic outfit. A large assortment of weapons and accessories are also included to recreate the authentic likeness of this legendary pirate in the film. Along with the figure, it also comes with a surprisingly elaborated diorama figure stand inspired by his sailing adventures.
WHAT'S IN THE BOX?
The Jack Sparrow Sixth Scale Collectible Figure specially features:
An authentic and detailed likeness of Johnny Depp as Captain Jack Sparrow in Pirates of the Caribbean: Dead Men Tell No Tales
Approximately 30 cm tall
Body with over 30 points of articulation
Highly detailed hair sculpture with fabric hair implantation, new accessories, and red bandana
Two (2) interchangeable faces with patented Interchangeable Faces Techniques (IFT), separate rolling eyeballs, real-like beard and plaits on chin
Seven (7) pieces of interchangeable hands including:
– One (1) pair of hands for holding flintlock pistol
– One (1) pair of hand for holding sword or scabbard
– One (1) pair of hands showing his iconic gestures
– One (1) index finger pointing right hand
Each head sculpt is specially hand-painted
Costume:
One (1) leather-like detachable brown-colored hat
One (1) cream-colored long-sleeved shirt
One (1) blue and brown colored patterned vest
One (1) dark brown coat
One (1) pair of dark brown pants
One (1) dark brown belt
One (1) light brown belt
One (1) snakeskin leather-like belt
One (1) dark brown leather-like patterned shoulder band with saber sheath
One (1) pair of brown boots
Weapons:
One (1) saber
One (1) knife
Two (2) flintlock pistols
Accessories:
One (1) scarf
One (1) fake-fur
One (1) small batch of fabric hair on belt
One (1) compass
One (1) short tube telescope
One (1) head sculpt of his mother with gold-color ornaments
One (1) duck's foot sculpture
Jack's a bit pricier than other figures, as he'll run you back an entire $264.99 when he sails in next year March. And an extra dollar on top of that every time you use an unnecessary "R" in the comments. Savvy?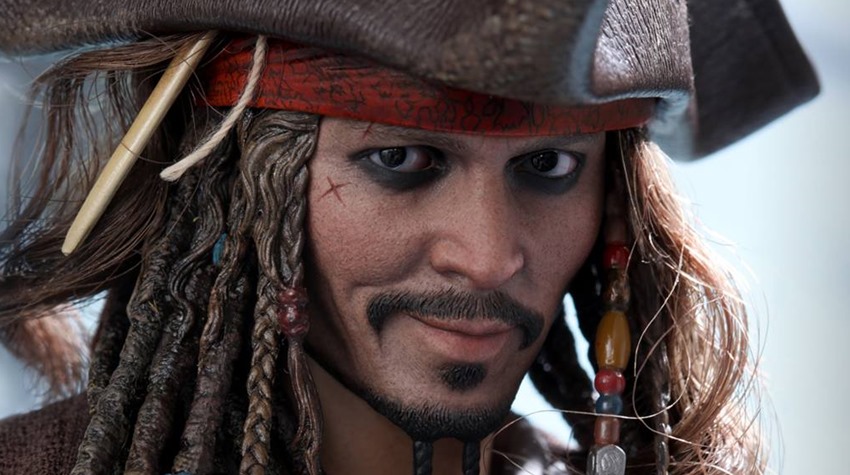 Last Updated: May 18, 2017