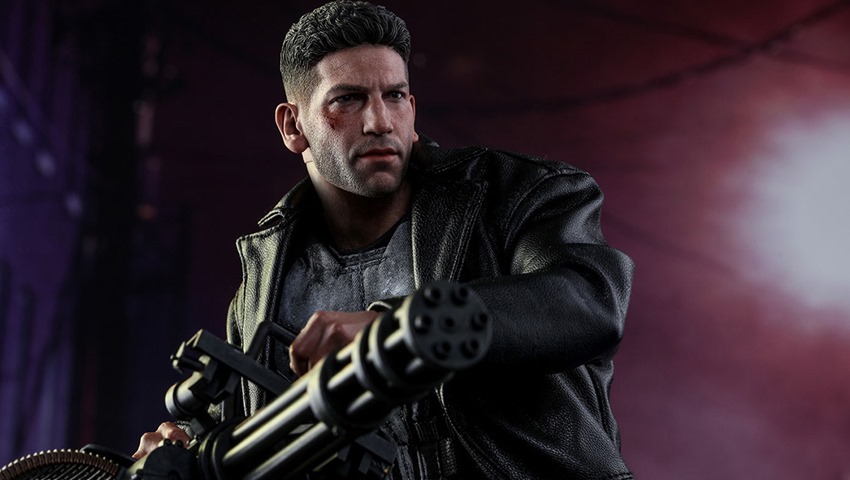 I happen to think that bad days define us. Specifically in how we handle ourselves during such a day. Some of you will swear, others will bottle up the rage and some people will actually make positive life choices. And that's good! And then there happen to be those kinds of bad days which make you want to find your nearest assault rifle and reduce the entire crime population of New York City to single digit numbers before lunch.
Frank Castle had a day like that.
I'm not the biggest fan of the Netflix series starring certain characters from the Marvel Universe, but hot damn did they nail the Punisher last year in season 2 of Daredevil. Jon Bernthal's violent agent of vengeance was a force of nature in that show, an unforgiving killer whose trigger finger was pointed at criminal scum. That entire season is pretty much a graphic rebirth for Frank Castle as he became the Punisher, complete with the iconic skull vest and a van full of guns.
So you might want to try and keep him off the shelf that has other villainous sixth-scale movie characters in your collection, as Hot Toys have brought the Punisher to life:
WHAT'S IN THE BOX?
The Punisher Sixth Scale Collectible Figure's special features:
A Newly developed head sculpt with detailed likeness of The Punisher in Marvel's Daredevil season 2
Highly detailed facial features, skin texture, stubble, and scar
Body with over 30 points of articulation
Approximately 30 cm tall
Ten (10) pieces of interchangeable hands including:
– One (1) pair of fists
– One (1) pair of open hands
– Three (3) pair of hands for holding weapons
Each head sculpt is specially hand-painted
Costume:
One (1) black colored leather-like coat
One (1) black colored tee
One (1) black colored bullet-proof vest with The Punisher's skull motif
One (1) pair of black colored pants
One (1) black colored belt
One (1) pair of black colored boots
Weapons:
One (1) min-gun
One (1) sniper rifle
One (1) revolver pistol
One (1) dagger with sheath
Accessories:
One (1) damaged Daredevil helmet (not wearable on figure)
Specially designed figure base with character nameplate and paper backdrop
Sideshow Collectibles as the Punisher priced at $235 for a January 2018 release. A price that won't just knock your bank account down, but it'll keep it down as well.
Last Updated: March 3, 2017