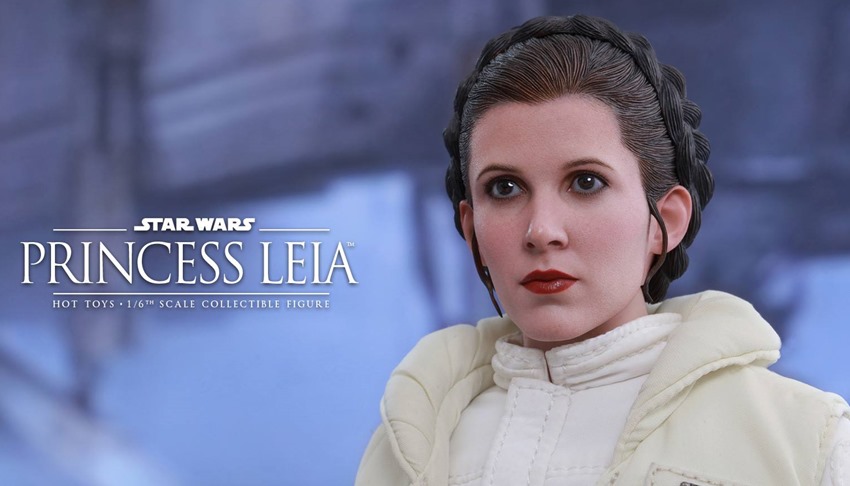 I could have waxed lyrical on this day, the holiest of days in the Star Wars calendar about how Republic Commando is still a damn fine game. Or maybe about how much better the Phantom Menace would have been if George R. Binks was in it instead of his hated son Jar Jar. I could have, but instead I wanted to post something on this: A sixth-scale Princess Leia figure from Hot Toys.
Carrie Fisher's death last year was sudden to say the least. An icon and a doctor of scripts who went uncredited on many a project, Fisher was the heart and soul of Star Wars. A role model and an icon, that galaxy that happens to be far, far away felt a little more distant with her passing. Her legacy as one of the most kickass characters in Star Wars however? That'll outlive all of us. Especially with figures like this that bare an uncanny resemblance to her:
The strong and fearless Princess Leia holds a very special place in many Star Wars fans' heart. With her courageous personality and dedication to end the tyranny of the Empire, she ranks among the galaxy's greatest heroes and one of the most beloved heroines of all time.

Today, Hot Toys is proud to officially present the Princess Leia 1/6th scale collectible figure from Star Wars: The Empire Strikes Back!

The highly-accurate collectible figure is specially crafted based on the appearance of Princess Leia in the film. Featuring a newly developed head sculpt with stunning likeness, sophisticated tailoring of Leia's outfit as seen in the battle of Hoth, an assortment of weapon and accessories, and a specially designed snow-theme figure stand, this collectible captures all of the details of the great Rebel leader.

A long time in the making, the 1/6th scale Princess Leia collectible demonstrates undoubted quality. The dearest princess will surely become a cherished addition to all Star Wars fans' collection!
Special features of the 1/6th scale Princess Leia Collectible Figure:
Authentic and detailed likeness of Carrie Fisher as Princess Leia in Star Wars: Episode V The Empire Strikes Back
Newly developed head sculpt with movie-accurate facial expression and make-up
Detailed hair sculpture of Princess Leia in the battle of Hoth
Body with over 28 points of articulations
Approximately 26 cm tall
Eight (8) pieces of interchangeable hands including:
One (1) pair of relaxed hands
One (1) welding torch holding right hand
One (1) pair of blaster holding gloved hands
Three (3) accessory holding gloved right hands
Each piece of head sculpt is specially hand-painted
Costume:
One (1) sophisticated tailored off-white colour jumpsuit
One (1) beige colour vest
One (1) pair of grey colour boots
Weapon:
Accessory:
One (1) pair of safety goggles
One (1) welding torch
One (1) breath mask
Specially designed rectangular-shaped figure stand with Princess Leia nameplate and Star Wars logo
No price yet from Sideshow Collectibles on this particular version of Princess Leia, although I'd expect her to have a price tag of around $250. Might also be worth jumping on the collectible figure bandwagon here, as Star Wars toys have sold out stupidly fast lately. Scruffy nerf herder, not included.
Last Updated: May 4, 2017