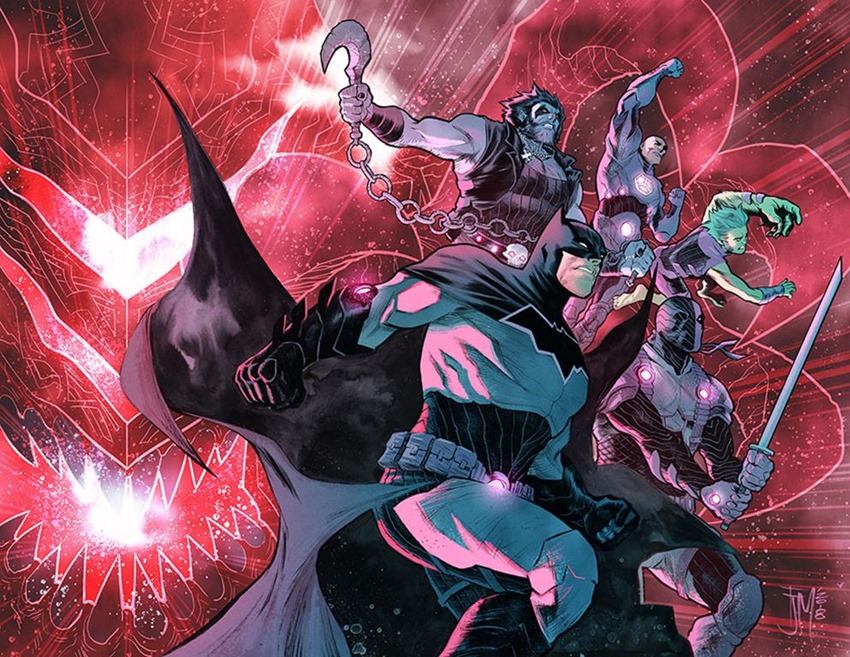 Last week was a damn good week for comic books. Power Rangers kicked off the Shattered Grid event, Marvel announced that the Fantastic Four were returning and one of the craziest sagas in Batman history wrapped up as Dark Nights Metal came to an end. Good may have triumphed over evil in the most metal way possible, but this was one series that delivered actual ramifications near the end. Spoilers below.
With Barbatos defeated, the Dark Multiverse banished and the Justice League stronger than ever, it's time to face a new threat from beyond the known DC Universe. In a last ditch effort to save reality, the Justice League succeeded in attuning Element X to our universe. While the heavy metal may have saved the day, it also broke through the greatest barrier in the multiversal reality: The Source Wall.
The border between the DC Universe and a wider cosmos, the Source Wall is a barrier that fenced off Earth and all other planets from unknown dangers. Danger that now knows that a path to Earth exists. How will the League deal with these dangers? By forming new teams, groups of extraordinary individuals who'll pool their talents and powers together to create super-solutions for super-problems. "We wanted to do something huge and celebratory, that embraces every corner of the DC Universe, but also serves practical purposes," Justice League: No Justice co-writer James Tynion IV said to EW.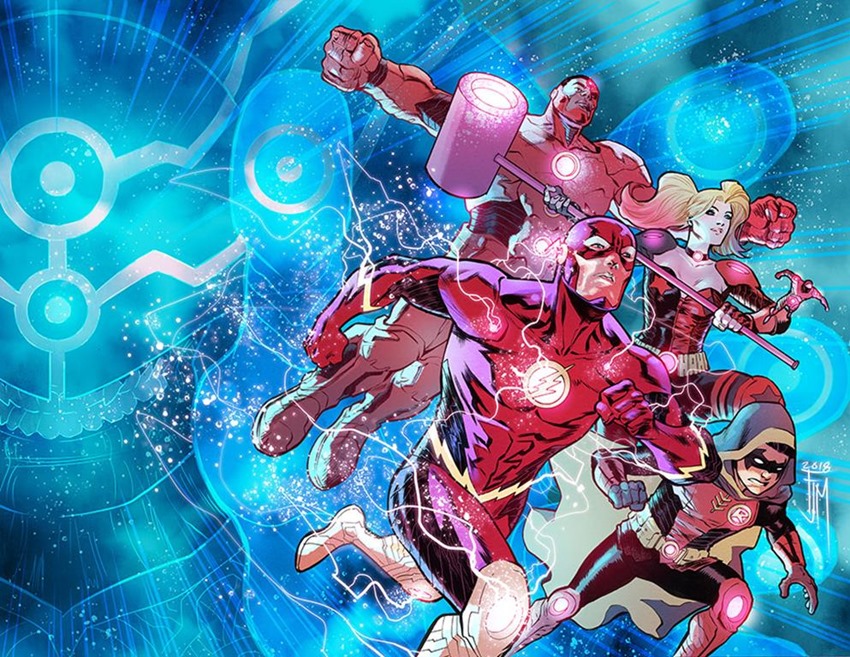 It's going to set up these [future] books; it's the next step in the story. What began in Metal continues in No Justice, and then blows up in the Justice League line. The setup is exactly as you said: The universe is broken, and the teams that we know and love in the DCU are not ready for what's coming, and the figure who's going to tell them that is Brainiac, who's going to drag them off to change that.

The other part of the story is, Amanda Waller on Earth basically being like, 'We didn't even know there was a wall at the end of the universe, and now you're telling me it's broken? There are all these cosmic threats and people from our planet are causing this chaos, and we have no knowledge of what's out there. We need that knowledge.' Those are the two core threads that launch this story.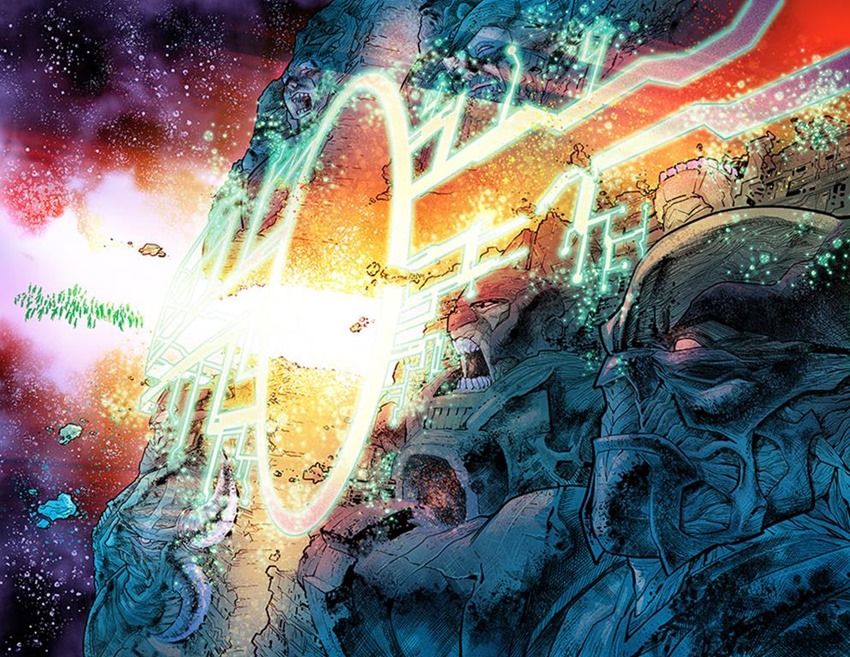 "We started talking about the fun stuff we could do with 'What would happen if the Source Wall broke?'" writer Joshua Williamson added.
Aquaman says at the end of Metal No. 6, 'We're just small fish in a small fishbowl, and now we're poured out into the ocean.' What does that mean to these characters? Is that scary, or is that fun? The universe is so much bigger than we thought it was! Do they embrace that idea, or do they react badly and feel smaller than ever, and react violently to that? And, what was the Source Wall, we get to explore that, and what's on the other side of it? Is anything coming through that wall? Do we get to go through that wall? It's been a lot of fun to explore these ideas.

Scott has had this really big vision he's been talking about for years, especially with James, you've been talking Metal with Scott since he started working on Batman. James and I actually went out to Scott's house last fall and we started talking about what it actually means for the DCU, the Source Wall breaking. That's where No Justice came from — we create these four new epic space gods who, essentially, start to act because of the Source Wall breaking.

They're scared too; they're not from beyond the Source Wall, they're from our universe, and when the Source Wall breaks, they're nervous. The same with Brainiac; he's nervous and scared. That's how much of a big deal it is — Brainiac has to come down here to Earth and say, 'I need your help, but not in the forms you're in right now. The forms I'm going to put you in? That'll work.'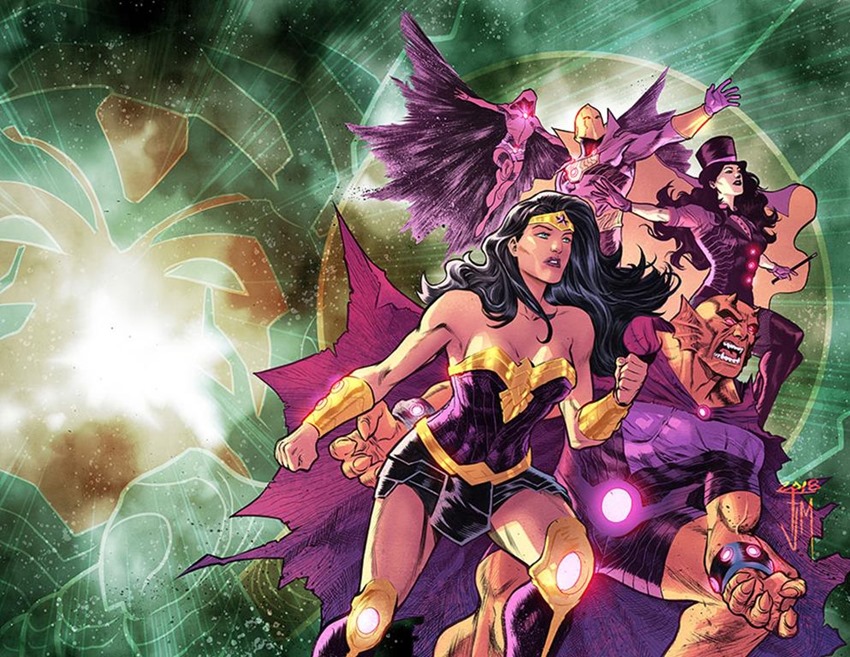 Too long didn't read? Expect the DC Universe to get a LOT bigger, wilder and crazier as new Justice Leagues rise to fight the good fight. Justice League: No Justice kicks off this May with a four-part mini-series that shows just how different the new DC status quo is now that the dust of Dark Nights Metal has settled.
Last Updated: April 3, 2018