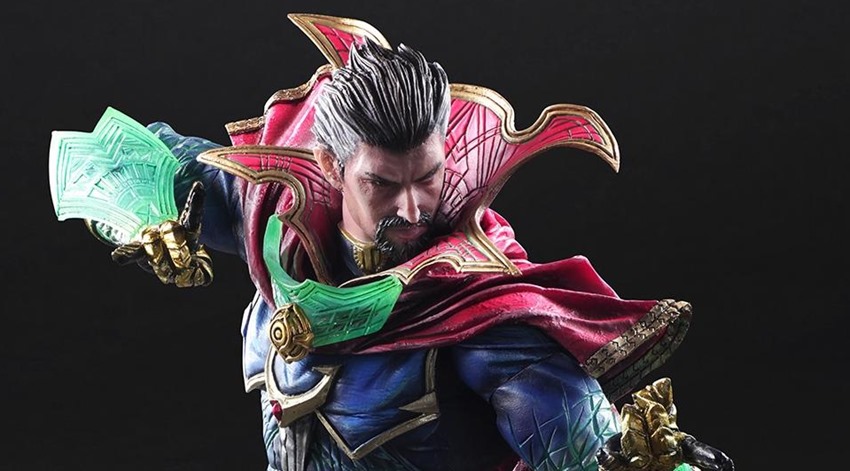 Before 2016, Doctor Strange was either a fringe character that few people had heard of or the name of that family physician who really liked asking you to turn your head and "cough please". It's 2017 though, and everybody knows just who Earth's sorcerer supreme really is. Or they wouldn't be surprised to see Boilerdang Crimpysnitch Rinkydink Curdlesnoot Blubberwhale Cheddarcheese Benedict Cumberbatch running down the street and throwing the horns to summon the power of the hoary hosts of Hoggoth.
The great thing about Doctor Strange, is that he has a style which is unmatched in the Marvel Universe. And awesome facial hair. So what happens when you merge one of the snappiest wizards in that omniverse with one of the most stylish collectible toy developers around? You get this kickass figure, which looks like it can easily channel the power of any exotic deity and still have enough power to put your eye out with a cape that is sharp to say the least:
Dr. Stephen Strange first made a name for himself as a brilliant American brain surgeon. After seven grueling years of training, however, he obtained the power of the mystical arts and became an unlikely kind of superhero. His name? Doctor Strange.

His signature cape can be inverted for a multitude of poses, while the exaggerated contrast unique to the paintwork of the MARVEL UNIVERSE VARIANT series brings out his profound presence. Articulated areas such as the chest, shoulders and hips incorporate flexible materials to allow for a wide range of motion.

With magic glyphs and effect parts constructed with translucent materials, as well as interchangeable hand parts, our Doctor Strange figure can be posed in various dynamic ways. Figure includes display stand.
You're looking at a grand price tag of $149.99 for this sixth-scale sorcerer supreme. And honestly, I'm torn between this one and the Hot Toys version which balances style with the most realistic moustache game around.
Last Updated: April 21, 2017