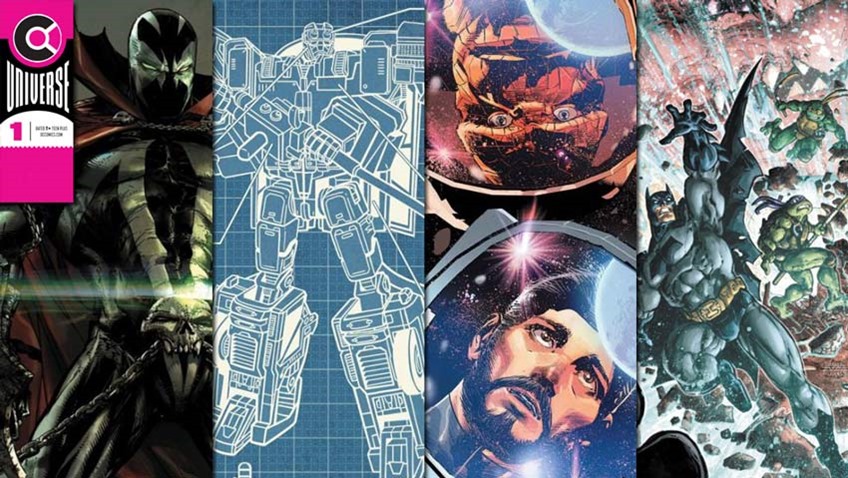 It's September! A few more months to go until the end of the year, but also a period of time with some spiffing good comic books on the horizon! Being that I just can't get enough of the greatest form of entertainment ever conceived, I've had a look at what's to come and decided to jot down several series which have made me raise my eyebrow in interest as if I were cosplaying as The Rock. SO without further ado, here's a list of upcoming titles that you may want to keep your peepers pn!
King Thor
Future Thor and Allfather of a broken Earth has yet another problem to deal with, as it looks like his half-brother Future Loki has managed to claim the dread god-killing weapon known as the Necrosword! Adventure awaits in this spin-off from Jason Aaron's legendary Thor run that reteams him with the amazing art of Esad Ribic.
SFSX
Sex is now a commodity that's policed by the government, and it's up to a pair of sex workers to take the fight back to the man.
Black Panther and the Agents of Wakanda
T'Challa is back, ready to protect Wakanda at any cost with a team of homegrown talent that are getting proactive on evil's candy-ass.
Year of the Villain
DC's massive event is giving every villain around a chance to shine as Lex Luthor's offer pays off. Several one-shots, plenty of madness and a ton of ramifications.
Legion of Super-Heroes: Millennium
Think DC's timeline is screwy now? Pal you ain't seen nothing yet, as the future is folding in on itself with a complete merger of several timelines. Long live the Legion!
Sound good? Yer darn right it is, and that's just the stuff from Marvel and DC for September. Throw in Pandemica, Triage and Tales from the Dark Multiverse, and the next couple of months look like reading paradise. Now, on to the best comic book covers of the week!
House of X #4 by Pepe Larraz

Justice League #31 by Francis Manapul

The Immortal Hulk #23 by Alex Ross

Fantastic Four #14 by Mike Deodato Jr

The Green Lantern #11 by Paul Pope

Harley Quinn #65 by Frank Cho

Deathstroke #47 by Skan Srisuwan

DIE #7 by Stephanie Hans

Spawn #300 by Todd McFarlane

Birthright #39 by Andrei Bressan

Lois Lane #3 by Mike Perkins

DCeased: A Good Day To Die #1 by Ryan Sook

Legion of Super-Heroes: Millennium #1 by Ryan Sook

Buffy the Vampire Slayer #8 by Marc Aspinall

Berserker Unbound #2 by Mike Deodato Jr

Archie #707 by Sandy Jarrell

Transformers / Ghostbusters #4 by Alex Milne

No One Left to Fight #3 by Fico Ossio

Harley Quinn and Poison Ivy #1 by Jay Anacleto

Batman / Teenage Mutant Ninja Turtles III #5 by Freddie E. Williams III

Last Updated: September 2, 2019