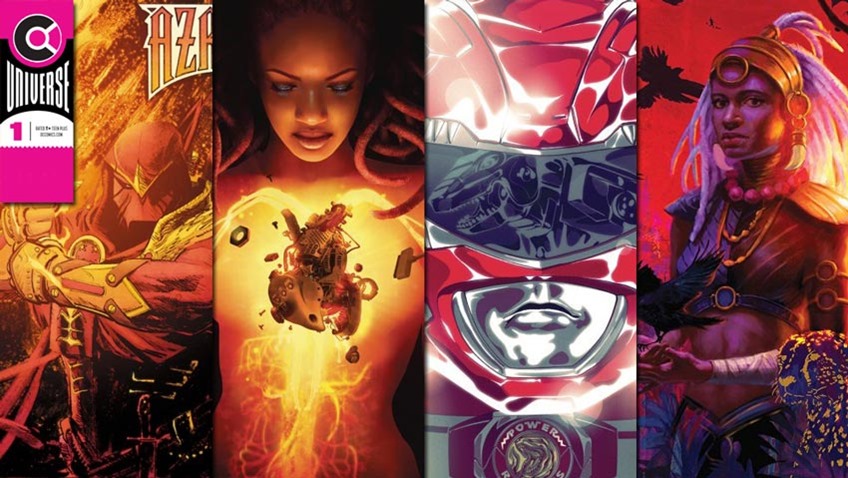 Between all the hustle and bustle of big movies and TV series, I think a lot of us forget that the annual San Diego Comic-Con is…well, a Comic-Con. This weekend past saw plenty of big announcements, but there's nothing I'm looking forward to now though more than the revival of the children of the atom. Jonathan Hickman is helping to kick off a new era of X-Men this week with House of X, but it won't be the only series bearing the icon of Charles Xavier and his dream for a better tomorrow.
Here's a quick look at what's on the horizon:
X-MEN #1 – October
Written by JONATHAN HICKMAN
Penciled by LEINIL FRANCIS YU
Cover by LEINIL FRANCIS YU
A NEW ERA DAWNS FOR THE X-MEN!

The X-Men find themselves in a whole new world of possibility… and things have never been better! Jonathan Hickman (HOUSE OF X, POWERS OF X, SECRET WARS) and superstar artist Leinil Yu (NEW AVENGERS, CAPTAIN AMERICA) reveal the saga of Cyclops and his hand-picked squad of mutant powerhouses!
EXCALIBUR #1 – October
Written by TINI HOWARD
Penciled by MARCUS TO
Cover by MAHMUD ASRAR
A NEW DAY IS FORGED!

Mutantkind has always been special…as has their relationship with the world—or WORLDS—around them. As this new era dawns, a new connection forms between mutants and the magic of the world… and that of Otherworld! Can the new Captain Britain forge a new way through the chaos with her companions Rogue, Gambit, Jubilee, Rictor…and Apocalypse?!?
MARAUDERS #1 – October
Written by GERRY DUGGAN
Penciled by MATTEO LOLLI
Cover by RUSSEL DAUTERMAN
THE X-MEN SAIL AT DAWN!

Even in this glorious new dawn, Mutantkind faces hardships and oppression from their human counterparts. Led by Captain Kate Pryde and funded by Emma Frost and the Hellfire Trading Company, Marauders Storm, Pyro, Bishop and Iceman sail the seas of the world to protect those hated and feared!
NEW MUTANTS #1 – November
Issue 1 Written by JONATHAN HICKMAN & ED BRISSON
Issue 2 Written by JONATHAN HICKMAN
Penciled by ROD REIS
Cover by ROD REIS
THE NEXT GENERATION CLAIMS THE FUTURE!

The classic New Mutants (Sunspot, Wolfsbane, Mirage, Karma, Magik, and Cypher) get together with a few new friends (Chamber, Mondo) to seek out their missing member and share the good news… a mission that takes them into space alongside the Starjammers!
FALLEN ANGELS #1 – November
Written by BRYAN EDWARD HILL
Penciled by SZYMON KUDRANSKI
Cover by ASHLEY WITTER
NOT ALL BELONG IN PARADISE!

Psylocke finds herself in this new world of Mutantkind unsure of her place in it… but when a face from her past returns only to be killed, she seeks help from others who feel similar to get vengeance. Cable and X-23 join Kwannon for a personal mission that could jeopardize all Mutantkind!
X-FORCE #1 – November
Written by BENJAMIN PERCY
Penciled by JOSHUA CASSARA
Cover by DUSTIN WEAVER
THE COST OF THE FUTURE ISN'T CHEAP.

X-Force is the CIA of the mutant world—one half intelligence branch, one half special ops. Beast, Jean Grey and Sage on one side, Wolverine, Kid Omega and Domino on the other. In a perfect world, there would be no need for an X-Force. We're not there… yet.
The future looks bright indeed. The new X-era kicks off later this week in House of X, and will feature the rise of mutantkind once again as the X-Men step back into the mainstream spotlight. Which is totes better than that whole Inhumans debacle that turned out to be a flash in the pan. Now onto the best comic book covers of the week!
BATMAN BEYOND #34 by Kaare Andrews

BATMAN: CURSE OF THE WHITE KNIGHT #1 by Sean Gordon Murphy

DIAL H FOR HERO #5 by Joe Quinones

THE FLASH #75 by Howard Porter

FREEDOM FIGHTERS #7 by Eddy Barrows

MARTIAN MANHUNTER #7 by Riley Rossmo

SHURI #10 by Kirbi Fagan

HOUSE OF X #1 by Marco Checchetto

DOCTOR STRANGE #16 by Jesus Saiz

AGE OF CONAN BELIT #5 by Sana Takeda

MIGHTY MORPHIN POWER RANGERS #41 by Goni Montes

DUNGEONS & DRAGONS A DARKENED WISH #2 by Tess Fowler

ALIENS RESCUE #1 by Roberto De La Torre

INVISIBLE KINGDOM #5 by Christian Ward

ASCENDER #4 by Dustin Nguyen

THE WICKED + THE DIVINE #44 by Emma Rios and Miquel Muerto

THE WEATHERMAN VOL 2 #2 by Nathan Fox

DARK RED #5 by Aaron Campbell

LIVEWIRE #8 by Rhazzah

RED SONJA AND VAMPIRELLA MEET BETTY AND VERONICA #3 by Robert Hack

July comic book covers
The best comic book covers of the week – 01 July 2019
The best comic book covers of the week – 08 July 2019
The best comic book covers of the week – July 15 2019
Last Updated: July 22, 2019