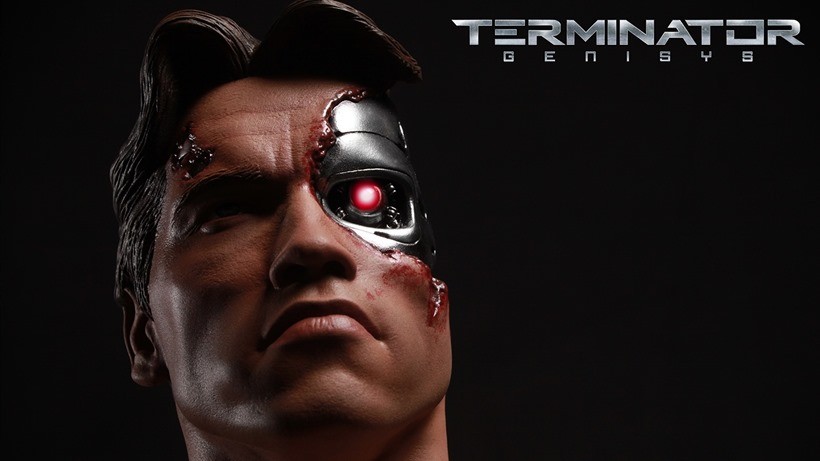 I recently watched Terminator Genisys, which was a thoroughly silly, yet sort of enjoyable flick. It wasn't perfect mind you. A trailer for the film gave away a great twist far too damn early, Hollywood is obsessed with making Jai Courtney a star even though nobody cares about him and the time travel shenanigans made zero sense whatsoever.
Still, Genisys had plenty going for it, thanks to the former Governator returning to his signature role. Old, but not obsolete, the original Terminator at least managed to make us all forget about that Terminator: Salvation film from a couple of years ago. My favourite scene in the film though, had to be seeing young and old Arnold Schwarzeneggers clash in a mighty flesh collision.
It was proper impressive seeing the amount of work that went into recreating an iconic scene from the original 1984 film. And for many people, the 1984 T-800 is their Terminator. It's just a pity that only so much of that Terminator is still intact:
Chronicle Collectibles is excited to share the 1984 Terminator Genisys Battle Damaged 1:2 Scale Bust. This product came to life using the CGI scan files as a base and a little work from our team of artists to match the battle damage from Terminator Genisys after the fight scene between the 1984 Terminator and the Guardian in Griffith Park. This product captures the nostalgia of seeing that young familiar face walk out of the shadows of the alley and the excitement of watching the nearly invincible Terminator get beaten.

The battle damage is accurate to the film and his T-800 eye is wired to light up. All of these units will be numbered.
I can't get over the accurately sculpted nipples. Chronicle Collectibles is only making 1000 of these busts available. Like the description above said, it's at a 1:2 scale, so around half the size of Arnie then. It'll set you back $350. Tell your bank that you'll be baahck.
Last Updated: November 18, 2015