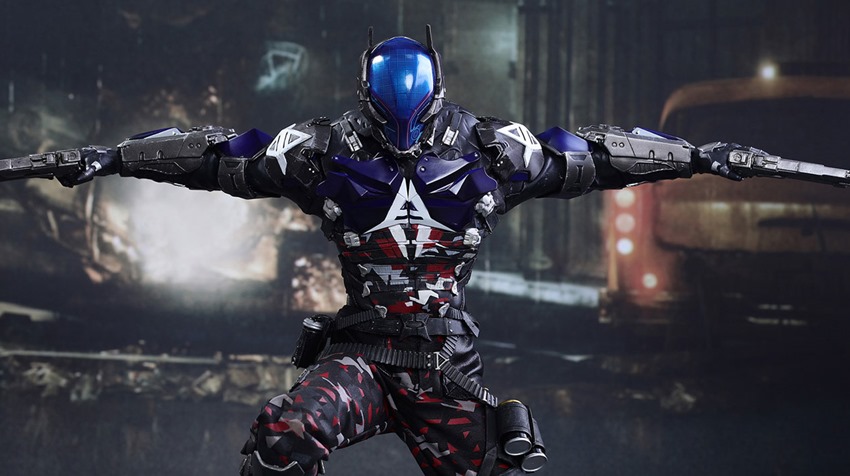 Red Hood? Jason Todd should have been codenamed the Red Herring in 2015's Batman: Arkham Knight, as his identity was a tad too obvious in the build-up to that game. That was probably done on purpose however, as developer Rocksteady played a perfect game of misdirection so that the true menace of Gotham City could finally be revealed in a twist that nobody saw coming. I won't mention him here, because apparently you need at least four years after a video game has released so that the statue of spoilers can be chucked out.
ANYWAY! While the reveal of Jason Todd took nobody by surprise, his actual role in the story was great stuff. Filled with nods to his comic book history, Todd menaced players for most of the game as the titular Arkham Knight, before eventually adopting his Red Hood persona. Rocksteady's reimagining of the character was fantastic: A military-outfitted operative whose entire appearance was designed to mock and antagonise the Batman.
Sleek and tactical, it's the kind of outfit that would work surprisingly well in the real world. If you happen to be a fan of the game and have a pre-order in for the upcoming Hot Toys version of Bruce Wayne's world of fisticuffs and high tech armour then here's some good news for you: Hot Toys has an Arkham Knight to go with your sophisticated Dark Knight. Check him out below:
WHAT'S IN THE BOX?
The Arkham Knight Sixth Scale Collectible Figure specially features:
An authentic and detailed likeness of Arkham Knight in the Batman: Arkham Knight game
One (1) blue-coloured Arkham Knight helmet with LED light-up eyes (white light, battery operated)
One (1) interchangeable red coloured Red Hood helmet
Approximately 32cm tall
Body with over 30 points of articulations
Nine (9) pieces of interchangeable gloved hands including:
– One (1) pair of fists
– One (1) pair of relaxed hands
– One (1) pair of hands for holding guns
– One (1) pair of gripping hands
– One (1) gesturing right hand
Costume:
One (1) greatly detailed and tailored camouflage battle suit with armour plating and Arkham symbol on chest
One (1) utility belt with pouches
One (1) pair of black and blue coloured gauntlets
One (1) pair of black boots and blue coloured boots
One (1) set of interchangeable Red Hood armour parts on chest, arms, and legs
Weapons:
One (1) sniper rifle
One (1) pistol
Two (2) modified handguns
Three (3) smoke grenades
Accessory:
Specially designed figure stand with game logo and backdrop
$244.99 gets you the Knight rider,who'll ship out next year between April and June.
Last Updated: June 21, 2017