Here's an idea: Scrap the DC Cinematic Universe. If Warner Bros. wants to create a franchise of bankable characters that differs from Disney and Marvel's output, they've already got the perfect source material from which to draw inspiration from: Elseworlds. Imagine worlds where Batman was an agent of darkness in an age where Catholicism had become too powerful. A reality where World War Two almost saw the Axis forces triumph thanks to their discovery of a super-powered Uber-soldier or the Justice League policed a harsh and wilder west.
Maybe one of the finest stories of that imprint was Red Son, a Superman tale where Kal-El landed not in Kansas but rather the Soviet Union. The Menshevik of Steel was still alien, but his morals were now guided by Marxism and communism, resulting in a fascinatingly different direction at the time. Red Son has long since been regarded as one of the finest Elseworlds stories ever told, a saga that would be perfect for an animated adaptation.
DC might be thinking better, as a "very, very, very reliable source" over at Den of Geek says that Mark Millar, Dave Johnson, and Kilian Punkett's take on the last son of Krypton has been pitched to Warner Bros. in the past and resulted in some interest being shown by the studio. A Twitter exchange between Kong: Skull Island director Jordan Vogt-Roberts and Millar added further fuel to the fire, as the two traded inside knowledge regarding a big budget Red Son adaptation: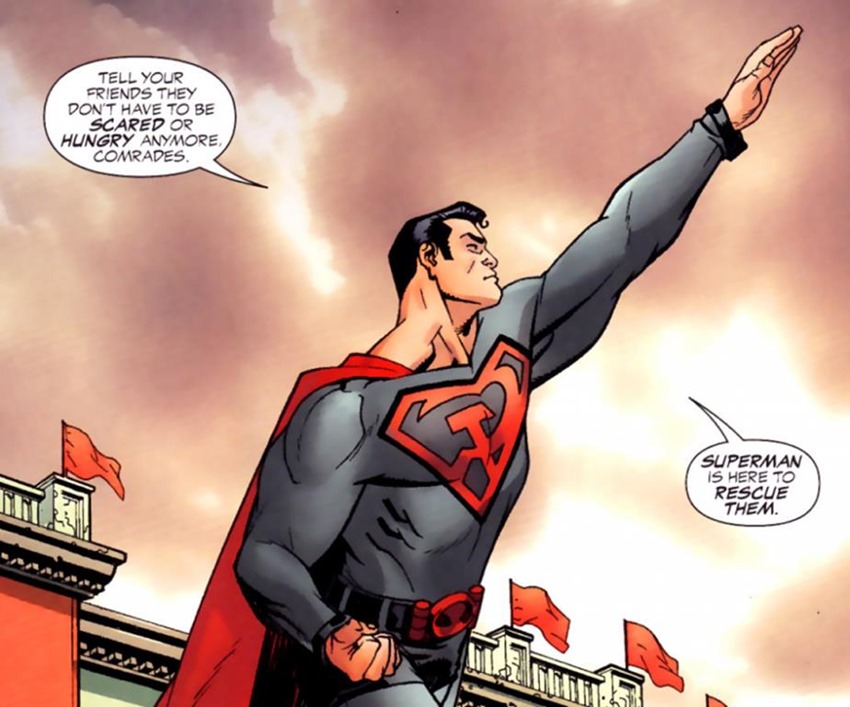 Batmobile ☑️ Batwing ☑️ Batbeard ☑️ You just revealed my identity and have now locked yourself into an eternal tug-o-war as my supervillain. https://t.co/vuZDOifWER

— Jordan Vogt-Roberts (@VogtRoberts) June 27, 2017
This thread is giving me tangential pangs of what-could-have-been for the version of Red Son I pitched that will sadly never get made. Oy.

— Jordan Vogt-Roberts (@VogtRoberts) June 27, 2017
Did you hear WB pitching directors Red Son? Two diff pals in last 2 months. This truly is Putin's America.

— Mark Millar (@mrmarkmillar) June 27, 2017
Wait, really? Because I pitched it to them months ago and was told no. It's the most punk rock thing the DCEU could do in my mind.

— Jordan Vogt-Roberts (@VogtRoberts) June 27, 2017
I think it's necessary for the comic book movie as a whole to take a step beyond the shared universe by introducing one-off movies.

— Jordan Vogt-Roberts (@VogtRoberts) June 27, 2017
When I was pitching Red Son I wasn't even convinced you needed Affleck & Cavill. Public understanding of the medium has evolved…

— Jordan Vogt-Roberts (@VogtRoberts) June 27, 2017
Millar later clarified his tweets further to Den of Geek, saying that the project was very much just an idea that was being entertained. Nothing more than that really:
Is this something they're genuinely planning? I have no idea. I've got pals at Warner Bros but never discussed it with them. I think they're just going through their back catalogue of big books and hoping to lure in good directors as opposed to any particular interest in developing Red Son. There's always 50 conversations for every comic book movie that gets made and as far as I know this is something that is very much just at conversation stage.
I'd take it all with a pinch of salt. The idea of a communist Superman adventure is something that sounds far, far too risky for the budget that it would require to do it proper justice. It's a bizarre story, but a superb one at that. Ideally, I'd rather have Warner Bros. animation make it one of their projects, an animated adventure that isn't limited by studio demands and demographics.
That's what I'd pay to see any day of the week. Until that dream comes true, grab yourself the collected trade paperback if you ever get the chance. It's got heart, action and the best version of Lex Luthor ever. Also, there's Batman rocking an ushanka hat.
Last Updated: June 28, 2017