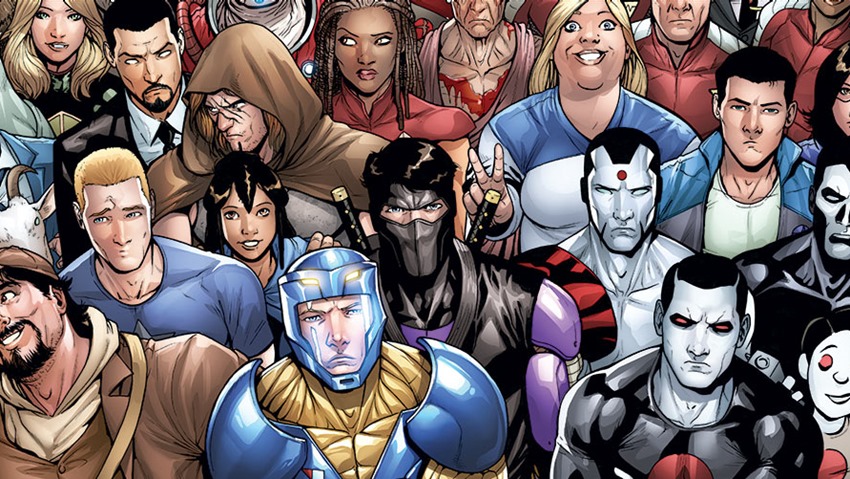 If ever there was a studio that has emerged to rival the big two in the comic book industry, it has to be Valiant Entertainment. The past few years has reinvigorated the superstars of that universe, resulting in some of the freshest and coolest new comic books around. 2017 has already been a solid year for Valiant Entertainment, but much like the company has done so since their resurrection, they're planning to end the year with a bang. Here's a look at what Valiant has planned for the rest of 2017.
Bloodshot: Salvation15
Creative team:
Written by Jeff Lemire
Art by Lewis LaRosa
Valiant's unkillable super-soldier returns, hell-bent on burying his past and avoiding war. When trouble comes knocking on his door in the form of a cult led by the enigmatic "Daddy" and a kidnapped child in the rural heart of America's countryside, Bloodshot soon learns that there's no rest for the wicked as feelings of revenge stir up inside him once again.
Meanwhile, the future of Bloodshot holds a mystery of its own, as a new nanite-infused killer surfaces and the hunt for the infamous soldier begins.
Britannia

Creative team:
Written by Peter Milligan
Art by Juan Jose Ryp
Even outnumbered, Rome shudders at the might of the gladiator Achillia as she enters the fray to battle five of the greatest warriors in Roman history for the amusement of the coliseum crowd that has gathered to see blood spilt. While carnage ensues, a new mystery begins as Romans go mad with visions of blood-soaked gods and talk of a curse that spells the end for the mighty civilisation.
That is, unless Rome's warrior-detective Antonius Axia can save the day.
X-O Manowar

Years of war have finally resulted in Aric of Dacia wresting control of the planet of Gorin from forces beyond the ken of mortal man. Now, the new Emperor of Gorin must defend his kingdom from sinister forces within as Aric once again dons the XO Manowar armour and sends a message across the stars as to who the emperor of Gorin truly is.
Creative team:
Written by Matt Kindt
Art by Clayton Crain
War Mother

Creative team:
Written by Fred Van Lente
Art by Stephen Segovia
With her trine in peril, only the War Mother is brave enough to venture into the lethal jungles of the lands once known as South America in search of a new homeland. But can the last guardian of mankind survive long enough to uncover a far more sinsiter threat that has been biding its time, awaiting the arrival of her tribe?
Ninjak

Creative team:
Written by Matt Kindt
Art by Francis Portela
Colin King's journey towards becoming Ninjak is retold, as secrets from the past are unearthed and his origin as one of the most lethal humans alive is brought into the light, just in time for the new creative team of writer Christos Gage and artist Tomas Giorello to start a new era of high-tech super-ninja action in Ninja-K.
Harbinger: Renegade

Creative team:
Written by Rafer Roberts
Art by Darick Robertson
Tensions are at a breaking point amongst the team of Harbinger Renegades, as rogue Psiots, the Hard CORPS and an army of untested recruits all converge on one another for the mother of all wars that has humanity's future on the line. This, is where the foundation for the upcoming second round of Harbinger Wars will begin.
Faith and the Future Force
Creative team:
Written by Jody Houser
Art by Cary Nord
All of time and creation is on the verge of destruction, as Faith's efforts to unite Valiant's greatest heroes has been all for naught. With time a limited resource, Faith finds herself turning to unlikely solutions in an effort to stop the clock on universal destruction.
Secret Weapons
Creative team:
Written by Eric Heisserer
Art by Raul Allen and Patricia Martin
Livewire is finally ready to tackle the threat of Rex-O, as her team calls the deadly menace out and prepares to become the heroes that they were always destined to be. Provided that they survive long enough to see the world in chaos for Harbinger Wars 2 that is.
Eternity

Creative team:
Written by Matt Kindt
Art by Trevor Hairsine
You've witnessed the birth of gods in Divinity, now prepare yourselves for…Eternity. New legends are born as a new plane of existence in the Valiant Universe makes itself known. It's a journey into the uncharted regions of the unknowable that begins this October.
Shadowman

Creative team:
Written by Eliot Rahal
Art by Renato Guedes
Brothers Slim Jxmmi and Swae Lee may be the hottest musical act on the planet, but nothing could prepare them for a chance encounter with New Orleans and its supernatural guardian Shadowman as the Deadside starts pursuing the fame and fortune of Rae Sremmurd.
Last Updated: August 31, 2017