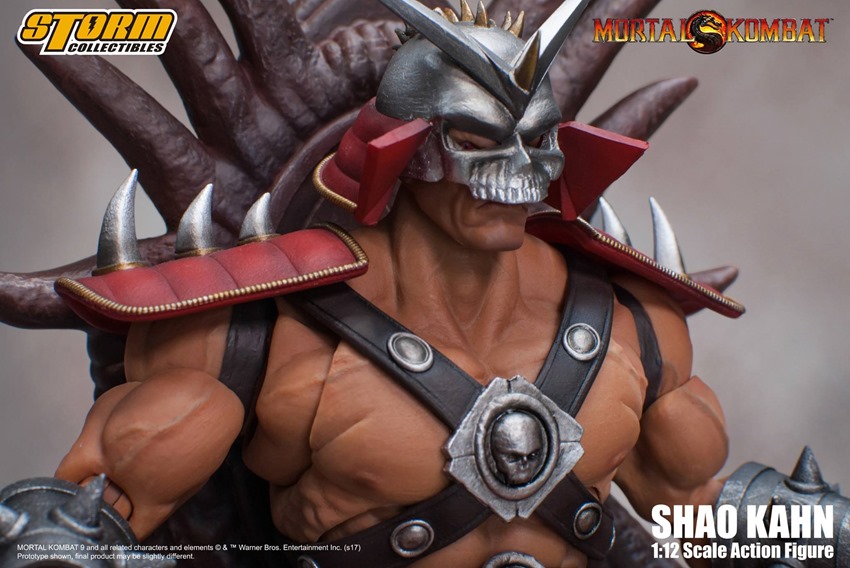 I've got one big bad figure from Storm Collectibles, in the form of Street Fighter's M Bison all dressed up in his Tuesday finest ala the look he sports in the core fifth game. He's posable to the max, he came with a ridiculous number of accessories and the overall detail on this sculpt is just brilliant. I might want to juxtapose that love with a bastard boss from another game in the same genre: Shao Kahn.
He's one of the most iconic fighting game villains of all time, a boneheaded conqueror of Outworld who first appeared in 1993's Mortal Kombat 2 as the final threat and had every cheap trick in the book to throw at players. Super-speed, shoulder charges which he could combo into a mighty hammer blow…man this guy was all kinds of cheese.
Cheese which you can now own in 1/12 scale. Storm Collectibles have announced an official release date for the Mortal Kombat titan, which doesn't include the dragon-king Onaga's eternal hatred for him. Here's what $95 does get you:
Mortal Kombat SHAO KAHN features:

Storm Collectibles presents our new Mortal Kombat action figure SHAO KAHN

Shao Kahn first appears in Mortal Kombat II in 1993 as the final boss and main antagonist. Shao Kahn was Outworld's protector and an advisor to the realm's rulers, Onaga. The Mortal Kombat tournament prevents him from taking the realm by force, but if Shao Kahn's champions win 10 consecutive tournaments, Earthrealm will be his. As long as his champions Shang Tsung and Price Goro do not fail him, he will be victorious.
2 x Interchangeable Head Sculpts
Kahn's Warlord Helmet
Wrath Hammer
Shao Kahn's Throne
8 x Interchangeable palms
That throne looks glorious. Storm Collectibles say that the Outworld Emperor will be out in the fourth quarter of this year, if you can stop yourself from gazing at his mighty nipple harness long enough.
Last Updated: August 10, 2017