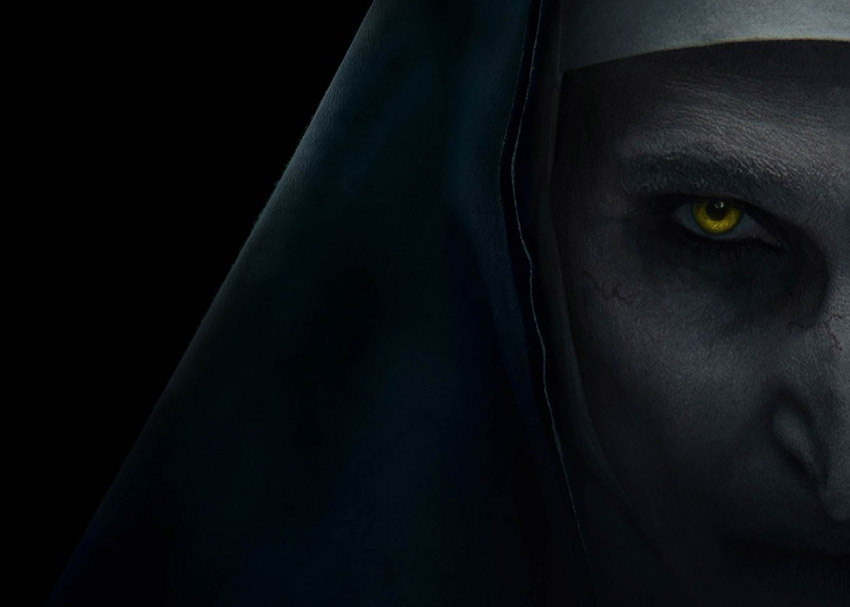 This coming Friday, we finally get to delve into the origins of the global smash hit Conjuring franchise when prequel horror flick The Nun drops in cinemas. And based on what I've seen firsthand of how numerous people are reacting to the scary trailer, I suspected somebody is going to die. I'm not referring to a character in the movie here though. That's a given. After all, what's a horror movie about a malevolent force in a gothic convent without a little death? No, I'm talking about somebody in the cinema's gentle constitution finally failing them after one too many jump scares.
At the very least, somebody is probably going to be scared right out of their clothes. Luckily, we're here to offer you just the right set of backup gear to take along for the occasion courtesy of five merchandise hampers for The Nun that we'll be giving away courtesy of the awesome folks at Empire Entertainment. Each of these hampers is valued at R900 and contains a unisex white branded t-shirt, a branded baseball cap, a canvas drawstring bag, heat-changing thermos, a ladies poncho t-shirt, a branded post-it note cube, and a branded black crewneck t-shirt.
So what do you need to do to win this prize, it's simple: Just spend a night alone in the real convent where this movie was shot without any lights! Just kidding! We actually like our readers and wouldn't want to put you through that. All you need to do to is just enter your details in the form below. Simple as that! You're allowed one entry per unique e-mail address.
We'll draw the names of the five winners next week, but in the meantime, if you want extra bragging rights, then how about also creeping us out in the comments below with your scariest ghost story?!
The Nun is directed by Corin Hardy and was co-written by The Conjuring creator/director James Wan and It and Annabelle writer Gary Dauberman. It screeches into cinemas this coming Friday, 7 September.
When a young nun at a cloistered abbey in Romania takes her own life, a priest [Demian Bichir] with a haunted past and a novitiate [Taissa Farmiga] on the threshold of her final vows are sent by the Vatican to investigate.  Together they uncover the order's unholy secret.  Risking not only their lives but their faith and their very souls, they confront a malevolent force in the form of the same demonic nun [Bonnie Aarons] that first terrorized audiences in "The Conjuring 2," as the abbey becomes a horrific battleground between the living and the damned.
Please note: Contestants for this competition have to reside within South Africa. 
Last Updated: September 5, 2018