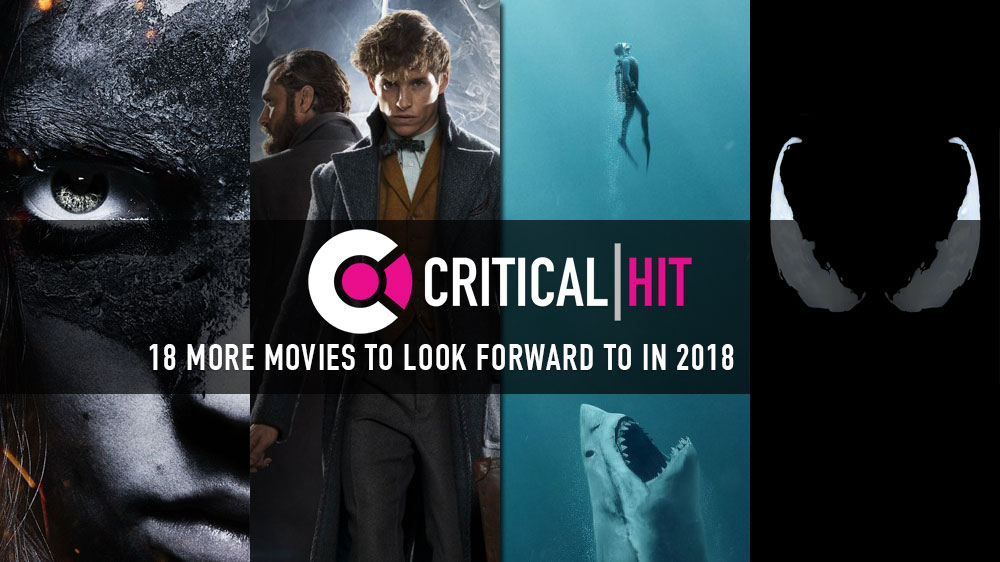 Covering the second half of 2018, here are some of the highly anticipated movies coming to cinemas in the remainder of the year. It was damn difficult to keep this list down to just 18, so much so that I had to add some honourable mentions at the end. But even so, there are a lot of movies opening between now and December that didn't get a shout out. So, bear that in mind before you jump to the comments!
All the listed release dates are accurate as of publication (24 July 2018), but unfortunately, cinema schedules are constantly changing, so be sure to keep your eye out for the weekly Movies out Today posts so you don't miss a thing!
Antman & The Wasp
Scott Lang is grappling with the consequences of his choices as both a superhero and a father. Approached by Hope van Dyne and Dr. Hank Pym, Lang must once again don the Ant-Man suit and fight alongside the Wasp. The urgent mission soon leads to secret revelations from the past as the dynamic duo finds itself in an epic battle against a powerful new enemy.
Although Ant-Man & The Wasp has already opened in cinemas, I'm still including it because, hot damn, it's a good movie. Unlike Star Wars, Marvel is completely avoiding franchise fatigue and has pulled out yet another winner. Even Geoff will like this one!
6 July
Skyscraper
Former FBI Hostage Rescue Team leader and U.S. war veteran Will Ford (Dwayne Johnson) now assesses security for skyscrapers. He's on assignment in China when he finds the tallest, safest building in the world suddenly ablaze, and he's been framed for it. A wanted man on the run, Will must find those responsible, clear his name and somehow rescue his family, which is trapped inside the building, above the fire line.
The more I see him in films, the more respect I have for Dwayne Johnson. He's turned into a decent actor, with an impressive range – given his background. Needless to say, I'm weirdly excited for Skyscraper, which opened… two weeks ago. Yeah I know, I'm slow in getting to the cinemas, okay?
13 July
Mission Impossible – Fallout
Ethan Hunt and his IMF team find themselves in a race against time after a mission goes wrong
Finally, we get to see the moustache that caused the Justice League so much grief. Henry Cavill was contractually obliged not to shave it during reshoots thanks to Fallout, so it had better be a super-stache.
27 July
Christopher Robin
Winnie-the-Pooh and friends reunite with old pal Christopher Robin — now an adult.
The second Winnie the Pooh movie out this year (after Goodbye Christopher Robin that debuted earlier in the year), this Christopher Robin is more mainstream and accessible. Focussing on the titular Christopher Robin as an adult, instead of the adult behind the character, a new generation of children will fall in love with the fuzzy Pooh Bear and friends.
3 August
Sicario: Day of Soldado
FBI agent Matt Graver calls on mysterious operative Alejandro Gillick when Mexican drug cartels start to smuggle terrorists across the U.S. border. The war escalates even further when Alejandro kidnaps a top kingpin's daughter to deliberately increase the tensions. When the young girl is seen as collateral damage, the two men will determine her fate as they question everything that they are fighting for.
I honestly don't know anything about Sicario: Day of Soldado, but Kervyn insisted it appear on this list. A follow-up to 2015's Oscar-nominated crime thriller Sicario, the returning cast hasn't quite managed to elevate Day of Soldado to match previous ratings, it's nevertheless highly watchable and perhaps even more grim.
3 August
The MEG
A massive creature attacks a deep-sea submersible, leaving it disabled and trapping the crew at the bottom of the Pacific Ocean. With time running out, rescue diver Jonas Taylor must save the crew and the ocean itself from an unimaginable threat — a 75-foot-long prehistoric shark known as the Megalodon
Action. Adventure. Giant sharks. Jason Statham. Ruby Rose. The MEG is going to be silly, overblown and quite possibly ridiculous, but for all the reasons I've listed, I'm still keen.
10 August
Alpha
Europe, 20,000 years ago. While on his first hunt, an initiation to his tribe's most elite group, a young man, Zeta, is injured and left for dead after a bison hunt goes horribly wrong. Awaking to find himself broken, alone, and miles from his village – he must learn to survive and navigate the harsh and unforgiving wilderness. Reluctantly taming a lone wolf, Alpha, abandoned by its pack, the pair learn to rely on each other to hunt and become unlikely allies, enduring countless dangers and overwhelming odds in order to find their way home before the deadly winter arrives.
Alpha started out looking quite impressive after the first trailer. Unfortunately, the second trailer was released which undid all the original goodwill and turned it into a cheesy Lifetime movie with a big budget. Proceed with caution.
17 August
The Happytime Murders
In the seedy underbelly of Los Angeles, two clashing detectives — one human and the other a puppet — must work together to solve the brutal murders of former cast members of a beloved puppet TV show.
I'll be honest, The Happytime Murders just looks f—ed up to me. An unholy cross between Who Framed Roger Rabbit and Pulp Fiction, the latest Henson project is definitely, 100% not for children.
31 August
BlacKkKlansman
From visionary filmmaker Spike Lee comes the incredible true story of an American hero. It's the early 1970s, and Ron Stallworth (John David Washington) is the first African-American detective to serve in the Colorado Springs Police Department. Determined to make a name for himself, Stallworth bravely sets out on a dangerous mission: infiltrate and expose the Ku Klux Klan. The young detective soon recruits a more seasoned colleague, Flip Zimmerman (Adam Driver), into the undercover investigation of a lifetime. Together, they team up to take down the extremist hate group as the organization aims to sanitize its violent rhetoric to appeal to the mainstream. Produced by the team behind the Academy-Award® winning Get Out.
After its premiere at Cannes, Spike Lee's latest outing, BlacKkKlansman, received a massive ten-minute long standing ovation. The crazy, truth-is-stranger-than-fiction story is co-produced by Jordan Peele (Get Out) and should set some fires at the box office. In a good way though, not in an actual burning of buildings way.
7 September
Predator
From the outer reaches of space to the small-town streets of suburbia, the hunt comes home. The universe's most lethal hunters are stronger, smarter and deadlier than ever before, having genetically upgraded themselves with DNA from other species. When a boy accidentally triggers their return to Earth, only a ragtag crew of ex-soldiers and a disgruntled science teacher can prevent the end of the human race
Tracy's Movie List of Shame Confession #986 – I have never seen a single Predator movie, and I doubt I'll be starting with this one. Mainly because I'll have to watch all the others first.
14 September
Venom
One of Marvel's most enigmatic, complex and badass characters comes to the big screen, starring Academy Award® nominated actor Tom Hardy as the lethal protector Venom.
I'm not entirely sure where Sony is going with Venom. Based on the trailer, this film seems more like The Menacing Tom Hardy Show, because instead of showing us what we want to see, we get a lot of, well, Tom Hardy. Hopefully Venom actually shows up at some point in the film.
5 October
Fantastic Beasts: The Crimes of Grindelwald
Magizoologist Newt Scamander joins forces with young Albus Dumbledore to prevent the devious Gellert Grindelwald from raising pure-blood wizards to rule over all non-magical beings.
Honestly, I'm feeling very meh about The Crimes of Grindelwald. The trailers show a lot of flashy CGI and effects, and I know Eddie Redmayne is going to be adorable as Newt Scamander again, but the plot seems thinner and less corporeal than a Patronus.
16 November
Ralph Breaks the Internet
Ralph and Vanellope embark on an adventure inside the internet to find a spare part to fix a video game.
As much as I absolutely loved Wreck-It Ralph, I don't know how excited I am for a sequel. Does the Ralph adventure need to continue? Especially into the murky waters of "the internet"? Thank goodness this is a kid's movie, otherwise, we'd be going some very dark places.
30 November
Robin Hood
Robin of Loxley (Taron Egerton) a war-hardened Crusader and his Moorish commander (Jamie Foxx) mount an audacious revolt against the corrupt English crown in a thrilling action-adventure packed with gritty battlefield exploits, mind-blowing fight choreography, and a timeless romance.
Descriptions like "gritty" and "mind-blowing" generally set my teeth on edge but, based on the trailer, I'm willing to give Robin Hood a shot. Cheesy dialogue aside, I do so like Taron Egerton, and I'll be willing to gloss over story stumbles if the action scenes are as "mind-blowing" as claimed.
7 December
Bohemian Rhapsody
Singer Freddie Mercury, guitarist Brian May, drummer Roger Taylor and bass guitarist John Deacon take the music world by storm when they form the rock 'n' roll band Queen in 1970. Hit songs like "Killer Queen," "Bohemian Rhapsody, "We Are the Champions" and "We Will Rock You" become instant classics. When Mercury's increasingly wild lifestyle starts to spiral out of control, Queen soon faces its greatest challenge yet — finding a way to keep the band together amid the success and excess.
Beloved glam-rock band Queen have always been protective of their legacy, so much so that it has taken nearly three decades since the passing of lead singer Freddie Mercury for a band-approved biopic to make its way to the big screen. While the first trailer (above) glossed over some of the darker times that the band went through, the second trailer seems to have addressed the issues that were lacking.
14 December
Aquaman
Aquaman finds himself caught between a surface world that ravages the sea and the underwater Atlanteans who are ready to revolt.
Despite their past mistakes, I'm still rooting for DC to give us a second entry to the DCEU that isn't a total let-down. Will that be in the form of Aquaman? Well, the overblown CGI hasn't impressed me yet, but time may tell.
21 December
Alita: Battle Angel
Set several centuries in the future, the abandoned Alita is found in the scrapyard of Iron City by Ido, a compassionate cyber-doctor who takes the unconscious cyborg Alita to his clinic. When Alita awakens, she has no memory of who she is, nor does she have any recognition of the world she finds herself in. As Alita learns to navigate her new life and the treacherous streets of Iron City, Ido tries to shield her from her mysterious past.
I was vaguely aware that the live action version of the classic anime Battle Angel Alita was happening, but it wasn't until I saw the trailer that I really got excited. Director Robert Rodriguez has nailed the anime aesthetic, more so than Ghost In The Shell did. Based on some reactions from San-Diego Comic Con, Alita: Battle Angel's looks to be a stylish blend of CGI and live-action.
28 December
Mary Poppins Returns
Magical nanny Mary Poppins reunites with Michael and Jane Banks in 1930s London.
Stepping into the shoes of Julie Andrews (hopefully with a hearty exclamation of "I'm Mary Poppin's y'all!") is Emily Blunt in Mary Poppins Returns. Set 20 years after the original film, Returns is a standalone narrative based on the remaining seven books in the P.L. Travers' series.
28 December
Honourable Mentions
Teen Titans Go! To the Movies (27 July)
A villain's maniacal plan for world domination sidetracks five teenage superheroes who dream of Hollywood stardom.
The Darkest Minds (3 August)
When teens mysteriously develop powerful new abilities, they are seen as a threat by the government and sent to detainment camps. Sixteen-year-old Ruby soon escapes from her captors and joins other runaways who are seeking a safe haven. Banded together and on the run, they soon combine their collective powers to fight the adults who tried to take away their future.
As rioting rocks Los Angeles in the year 2028, disgruntled thieves make their way to Hotel Artemis — a 13-story, members-only hospital for criminals. It's operated by the Nurse, a no-nonsense, high-tech healer who already has her hands full with a French assassin, an arms dealer and an injured cop. As the violence of the night continues, the Nurse must decide whether to break her own rules and confront what she's worked so hard to avoid.
First Man is an upcoming American biographical adventure space film directed by Damien Chazelle and written by Nicole Perlman and Josh Singer, based on the book First Man: The Life of Neil A. Armstrong by James R. Hansen. Starring Ryan Gosling as Neil Armstrong, Claire Foy as Janet Shearon and Corey Stoll as Buzz Aldrin
From Director Andy Serkis comes the story of MOWGLI, a human child raised by a wolf pack in the jungles of India. As he learns the often harsh rules of the jungle, under the tutelage of a bear named Baloo and a panther named Bagheera, Mowgli becomes accepted by the animals of the jungle as one of their own, but the fearsome tiger Shere Khan doesn't take a liking to him. But there may be greater dangers lurking in the jungle, as Mowgli comes face to face with his human origins.
Laurie Strode prepares for a final showdown with masked killer Michael Myers.
In a small town in Massachusetts, four high school girls perform a ritual in an attempt to debunk the lore of SLENDER MAN. When one of the girls goes mysteriously missing, they begin to suspect that she is, in fact, HIS latest victim.
The Girl in the Spider's Web (9 November)
Journalist Mikael Blomkvist and hacker Lisbeth Salander encounter a web of spies, cybercriminals and government corruption.
Mortal Engines (14 December)
Thousands of years after a cataclysmic event, humans try to survive on a planet where gigantic moving cities ruthlessly prey upon smaller traction towns. When Londoner Tom Natsworthy encounters the dangerous fugitive Hester Shaw, he soon finds himself forging an unlikely alliance that changes the course of the future.
Spider-Man: Into the Spider-Verse (21 December)
Spider-Man: Into the Spider-Verse introduces Brooklyn teen Miles Morales, and the limitless possibilities of the Spider-Verse, where more than one can wear the mask.
Last Updated: July 24, 2018