Six new movies form part of the May DVD haul from Ster-Kinekor Entertainment. This batch includes some of the big action blockbusters and critically acclaimed dramas that kicked off this year. The set also seems designed to remind you just how damn fast 2017 is flying by.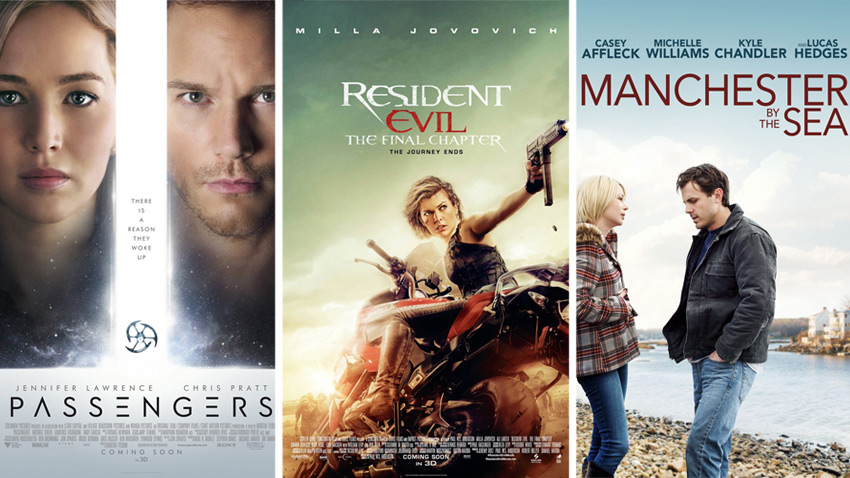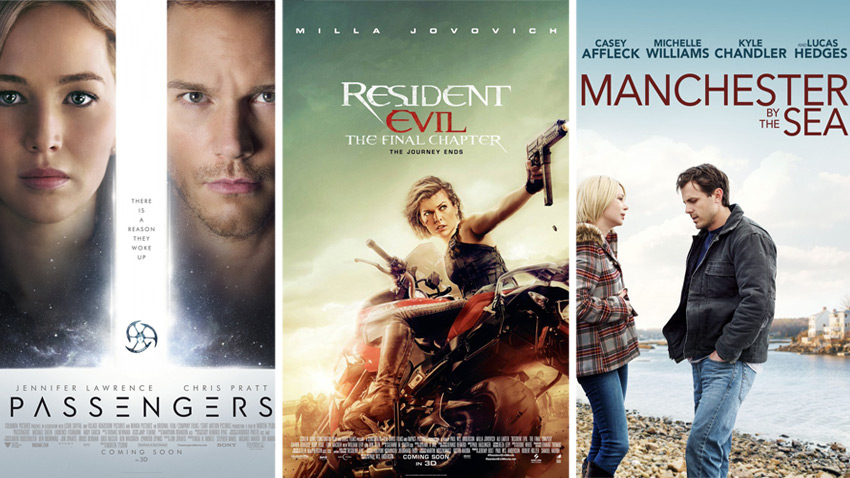 Passengers
Genre: Science fiction, Romance
Aurora (Jennifer Lawrence) and Jim (Chris Pratt) are two passengers onboard a spaceship transporting them to a new life on another planet. The trip takes a deadly turn when their hibernation pods mysteriously wake them 90 years before they reach their destination. As Aurora and Jim try to unravel the mystery behind the malfunction, they begin to fall for each other, unable to deny their intense attraction… only to be threatened by the imminent collapse of the ship and the discovery of the truth behind why they woke up.
Passengers is a problematic mixed bag for multiple reasons. Combining science fiction, action and romance, some aspects gel more comfortably than others. However, the acting is inconsistent and attempts to be thought-provoking fall short, due to an average plot. According to our review you'll probably be entertained while watching, but afterwards if you apply any logical thought, the whole thing disintegrates like a damaged spacecraft.
Critical Hit: 6/10
Rotten Tomatoes: 31%
Metacritic: 41
Equity
Genre: Drama / Financial thriller
Naomi Bishop (Anna Gunn) is an investment banker determined to overcome a previous stain to her professional reputation, which is a challenge in the male-dominated financial sector she works in. As Naomi makes her move managing a burgeoning new tech IPO, she has to endure not only the condescension of her colleagues, but also her imperious client even as troubling new developments cloud the venture's future. Against that, the probing of a college friend turned Federal Investment Law prosecutor (Alysia Reiner) and the conniving of her double-dealing boyfriend (James Purefoy) seem to be manageable complications, until a betrayal by a trusted colleague threatens to ruin everything.
Indie drama Equity's biggest selling point is that it provides a rare female perspective on Wall Street shenanigans. It's been called a smart, entertaining stereotype-basher. Critics are split though as to how well crafted it is. While some praise it as gripping and on the nose, others are adamant the story, characters and themes don't come together due to lacklustre direction.
Rotten Tomatoes: 81%
Metacritic: 68
Denial
Genre: Historical / Drama
Based on the acclaimed book "History on Trial: My Day in Court with a Holocaust Denier," Denial recounts Deborah E. Lipstadt's (Rachel Weisz) legal battle for historical truth against David Irving (Timothy Spall), who accused her of libel when she declared him a Holocaust denier. In the English legal system when claiming Defamation, the burden of proof is on the accused; therefore it was up to Lipstadt and her legal team to prove the essential truth that the Holocaust occurred. Also starring Tom Wilkinson.
Fascinating, educational and topical, courtroom drama Denial apparently draws much of its power from its three central performances – Weisz in particular. Some reviewers have complained it's a little dry though, and not as compelling as the real-life events on which it's based.
Rotten Tomatoes: 83%
Metacritic: 63
Manchester By the Sea
Genre: Drama
An uncle (Casey Affleck) is obliged to return home to care for his 15 year old nephew (Lucas Hedges) after his brother (Kyle Chandler) dies. Unknowingly, he is the boy's legal guardian and struggles with the decision to accept that responsibility. Throughout the movie he recounts past memories that caused him to leave Manchester and distance himself from his past. Also with Michelle Williams.
Be warned! With its focus on loss and grief, Manchester By the Sea is emotionally HEAVY. It is, however, also massively acclaimed. It was nominated for six Academy Awards this year, going on to win Best Original Screenplay (for writer-director Kenneth Lonergan) and Best Actor (for Affleck). Hard to watch for the most part, but apparently hugely rewarding if you can make it to the end.
Rotten Tomatoes: 96%
Metacritic: 96
Resident Evil: The Final Chapter
Genre: Action / Horror
Picking up immediately after the events in Resident Evil: Retribution, Alice (Milla Jovovich) is the only survivor of what was meant to be humanity's final stand against the undead. Now, she must return to where the nightmare began – The Hive in Raccoon City, where the Umbrella Corporation is gathering its forces for a final strike against the only remaining survivors of the apocalypse.
Alice's story finally wraps up – or so we've been promised – in this sixth Resident Evil film. Some reviewers have insisted The Final Chapter is the most story-strong of the series. On the flipside, with poor acting and editing so frantic it makes most fight scenes incomprehensible, just as many critics have labelled the movie the worst of the lot.
Critical Hit: 3/10
Rotten Tomatoes: 33%
Metacritic: 49
Hoener Met die Rooi Skoene
Genre: Comedy, Mystery
Kaptein Hendrik Greyling (Louw Venter), who is known amongst his colleagues as the 'Iron Rooster', is always in control. When he falls in cold water during the execution of his tasks, he gets the flu. In his feverish condition, he is appointed as the investigating officer of a very abnormal murder scene, where the body disappears without a trace… and quickly finds himself in the midst of the chaos and confusion of more than one murder.
The trailer for Hoener Met die Rooi Skoene looks like someone filmed an amateur stage production. But first impressions may be misleading in this case. As a Afrikaans comedy, it's apparently got a bit more to offer than usual. The leading lady is irritatingly shrill, but as a remake of 70s film Babbelkous, this crime noir comedy is unquestionably something different.
Last Updated: May 9, 2017