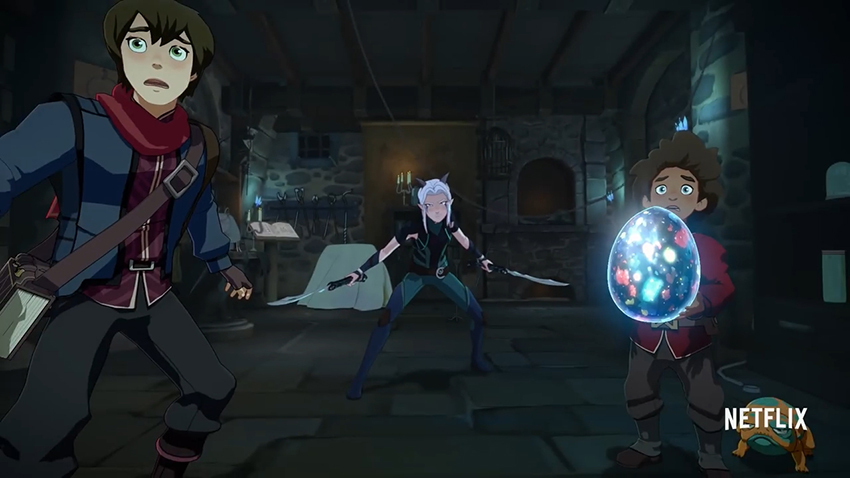 I was already sold on The Dragon Prince before I had even seen a single frame of footage from the first teaser trailer that was revealed at San Diego Comic-Con, and that was all due to who was making it. Netflix's upcoming animated fantasy adventure series comes from Aaron Erhasz and Giancarlo Volpe, two of the lead creators behind the modern-classic Avatar: The Last Airbender, its follow-up Legend of Korra, as well as the awesome remake Voltron: Legendary Defender, as well as Justin Richmond, the director on the Uncharted 3: Drake's Deception video game. That is a seriously potent combo of talent right there.
Of course, not all of you will be as impressed with the credentials behind those names as I am, and this clearly means you're not to be trusted to operate heavy machinery but that's okay. Maybe you need a bit more convincing by way of some magical visuals? Well, then it's a good thing this first full trailer for The Dragon Prince, released over the weekend by Netflix, is here to give you just what you need!
This new preview serves as a good introduction to not only the story of a war between the elfish Xadia and the Human Kingdom, but also introduces the show's primary cast of the brave human Prince Callum, his devoted young brother Ezran, and Rayla, the moonshadow elf assassin who finds herself having to team up with these humans to "overcome dark magic and restore peace to the world". I will admit that there's a slightly jittery feel to the animation which goes for a cell-shaded CG-imitation of traditional hand-drawn techniques, but it's not enough to dull my excitement for this show after being such a big fan of the creators' previous works.
The full first season of The Dragon Prince will debut on Netflix in just under two weeks on 14 September.
Last Updated: September 3, 2018