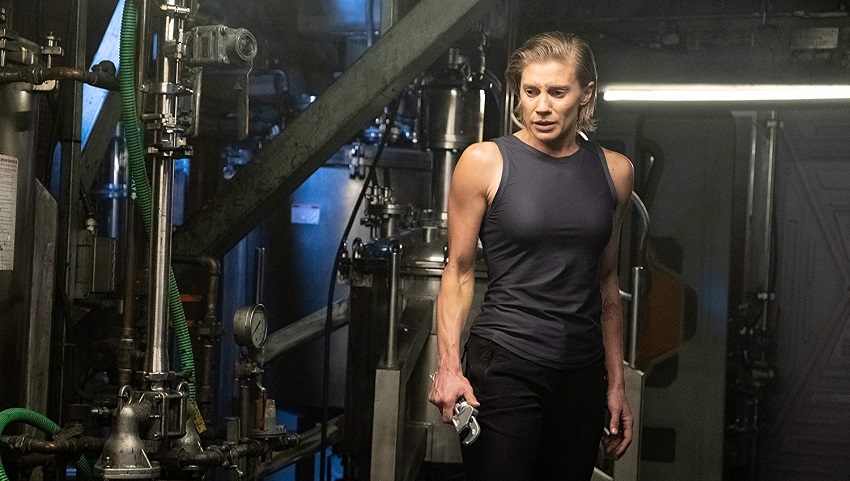 No you're not experiencing déjà vu, you did indeed read about Netflix's Another Life on Wednesday, or maybe Thursday morning. And if you didn't, I wasn't particularly complimentary towards the teaser trailer – in fact I compared it to Nightflyers. Nightflyers.
Well Netflix has decided that teasing us isn't the best strategy and have just released the full official trailer for the upcoming Katee Sackhoff-led sci-fi drama/thriller series. As I said then, the teaser trailer didn't reveal anything that really grabbed my attention, but if 24 taught us anything it's what a difference a day makes.
So without further ado, let's take a look:
Put your hand up everyone who wants to see humanity smack bang in the middle of an interstellar war. You can't see me, but my hand is raised because we don't get enough star wars. There's a hell of a lot more going on in this series than the teaser trailer even hinted at, one could even be a tad nitpicky and say they revealed a bit too much in this trailer.
But I'm not going to complain too much about that because we're not just stuck on a space ship experiencing generic horror sequences, but are actually setting foot on brand new worlds as we follow the crew on their journey to unravel the mystery behind the alien artifact's purpose – and that funky-looking Möbius strip seems like it has a deadly one at that.
So I like what I see now more than I did the other day, but I still have a few reservations. The family drama doesn't sit well with me because it seems soap-ish, once again some of the dialogue fell flat, that direct Arrival knock-off scene doesn't inspire confidence, and parts of it look surprisingly cheap. The latter certainly isn't a deal-breaker because story and character matter far more than visuals to me, but it did stick out when compared to the quality we've been getting over the last few years from Netflix.
I will say the P90s are a nice shout-out to Stargate, if intended. What do you think now?
The official plot synopsis is as follows:
Another Life centers on astronaut Niko Breckinridge (Katee Sackhoff) who is focused on searching for alien intelligence. She leads a crew on a mission to explore the genesis of an alien artifact. As Niko and her young crew investigate, they face unimaginable danger on what might very well be a one-way mission.
Another Life will premiere its 10-episode-long first season on Netflix on 25 July. It also stars Justin Chatwin, Selma Blair, Jake Abel, Samuel Anderson, Jessica Camacho, and Tyler Hoechlin.
Last Updated: July 12, 2019