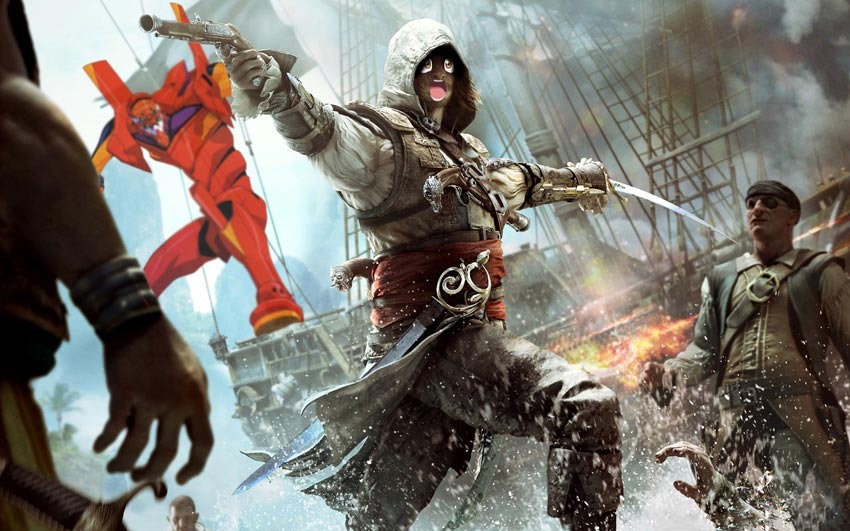 Over the last decade, Assassin's Creed has been more than just a video game series. Trendy clothing, light novels and even a well-received film managed to spin out of Ubisoft's premiere franchise in leap of faithing into conveniently placed haystacks dotted around various locales throughout history. So what medium is left for Assassin's Creed to shove a small wrist-blade into?
Anime, that's what.
The Ubisoft franchise is going to be dipping its blades into the fan-favourite genre of Japanese animation, headed up by Adi Shankar. If the name rings a bell, it should: The Hollywood producer has an anime adaptation in the works for Castlevania, as that Konami property will be crackin' it's whip on Dracula's stupid face over on Netflix this week. Whip it real good.
"I'm happy to let you guys know that I've selected my next project! I played the first edition of Assassin's Creed the year I moved to Los Angeles to pursue my dream," Shankar wrote on his FaceBook page. At that moment I knew absolutely no one in the industry and could never have imagined that one day Ubisoft would ask me to take the world of Assassin's Creed and create an original story set in it as an anime series. If anyone tells you not to follow your passion in life they are wrong.
I'm honestly far more thrilled over the idea of an Assassin's Creed anime series than another live-action flick. Anime just provides a broader canvas, a better medium to really nail the ideas that Ubisoft created for their franchise without it being lost to Hollywood and studio demands. You can paint a far more vivid story in animation with a smaller budget than you can in a large-scale Hollywood blockbuster.
It's not the first time that Assassins Creed has hit animation circles, although it will be a new direction for the series when it goes full-on Japanese for the next spin-off. Maybe this time, we'll finally get the Asian themed shinobi assassins that fans have been after for so many years.
Last Updated: July 5, 2017