I am really starting to dislike January. Apart from a batch of bad mainstream movies, we have to put up with a collection of films that make a strong case for Auteur Theory (don't get me started), and assorted directors who are looking to collect a quick gold statue rather than provide a good box office return. Taking into account the techniques filmmakers take advantage of in this pursuit, the creative choices to be found in On the Basis of Sex come as a surprise to me, and not necessarily to the film's advantage.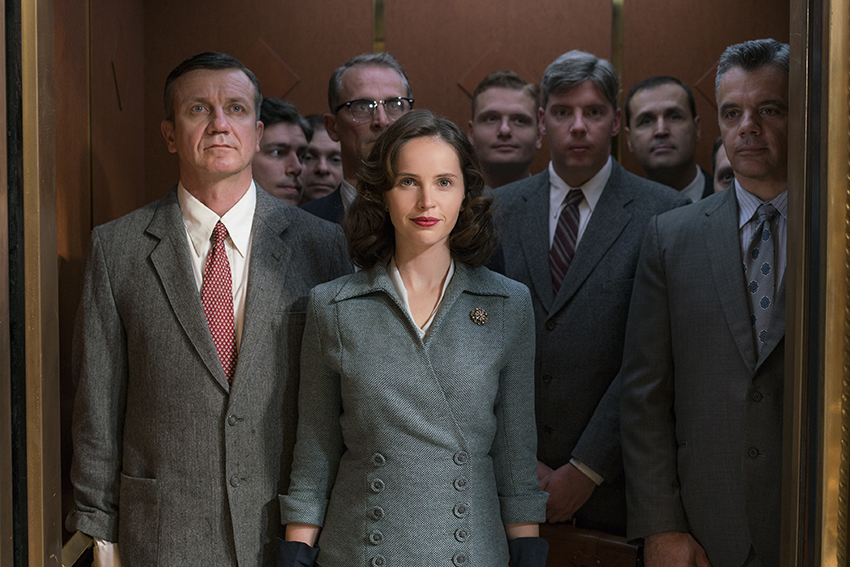 Directed by Mimi Leder and written by Daniel Stiepleman, On the Basis of Sex tells the "origin" story of Supreme Court Justice Ruth Bader Ginsburg, as played by Felicity Jones. Following her enrollment at Harvard Law in 1956, Ginsburg begins her struggle to achieve legal prestige in the face of a male-dominated profession, aided by her supportive husband Martin (Armie Hammer) and later her daughter Jane (Cailee Spaeny). Looking to challenge statutes that discriminate against women while such change is demanded on street level, Ginsburg teams up with the American Civil Liberties Union (ACLU) headed by Mel Wulf (Justin Theroux), to take on the case of Charles Moritz, a man whose tax dispute could result in gender-based laws across the country being upended.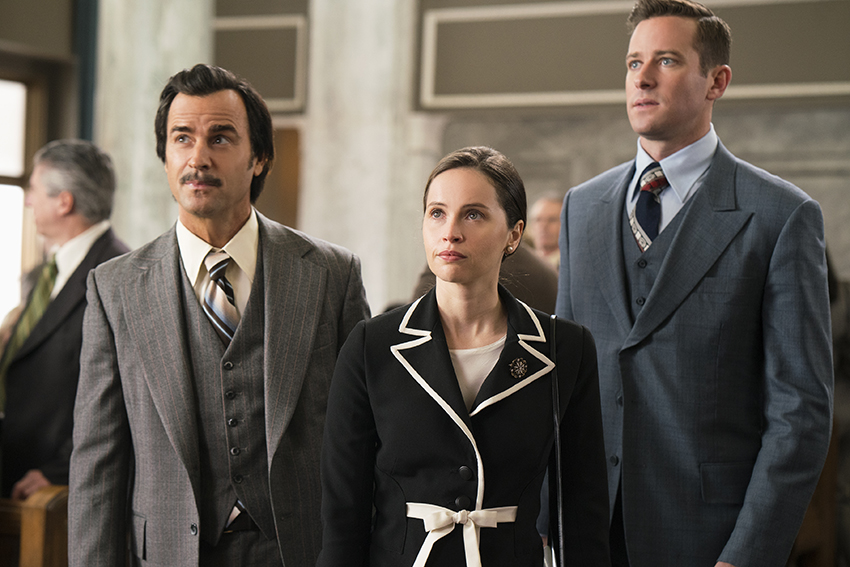 On the Basis of Sex bears the unique element of having open historical inaccuracies that were approved of by the parties concerned. Ginsburg herself had a hand in it, with writer Stiepleman being her nephew, who openly admits that a few parts of the narrative are fictional. While the film could be accused of historical fabrications for such admissions, a great deal of the changes have to do with the film's structure and buildup, rather than omitting what really went down during the Justice's early life for the purpose of saving face.
This plays into what is the film's biggest problem. Rather than going for a realistic approach to the filmmaking as one might expect for a biopic of this nature, Mimi Leder deploys characteristics which are more fitting of a sports underdog story than a legal drama period piece. There is a great deal of triumphant music used, and slow-motion scenes where you feel that Justice Ginsburg is getting ready to slice the head of a courthouse statue off. The writing does mirror this approach at times, especially when it gets around to the third act and you are left with Ginsburg having triumphed after the cliché part of being knocked down. One would not expect a hard-hitting biopic on sexual discrimination to have the same storytelling techniques as The Mighty Ducks.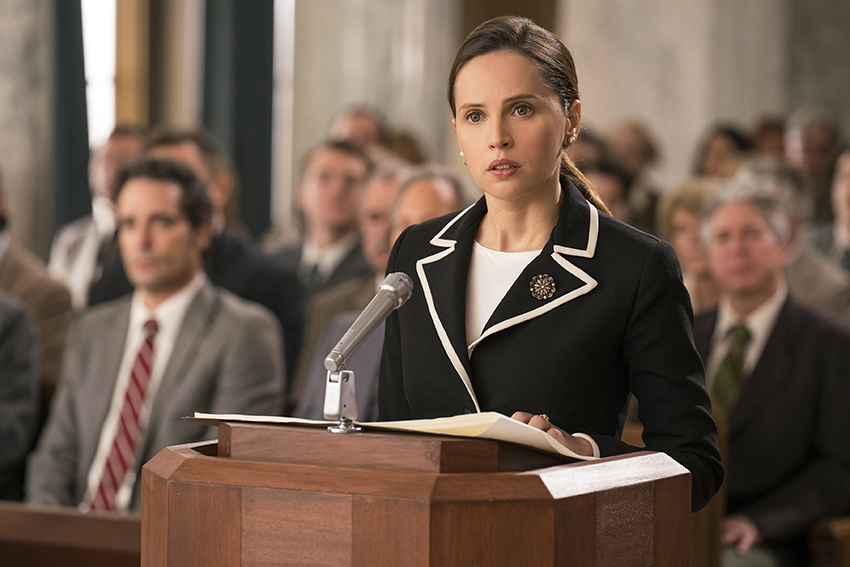 What makes this frustrating is that when the film does get serious, it gets fascinating. Stiepleman gives a great deal of attention to the legal jargon used by Ginsburg, her husband and the ACLU, and that is where his writing shines through. The dialogue between the characters is not only easy to follow, but also highly informative of how Ginsburg practically used the patriarchy against itself (seriously, her victory in Moritz v. Commissioner was a stroke of genius).
The script is then delivered through some killer performances. Felicity Jones is great. She looks, sounds, and feels the role of Ginsburg and the dynamic that she enjoys with Martin Ginsburg is undeniable and loving. In turn, Armie Hammer responds with the same good acting, as does Justin Theroux who is able to deliver the apprehensions that his character and the world had with Ginsburg's mission. Sam Waterson, in the role of Harvard Dean and later US Solicitor General Erwin Griswold, is underused but still legitimate. Kathy Bates is also in here briefly, and she always commandeers your attention. The real Ginsburg pops up towards the end, and her cameo signifies what is a film that, though cliché and predictable, means well in its message and the portrayal of its subject.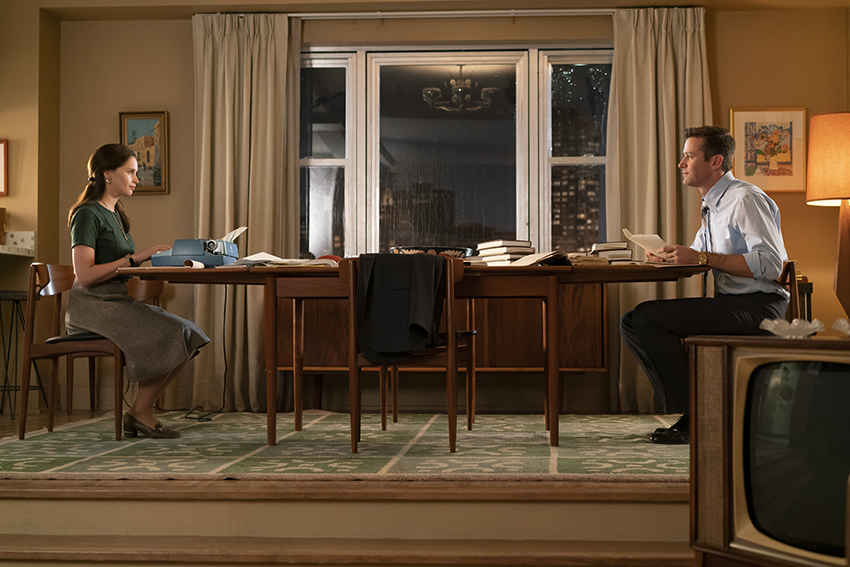 On the Basis of Sex benefits from competent camerawork and cinematography. Mimi Leder is known mostly for her TV work, but this film does not allow for any of the drawbacks that may come from said background to rear their heads. The story is intimate and the period of Ginsburg's life that is on the screen has more to do with human individuals rather than vast social systems. That being said, the upbeat tone of the storytelling can conflict with this, and there are certain plot points that are played up which never come to prominence. Notably with Ginsburg's opposing counsel in the third act. I also take issue with some of the noted fictional changes in the finale, that come across as forced and an apparent necessity to instill further drama.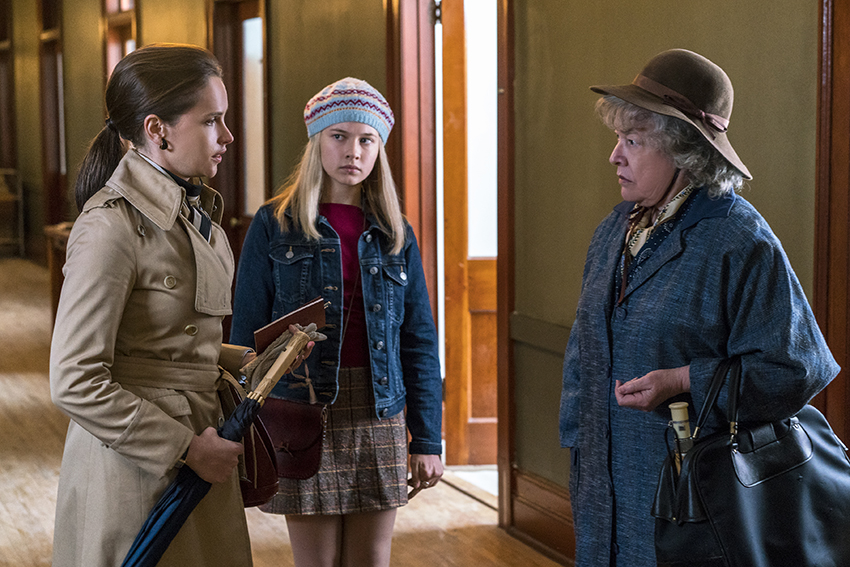 What remains is a film that, though well presented, is too formulaic in structure and plot. Taking sensational liberties in a story that does not need them, On the Basis of Sex is a mixed bag that, while interesting to watch, fails to fully state its case as a biopic.
Last Updated: January 22, 2019
Excellent acting on the part of Felicity Jones and an engaging script to boot. This despite On the Basis of Sex having a foothold in the wrong genre, and that suffers dramatically because of it.