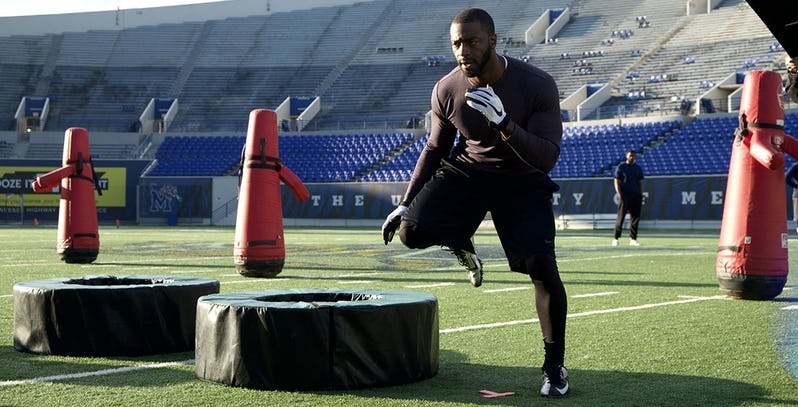 When it comes to film genres that are out to elicit emotions, the safe bets generally land in inspiring sports dramas that take you to euphoric highs or heart-wrenching true-life prison dramas that can take you to remarkable lows. Put the two together and you have a movie that is designed to take your emotions all over the place.
So this upcoming Bleecker Street film Brian Banks is the perfect recipe for emotions as it tells the true-life story of Brian Banks (played by Aldis Hodge), a high school student with a promising football career who lands up incarcerated in prison for over a decade after being falsely accused of rape by a classmate. The story focuses on his path to redemption, not just to have his name cleared, but also still try and achieve the sporting career he always dreamed of. Can this film deliver on the powerful emotions of this inspiring story? Let' look at the trailer to find out:
I would say that the film definitely looks like it will be an inspirational and uplifting one, though based on this trailer it plays out quite safe and predictable and not quite as powerful as I would've hoped a story like this should be. Still, with some decent performances by Hodge, Greg Kinnear and Melanie Liburd, it's a move that will likely not leave you disappointed either.
Brian Banks is directed by Tom Shadyac (Ace Ventura: Pet Detective, The Nutty Professor, Bruce Almighty) and is a far cry from anything we've seen from him in the past. After suffering a near-fatal bike accident though the director has steered clear of big film projects. Outside of a brief documentary titled I am in 2011, this film marks Shadyac's first directorial effort since 2007's Evan Almighty. And possibly also his most dramatic entry to date too.
Brian Banks is scheduled to hit theatres this August in the US with no set local release date, with a script written by Doug Atchinson (Akeelah and the Bee).
Last Updated: April 25, 2019