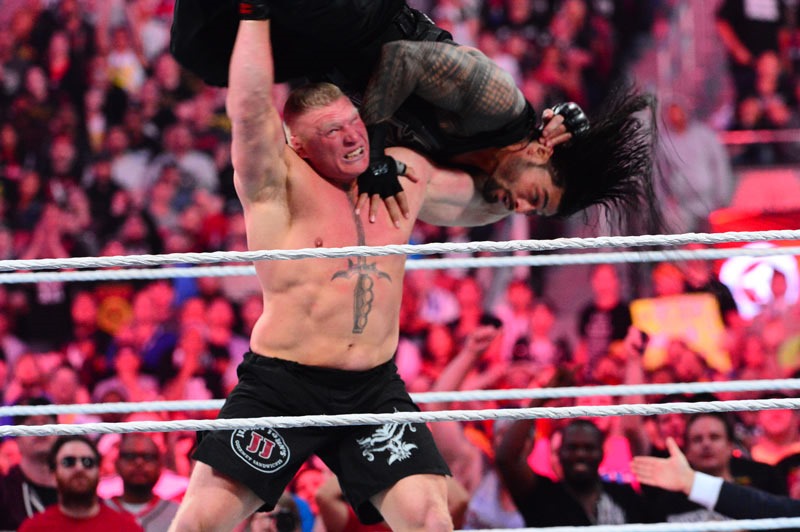 I wish ever history lesson was taught by the WWE. It'd be magnificent stuff, a tailor-made package of the tightest feuds set to the backdrop of some foot-tapping rock music along the way. And probably presented in less than five minutes as well. That's been the appeal of 2K's WWE games lately, as they've showcased the epic journey of legends such as Stone Cold Steve Austin and CM He Who Shall Not Be Named.
This year, the beast incarnate known as Brock Lesnar gets that trip down memory lane in WWE 2K17, final destination Suplex City. Thing is, that bus is going to have to make a stop at Wrestlemania 20 along the way, home to one of Lesnar's worst matches in WWE history. It was Brock Lesnar vs Bill Goldberg for the main event at Wrestlemania 20, with none other than Stone Cold Steve Austin as the special guest referee. It was also a train smash of a match, for various reasons as both Goldberg and Lesnar wrestled with the energy of dead sloths in that bout.
Lesnar wound up losing the Wrestlemania 20 match, and a ton of face along the way as he departed for a career of American handegg and the UFC. He'd eventually return to the WWE, with his biggest accomplishment to date being that he ended the legendary streak of the Undertaker at Wrestlemania, but that match against Bill Goldberg will always be a black spot in highlight reel of Brock Lesnar and his career.
But the WWE might be rewriting history a bit in that match for WWE 2K17 it seems.  "I don't think Brock Lesnar needs to exact revenge for WrestleMania 20 because, if you now fast forward to the year 2016, it's not Goldberg that's on the cover of WWE 2K17," Lesnar's advocate Paul Heyman said to GamesRadar.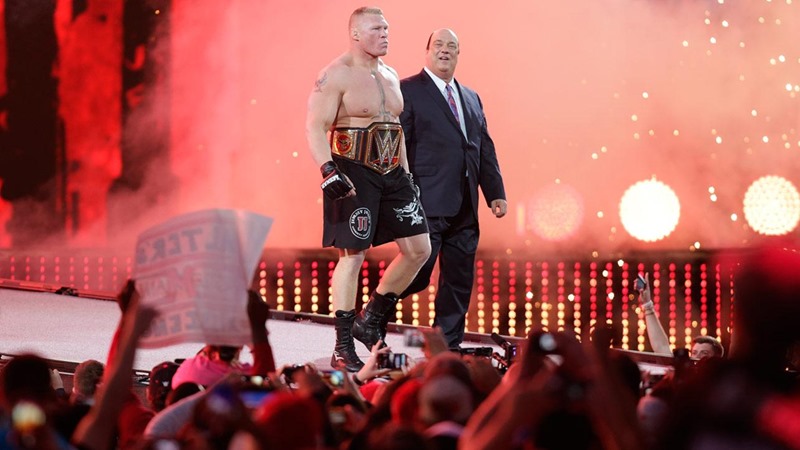 The reigning, defending, undisputed Knight Mayor of Suplex City is Brock Lesnar. And in this game, it's Bill Goldberg that has to come up to challenge Brock Lesnar for his top spot, for his dominance over Suplex City. It's not Brock Lesnar having to challenge Bill Goldberg. Am I looking forward to seeing Brock Lesnar versus Bill Goldberg or Brock Lesnar versus John Cena or Brock Lesnar versus Warrior in this game? I like watching Brock Lesnar conquer people all day long.

I don't think Bill Goldberg in this game is going to be too happy with the end result.
Look, if that Wrestlemania 20 match gets a much needed sprucing up to be less authentic and more exciting in WWE 2K17, then I'm down like a clown with that idea. But a digital rematch with Bill Goldberg that pulls out all the stops? In the word of Daniel Bryan, yes. And then several times more in growing succession as the chant fills the stadium over and over again.
WWE 2K17 is out on October 11, and I'm hoping that the collector's edition includes a replica of Mr Socko.
Last Updated: June 30, 2016