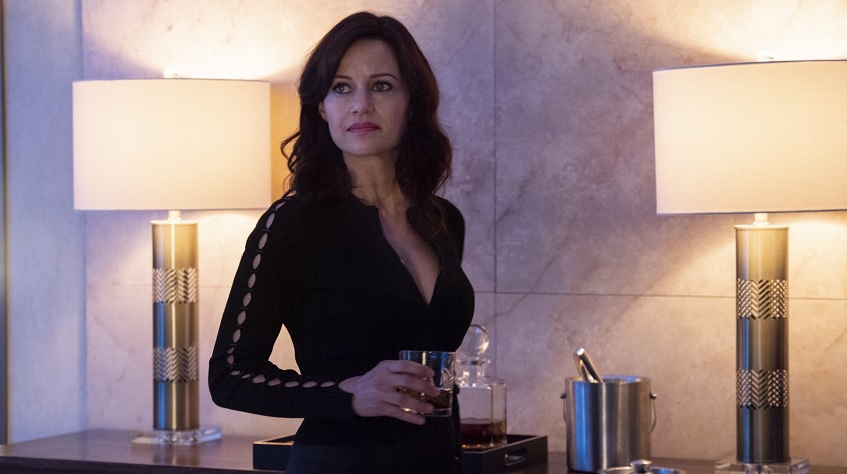 Where in the world is Carla Gugino? If you want to know the answer to that you'll watch the trailer for the upcoming Cinemax crime action drama, Jett.
Created, written, and directed by Sebastian Gutierrez (Elizabeth Harvest), Jett follows the life of Daisy 'Jett' Kowalski (the aforementioned Carla Gugino – who was superb in Netflix's The Haunting of Hill House and Gerald's Game) – one of the world's greatest thieves who's just been released from prison and is intent on living a simple life with her family. But for someone with her complicated past things rarely stay simple, and her former colleagues have other plans for someone of her skills. She's forced to reenter the high-stakes life she left behind when she's recruited for one last job, and we all know how those turn out.
The series features an excellent cast that also stars Giancarlo Esposito, Elena Anaya, Michael Aronov, Gaite Jansen, Chris Backus, Gil Bellows, Jodie Turner-Smith, Gentry White, Violet McGraw, Lucy Walters, and Mustafa Shakir.
The official plot synopsis is as follows:
Jett stars Carla Gugino as world-class thief Daisy "Jett" Kowalski. Fresh out of prison, she is forced back into doing what she does best, and a cast of morally ambivalent, dangerous and eccentric criminals, from budding femme fatales to compromised law enforcers, are determined to exploit her skills for their own ends.
Let's take a look:
Slick, stylish, sexy, and mysterious – I love it! Jett clearly owes the wrong people a debt, and they're intent on using her skills to collect. In order to get out from under their thumb she's going to have to play their game while using her smarts to figure out their game and stay one step ahead of any threats and the inevitable betrayal.
What do you think? Jett is due to premiere on Cinemax on 14 June.
Last Updated: May 21, 2019