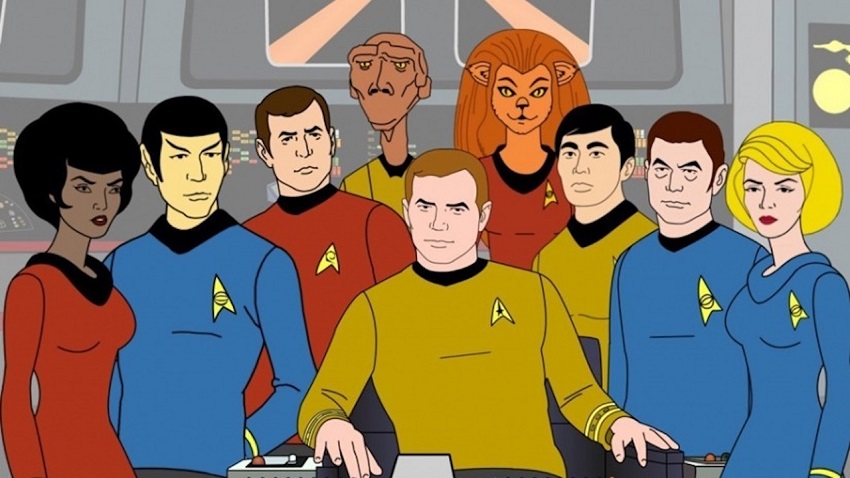 Following the success of Star Trek: Discovery's first season, CBS has been moving ahead on expanding their Star Trek offerings. This is all under the watchful eye of Alex Kurtzman who, as Kervyn told us a few months ago, would "supervise the expansion of CBS' Star Trek franchise for television, developing new series, mini-series and other content opportunities, including animation."
The first fruits of his labour were announced a couple of months ago when Nick told us that Patrick Stewart's iconic cap Captain Jean-Luc Picard would be returning to lead his own show, following after the events of Star Trek: The Next Generation. He tried to tell me about it but I wasn't paying attention because I was thinking about something else.
Well now we know how the Star Trek universe will be expanding once more, and it's with two words from the aforementioned quotation – "including animation". As per Deadline, CBS have given a two-season order to Star Trek: Lower Decks – an adult animated comedy "which will focus on the support crew serving on one of Starfleet's least important ships, the USS Kardashian*." Making it so will be Rick and Morty writer Mike McMahan, who's also worked on South Park and Drawn Together, so I think we can safely assume he knows something about adult animated comedy.
*Don't panic, they didn't say that part.
McMahan first got involved in the Star Trek universe officially in a bit of an odd way. He started a Twitter account in 2011 where he posted episode plots for a fictitious season of Star Trek: The Next Generation. This in turn lead to publisher Simon & Schuster hiring him to write a guide to this fictitious season titled 'Star Trek: The Next Generation: Warped: An Engaging Guide to the Never-Aired 8th Season'. He's also currently the writer for Star Trek: Short Treks, a series of four mini-episodes set in the Star Trek: Discovery universe featuring characters from the show, and which began airing on CBS All Access earlier this month.
Kurtzman said when announcing the new show and the tapping of McMahan to oversee it:
"Mike won our hearts with his first sentence: 'I want to do a show about the people who put the yellow cartridge in the food replicator so a banana can come out the other end.' His cat's name is Riker. His son's name is Sagan. The man is committed.

He's brilliantly funny and knows every inch of every Trek episode, and that's his secret sauce: he writes with the pure, joyful heart of a true fan. As we broaden the world of 'Trek' to fans of all ages, we're so excited to include Mike's extraordinary voice."
McMahan added:
"As a life-long Trekkie, it's a surreal and wonderful dream come true to be a part of this new era of Star Trek. While Star Trek: Lower Decks is a half-hour, animated show at its core, it's undeniably Trek – and I promise not to add an episode at the very end that reveals the whole thing took place in a training program."
Good, making the entire show exist in the stupid holo-deck would make me flip all the tables. I'm pretty curious to see what a modern adult animated comedy series set in the Star Trek universe looks like, because up until the movies and TV series that have reinvigorated the franchise over the last few years, I've always considered Star Trek to be a bit on the stuffy side – which does make it ripe for a series poking fun at itself. I suspect we're in for a bit of a wait though, I'd be surprised to see this before late 2019 the earliest.
What do you think?
Last Updated: October 26, 2018