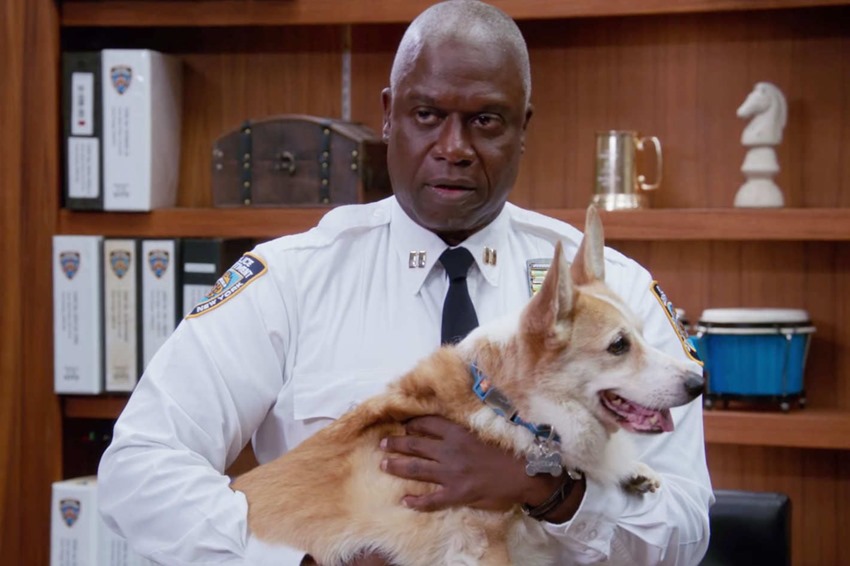 This is not the best reality to live in, is it? Our planet is on the brink of ecological disaster, there's an orange-skinned buffoon running around with access codes to America's nuclear arsenal and England is about to win the Cricket World Cup. Could things get any worse? Yes, yes they could because a bright and shining star has been snuffed out.
If you watch Brooklyn 99, then congrats! You have excellent taste in cop shows, what with Brooklyn 99 being filled with excellent actors, episodes and storylines that have matured over the years since the show went on air. One of its best stars has sadly passed on, leaving a massive void in the series that simply cannot be replaced.
Cheddar the dog, has cheesed it.
The companion of Captain Raymond Holt in Brooklyn 99, Cheddar was a delightful bundle of Corgie energy, stealing any scene he was in and even having a few episodes centered on his canine exploits. In the words and emotions of Captain Holt, I am utterly bereft with sadness currently. Utterly. Cheddar's real name was Stewart, and while he was unfortunately euthanised this week, his sister Stella will take over his role on TV.
Brooklyn 99, won't be the same without him, but his legacy lives on.
Last Updated: July 11, 2019