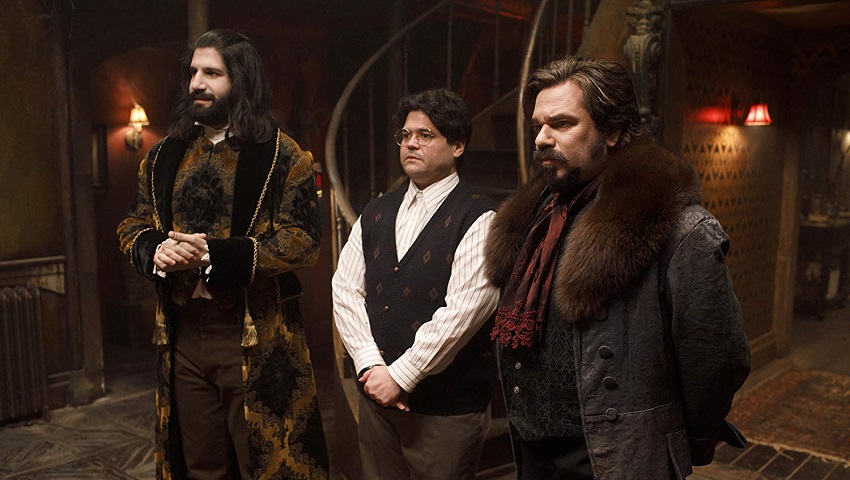 What We Do in the Shadows is the upcoming vampire comedy series that's, for those who don't know, based on the 2014 mockumentary of the same name which was written, directed by, and starred Jermaine Clement (Flight of the Conchords) and Taika Waititi (Thor: Ragnarock).
The series moves the action from Wellington, New Zealand to New York City in the US where it follows the trials and tribulations of a group (coven?) of vampires who struggle to fit in with modern life. It stars Kayvan Novak (Four Lions), Matt Berry (Toast of London), and Natasia Demetriou (Year Friends) as our fish out of water vampires, and Harvey Guillen (The Magicians) as their put-upon manservant and guide to the 21st century.
This series should also not be confused with Taika Waititi's upcoming New Zealand-based What We Do in the Shadows spinoff series, Wellington Paranormal, which stars Mike Minogue and Karen O'Leary.
The plot synopsis is as follows:
A look into the daily (or rather, nightly) lives of four vampires who've lived together for over 100 years, in Staten Island.
Wait. A fourth vampire? Who's the fourth vampire? Let's take a look:
An energy vampire!? Oh, that's good! I legit laughed at the introduction of that soul-crushing office monster (played by Mark Proksch, and who aptly enough appeared in The Office) who we all know and despise (hi Nick!), and I'm not even half-drunk.
After this trailer I think fans of the original movie can rest assured because despite the change in cast and shift in location, what made it great is still here – the deadpan delivery, the absurdist humour, and the whip-smart writing. None of that would matter if the cast weren't on point with their portrayals, and I didn't see anyone putting a foot wrong in that trailer.
This looks like an excellent addition to the TV comedy landscape. What do you think?
What We Do in the Shadows' ten-episode-long first season is due to premiere on FX on 27 March.
Last Updated: February 5, 2019