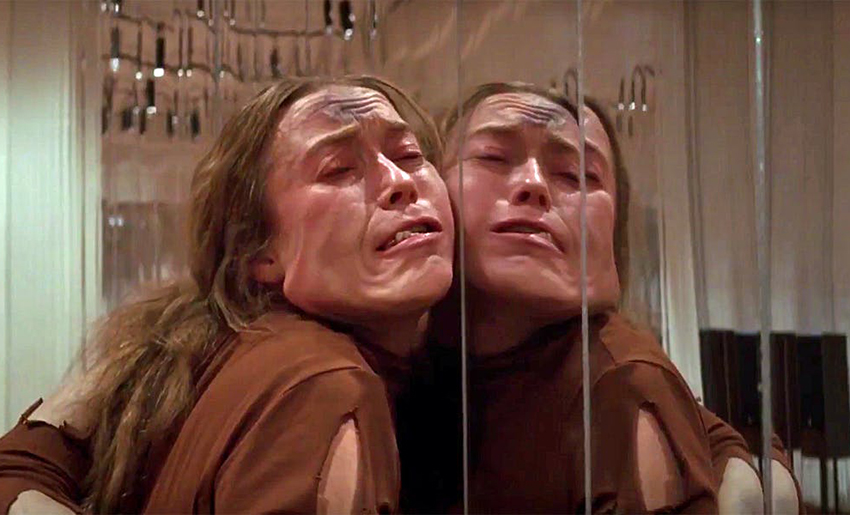 The first trailer for Suspiria, director Luca Guadagnino's upcoming remake of Dario Argento's 1977 horror classic, was, shall we say, unsettling. As creeptastic as that first preview was though, it simply pales in comparison to the latest trailer which plays out like a maddening descent into hell. And not just any hell. No, this is hell with dance routines *SHUDDER*
Seriously though, the latest trailer for Guadignino's film is simply one of the best I've seen all year, tightly edited as it escalates in nightmarish fervour. It gives a bit more story than before, but still maintains a huge air of intriguing mystery to the events surrounding Dakota Johnson's young American dance student as she finds that the elite Berlin academy she's joined may be haunted by more than just the disapproving glares of Tilda Swinton's dance director.
A darkness swirls at the center of a world-renowned dance company, one that will engulf the troupe's artistic director, an ambitious young dancer, and a grieving psychotherapist. Some will succumb to the nightmare. Others will finally wake up.
I've never seen Argento's original film (it's on my List of Shame, okay!), but from what I can see in this and the previous trailer, Guadignino – who shot to international fame last year with the four-time Oscar-nominated Call Me By Your Name – is crafting something that lives up to its predecessor's vaunted status. If the final film is even only half as intensely creepy as this trailer, then we should be in for quite the ride.
Along with Johnson and Swinton, Suspiria also stars Mia Goth, Lutz Ebersdorf, Chloë Grace Moretz, Angela Winkler, and Renée Soutendijk, and a batch of new character posters have now also been released for them and OH MY GOD IS THAT A BLOUSE MADE OUT OF HUMAN HAIR?!
Suspiria was written by David Kajganich and is scheduled for international release on 26 October but it will be premiering at the Venice Film Festival early next month when we can get the first proper reviews for it.
Last Updated: August 24, 2018