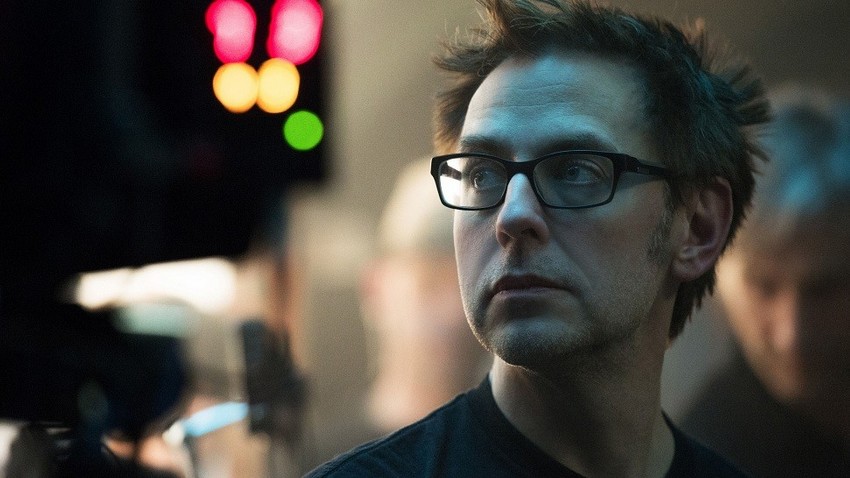 This weekend past should have been a time for Marvel's competitors to take the limelight as the comic book movie studio skipped San Diego Comic-Con for the year. A brewing story outside the convention halls seemed to dwarf all however after it was revealed that Marvel owners Disney had fired Guardians of the Galaxy filmmaker James Gunn after offensive tweets from nearly 10 years ago were unearthed. That it was a controversial convicted rapist conspiracy theory nutjob that did the unearthing is a story for another day, what is important here now is both Gunn's response to his dismissal and the fallout.
In his response, Gunn apologised and took responsibility for his past actions, accepting his dismissal. He also tried to explain though that he was a very different person back when he tweeted those offensive jokes (some of which referenced rape, paedophilia, AIDS, and more taboo topics) as he often tried shock tactics to get his name out there. Admittedly, since shooting to superstardom with Marvel's Guardians of the Galaxy in 2014, Gunn's public persona and work have indeed appeared reflective of that change in his personality as he has been very vocal about numerous social issues. This was also not some dark secret swept under his rug as in 2011 he spoke about this as well as part of an apology for another old social media post which had been considered homophobic.
And that change is why a large number of people are taking issue with Disney's handling of the matter, as many feel that the House of Mouse is sending the message that even if people better themselves, they will always be punished for the wrongs they once did. Guardians of the Galaxy star Dave Bautista was one of the first big names to speak out about this, tweeting out that he was "not OK" with what had happened to Gunn.
I will have more to say but for right now all I will say is this..@JamesGunn is one of the most loving,caring,good natured people I have ever met. He's gentle and kind and cares deeply for people and animals. He's made mistakes. We all have. Im NOT ok with what's happening to him

— Dave Bautista (@DaveBautista) July 21, 2018
In a series of tweets on his timeline, Sean Gunn, James' brother and the actor who motion-captures Guardians of the Galaxy's Rocket Raccoon and plays Kraglin in the comic book franchise, also revealed his dissatisfaction with what had transpired.
I hope it goes without saying that I love and support my brother James. And I'm quite proud of how kind, generous, and compassionate he is with the people in his life, whether they are friends, family, colleagues, fans, or strangers. Since he was a kid, it was clear he had a desire (maybe destiny) to be an artist, tell stories, find his voice through comics, films, his band. The struggle to find that voice was sometimes clunky, misguided, or downright stupid, and sometimes wonderful, moving, and hilarious.

Since devoting his entire life to the Guardians movies and MCU six years ago, I've seen him channel that voice into his work on those movies and seen him transform from the guy who made up things to shock people. I saw firsthand as he went from worrying about "softening his edge" for a larger audience to realizing that his "edge" wasn't as useful of a tool as he thought it was. That his gift for storytelling was something better. I saw that he was more open-hearted than the guy who needed to get a rise out of people by making nasty or offensive jokes (or whatever you choose to call them–I don't think his bluer material was ever his funniest and neither does Mom).

In many respects this change in my brother was reflected in the change that the Guardians go through. I've heard my brother say many times that when Quill rallies the team with "this is our chance to give a shit"–to care–that it's the pep talk he himself needed to hear. It's part of what made working on the Guardians movies such a rewarding experience for the cast, myself included. We managed to find ourselves involved in a big-budget superhero movie that was, at its core, deeply personal. That's a gift. And that's why it's good.

This isn't new information, by the way. It's all stuff that James has explained many times in interviews, in more detail and more eloquently. It's not some new spin. It's always been part of the story. So I guess my hope is that fans continue to watch and appreciate the Guardians movies, not despite the fact that the filmmaker used to be kind of a jackass, but because of it. They are, after all, movies about discovering your best self. Working on those movies made my brother a better person, and they made me one too. I'm proud of that. Peace.

Michael Rooker, Gunn's longtime collaborator from even before their Guardians days, issued a more cryptic response to the situation on Twitter simply saying "James Gunn knows. That's all that matters." However, that tweet has since been deleted with Rooker seemingly withdrawing from the social media platform soon thereafter with the following message.
2/2
This account will be inactive after today. We're very tired & upset over the ongoing BULLSHIT… neither I nor my rep will use Twitter again. Twitter sucks and I want nothing to do with it.

Thank you to all who gave kind words & support. See you on Instagram.
– MR pic.twitter.com/uAyIOPoAle

— MichaelRookerOnline (@RookerOnline) July 22, 2018
Guardians actresses Zoe Saldana and Karen Gillan both issued very short statements on Twitter, choosing to rather not say more until a later stage.
It's been a challenging weekend I'm not gonna lie. I'm pausing myself to take everything in before I speak out of term. I just want everyone to know I love ALL members of my GOTG family. Always will.

— Zoe Saldana (@zoesaldana) July 22, 2018
Love to every single member of my GOTG family.

— Karen Gillan (@karengillan) July 23, 2018
Just to clarify, I'll speak more on this later but just wanted to make sure that was out there. Love to you all.

— Karen Gillan (@karengillan) July 23, 2018
Meanwhile, Guardians lead Chris Pratt, who saw his life change irrevocably when Gunn cast the TV comedy actor as Marvel superhero Star-Lord and subsequently propelled him to Hollywood A-list status, quoted a Bible verse – notably from the book of James – as his only response thus far.
"Understand this, my dear brothers and sisters. Let every person be quick to listen, slow to speak, slow to anger."

JAMES 1:19
?♥️

— chris pratt (@prattprattpratt) July 22, 2018
Over the course of the weekend though, fans also stepped up with massive choruses of support. An online petition was started, asking Disney to re-hire Gunn so that he can finish the work on the upcoming Guardians of the Galaxy Vol.3 which was supposed to go into production early next year. Chandler Edwards, the petition starter, kicks off the call for support by stating that "I'm smart enough to know this most likely won't change anything but hopefully, this could get Disney to realize the mistake they made and not do it again in the future."
I agree on the point that if people say a bunch of stupid shit while working for a studio, the studio has full right to fire him over the possible controversy. This situation is very different though as he made these jokes years before he was working for Disney and also the fact that they were jokes. I agree with most, including Gunn himself that the jokes were shitty and un-funny but they were still jokes, it wasn't an opinion or a statement, it was just a bad attempt at being funny.

The other thing is if you do this to Gunn you have to do it for all the other directors who have said some crappy joke sometime in their life, which is all of them, cause I doubt there's one human on this planet who hasn't made a shitty joke once or twice in there life.
Since its creation on Saturday, the petition has gained over 146k signatures, with other Hollywood celebs like actress Selma Blair sharing it on their social media pages. Blair became one of the advocates of the #MeToo movement after she stepped forward with one of the many claims of sexual assault against director James Toback, and the actress revealed earlier in the year that it was Gunn and fellow Marvel director, Doctor Strange's Scott Derrickson, who had reached out to her and helped her get through that difficult time.
The Grey and A-Team director Joe Carnahan has also publicly called for people to sign the petition, while also retweeting several tweets directing criticism at Mike Cernovich, the alt-right activist who initially started this affair by unearthing Gunn's tweets.
Rape charge, check. Rape apologist, check. Homophobe, check. Wife beater, check. #MikeCernovich You now have my complete attention.@Disney you got duped by an alt right, rapist, wife beating homophobe. @jack any problem with these tweets?…None?#BanMikeCernovich pic.twitter.com/sAyCXTowlx

— Adam G. Simon (@AdamSimonactor) July 22, 2018
Bautista has also been retweeting all the shows of support that has since emerged and also spoke further about his feelings on the matter, addressing questions about whether he would boycott Guardians of the Galaxy Vol.3.
What will you do when the #cybernazis attack you? Who will stand by you? Who will cowardly distance themselves from you? Who will punish you for horrible JOKES in the past instead of defending you for INSPIRING millions? MILLIONS!!! #Redemption #injustice @JamesGunn

— Dave Bautista (@DaveBautista) July 22, 2018
What happened here is so much bigger then G3, @JamesGunn ,myself,@Disney etc. This was a #cybernazi attack that succeeded. Unless we start to unite together against this crap, whether people are offended are not! …it's going to get much worse. And it can happen to anyone https://t.co/AMZEd0tfqb

— Dave Bautista (@DaveBautista) July 22, 2018
One very serious sticking point for many of Gunn's critics is his friendship with Huston Huddleston, the American writer/director best know for The Greatest Show Ever. Earlier this year, Huddleston was arrested and pled guilty to a charge of possession of child pornography. What's most disturbing is that years ago Gunn had posted a video on his website which he had received from Huddleston titled "100 Pubescent Girls Touch Themselves". Since Gunn took his website offline though, the content of the video is uncertain, but The Daily Beast alleges it was just a joke vid that actually showed a chorus of ladies singing 1990s pop song I Touch Myself. Either way, Gunn's now deleted tweets at the time of the video stated "Huston Huddleston posted this video on my Facebook page with the note 'I thought you'd appreciate this.' My response: 'Appreciate it?!! I just came all over my own face!!'"
Bautista was asked about this contentious angle to the story and responded by indicating that just because they knew one another, does not mean that Gunn was complicit in Huddleston's crimes.
No I can't. But I can say that Jared Fogle came and did an episode of Raw once. We all met him. We all shook his hand. And not one of us knew that he was the scummy piece of shit that he is. Or do you think we all knew?!! https://t.co/t4grIufyMq

— Dave Bautista (@DaveBautista) July 22, 2018
This is a story that is still developing and will continue to do so for the immediate future as it is certainly a complex issue. Some have pointed out the hypocrisy in Disney's decision as their older animated movies from years ago are filled with offensive racial stereotyping. Personally, I think that Disney – irrespective of their own background – had very little choice here in their actions. As a corporate with an overwhelmingly family-friendly brand to protect, there was little else they could do except to let Gunn go, irrespective of how intrinsic he is to one of their biggest properties. How they did it though could have been handled better, as it was a dismissive, knee-jerk reaction that belied the complexity of the situation, and indeed seems to go against their own anthems personal growth and betterment.
Of interest though, is that we haven't heard a single word from Marvel themselves yet, specifically Marvel Studios boss Kevin Feige who gave the then indie-level Gunn his big break by trusting him with Marvel's most risky franchise to date. Feige has always done a great job of walking the fine line between being respectful of his higher-ups while also indicating if he was displeased with them, so it will be very telling to hear what he has to say about this situation in the coming days. We'll update you if that happens.
Last Updated: July 23, 2018