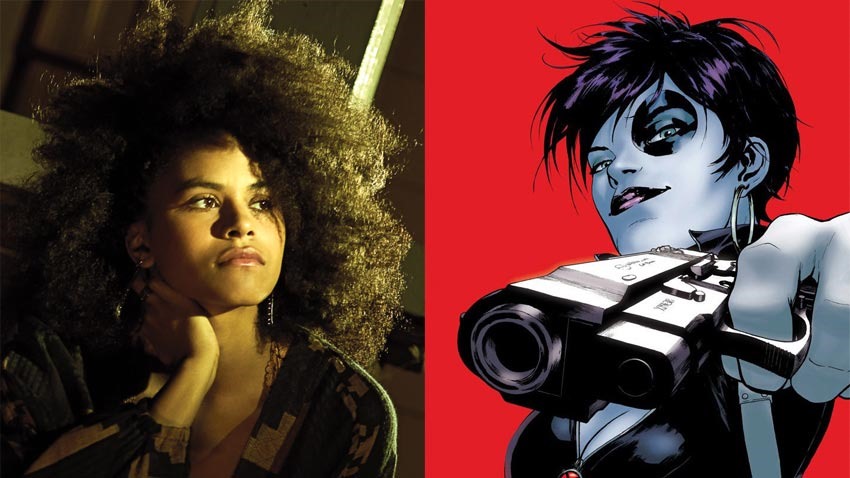 One of the hottest shows on TV right now is Atlanta, a show about two cousins working the Atlanta rap scene in an attempt to help their family. It's given actor and creator Donald Glover a massive boost in his acting cred, but with fame comes a price: The series won't be back until 2018 at the earliest, as Glover has acting commitments on a certain untitled Han Solo movie as the smoothest hustler in the galaxy, Lando Calrissian.
But there's always a silver lining to that kind of news, as that gap in filming a new season of Atlanta has given Glover's co-star Zazie Beetz the opening to star in Deadpool 2. Sounds kind of lucky right? Well that's apt, as Beetz will be suiting up as lucktastic mutant Domino in the sequel to the first film that starred Ryan Reynolds as a foul-mouthed mercenary who happened to have a face that resembled a KFC Zinger wing meal that had been abused.
The actual announcement came via The Tracking Board's Jeff Sneider:
RUMOR: I've heard that ATLANTA star ZAZIE BEETZ tested for the role of Domino in DEADPOOL 2 and the studio likes her. Show is on hiatus too.

— Jeff Sneider (@TheInSneider) March 9, 2017
Which star Ryan Reynolds confirmed later, in his own special way:
Domino Effect. pic.twitter.com/ILEnTcW7fY

— Ryan Reynolds (@VancityReynolds) March 9, 2017
So what makes Domino such a special character? Her innate mutant power basically works as a constant good luck charm, that results in the odds being ever in her favour as long as she happens to be in motion. Hence, the Domino effect. That's not only a great power that can compliment the more visceral nature of Deadpool's swords and guns approach, but it's also somewhat budget-friendly for a sequel that wants to drop minimum coin for maximum effort.
With that bit of casting out of the way, it's only a matter of time until we finally get an announcement on who the hell is going to be playing Cable. Which might be David Harbour according to the latest rumours, if Wade Wilson can ever get his bare ass out of the phone booth in time and stop yelling at Stan Lee that is.
Last Updated: March 10, 2017