There's a bumper crop of DVDs to round off the year. Eleven movies hit home entertainment from Ster Kinekor this December. There's South African drama and comedy, animated family fare, lighthearted romance, tech-horror and, most, importantly, two of the most stylish, visceral action movies released in 2017. So everyone is covered this holiday season.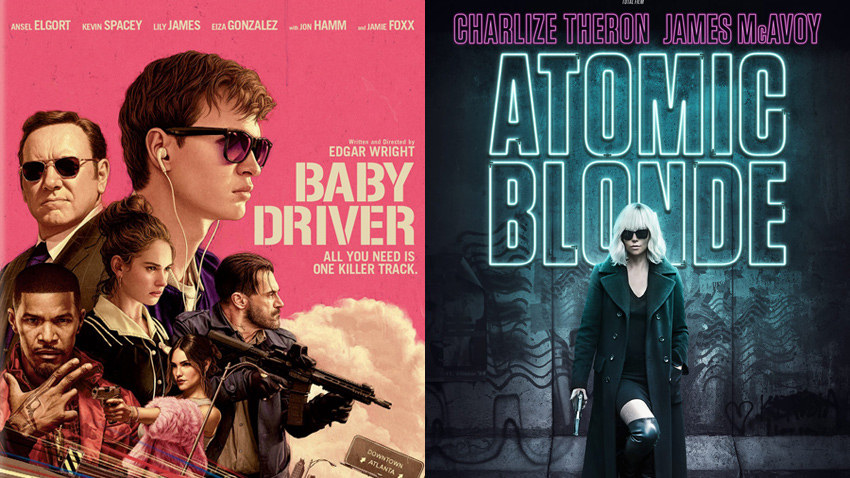 Baby Driver
Genre: Action / Crime
A talented, young getaway driver (Ansel Elgort) relies on the beat of his personal soundtrack to be the best in the game. When he meets the girl of his dreams (Lily James), Baby sees a chance to ditch his criminal life and make a clean getaway. But after being coerced into working for a crime boss (Kevin Spacey), he must face the music when a doomed heist threatens his life, love and freedom.
Stylish, smart and exhilarating, Edgar Wright's Baby Driver is an instant heist movie classic. It doesn't bother much with realism (the dialogue is especially stilted), but instead oozes coolness throughout. It's arguable there's never been a better pairing of action and soundtrack.
Critical Hit: 9.5/10
Rotten Tomatoes: 93%
Metacritic: 86
Atomic Blonde
Genre: Action / Thriller
The crown jewel of Her Majesty's Secret Intelligence Service, Agent Lorraine Broughton (Charlize Theron) is equal parts spycraft, sensuality and savagery, willing to deploy any of her skills to stay alive on her impossible mission. Sent alone into Berlin to deliver a priceless dossier out of the destabilized city, she partners with embedded station chief David Percival (James McAvoy) to navigate her way through the deadliest game of spies.
From the co-director John Wick, Atomic Blonde is the closest audiences have come yet to a female James Bond of the ice-cold Daniel Craig style. The movie unfortunately convolutes itself trying to appear smarter than it really is, but Charlize is excellent and the action is brutally intense.
Critical Hit: 7/10
Rotten Tomatoes: 76%
Metacritic: 63
Krotoa
Genre: History / Drama / South African
Krotoa, a feisty, bright, young 11-year-old girl is removed from her close-knit Khoi tribe to serve Jan van Riebeeck (Armand Aucamp), her uncle's trading partner. She is brought into the first Fort established by the Dutch East India Company in 1652. There she grows into a visionary young woman (Crystal-Donna Roberts) who assimilates the Dutch language and culture so well that she rises to become an influential interpreter for van Riebeeck who became the first Governor of the Cape Colony. As such Krotoa ends up being rejected by her own Khoi people and destroyed by the Dutch when she tries to find the middle way between the two cultures.
Afrikaans-language Krotoa has performed well on the international film festival circuit. It's apparently a highly pedigreed production inspired by the real-life story of South Africa's own Pocahontas. Sadly, it lacks nuance, and focuses primarily on the Dutch settlers as opposed to the Khoi community.
Logan Lucky
Genre: Crime / Comedy
Trying to reverse a family curse, brothers Jimmy (Channing Tatum) and Clyde Logan (Adam Driver) set out to execute an elaborate robbery during the legendary Coca-Cola 600 race at the Charlotte Motor Speedway.
Although it apparently suffers from some pacing issues and tonal imbalances, Logan Lucky is for the most part a breezy, blue-collar crime caper from acclaimed filmmaker Steven Soderbergh. Watch this one for its surprising sense of humour, and all-star cast – especially Daniel Craig.
Critical Hit: 7.5/10
Rotten Tomatoes: 93%
Metacritic: 78
The Son of Bigfoot
Genre: Animation / Comedy / Family
Teenage outsider Adam sets out on an epic and daring quest to uncover the mystery behind his long-lost dad, only to find out that he is none other than the legendary Bigfoot! He has been hiding deep in the forest for years to protect himself and his family from HairCo., a giant corporation eager to run scientific experiments with his special DNA. As father and son start making up for lost time after the boy's initial disbelief, Adam soon discovers that he too is gifted with superpowers beyond his imagination. But little do they know, HairCo. is on their tail as Adam's traces have led them to Bigfoot!
Coming from a European animation studio as opposed to one of the American biggies, The Son of Bigfoot is still pretty solid entertainment for younger children (and parents forced to watch with their kids). The production values are high, helping to make an undemanding story more palatable.
Rotten Tomatoes: 75%
Home Again
Genre: Romance / Comedy / Drama
Recently separated from her husband (Michael Sheen), Alice (Reese Witherspoon) decides to start over by moving back to her hometown of Los Angeles with her two young daughters. During a night out on her 40th birthday, Alice meets three aspiring filmmakers who happen to be in need of a place to live. Alice agrees to let the guys stay in her guest house temporarily, but the arrangement ends up unfolding in unexpected ways. Alice's unlikely new family and new romance comes to a crashing halt when her ex-husband shows up, suitcase in hand.
There's a lot of romcom talent involved in Home Again, both in front of and behind the camera. Even with that pedigree, though, it's not remarkable. Nice and diverting for 97 minutes, sure, but it's fantasy fluff for middle-aged women – and completely devoid of authentic commentary on relationships.
Rotten Tomatoes: 31%
Metacritic: 41
Vaselinetjie
Genre: Drama / South African
Vaselinetjie (Marguerite van Eeden), a white girl is raised by her loving brown grandparents (Shaleen Surtie-Richards, Royston Stoffels) in a remote rural village. When the welfare finds out that she is not their biological grandchild, they send her to an orphanage in the far away city of Johannesburg.
Based on the multi-award-winning Afrikaans novel, Vaselinetjie is evidently one of this year's standouts in terms of local cinema. The film performed unusually well at the South African box office (even in limited release), and has been praised for its quiet, contemplative naturalism when it could have easily slipped into melodrama.
Van Der Merwe
Genre: Comedy / South African
In every country there is a person who is the butt of all jokes. In Ireland it is Paddy, in Israel it is Hymie, in South Africa, that person is Van der Merwe (Rob Van Vuuren) – this is his story. Set on the Van der Merwe farmstead, the story centers on Van's daughter Marike who returns home from a gap year in England with her new fiancé George, a British boy who is studying to become a doctor. This creates all sorts of problems and challenges for Van as he tries to come to terms with the fact that his daughter is marrying an Englishman.
In development for over a decade, Van Der Merwe was intended to be South Africa's answer to "idiot protagonist" comedies like Ace Ventura and Talladega Nights. Weirdly, though, instead of a local Dumb & Dumber, Van Der Merwe is yet another My Groot Vet Plaas Troue. Harmless, but a disappointingly toothless effort.
Bedeviled
Genre: Horror / Thriller
Five friends are terrorized by a supernatural entity after downloading a mysterious app.
Just in case you feel the craving for another Ring clone, there's this little known horror film about an evil Siri. Although there aren't enough reviews for a Metacritic or Rotten Tomatoes score, Bedeviled is evidently…. okaaay. It's riddled with cliches but not without modern genre sensibilities.
Kill Switch
Genre: Science fiction / Horror
Set in a future version of the world, the video game-style plot follows an experiment for unlimited energy, harnessing parallel universes, which goes wrong. Chased by drones and soldiers, pilot and physicist Will Porter (Dan Stevens) must race through an imploding world to get the Redivider box to a tower, which will save humanity, including his family, in the real world.
If you already think hand-held found-footage movies are irritating, Kill Switch is one to avoid. Not only is it narratively incoherent but it tries to be both a conventional science fiction movie and CGI-intensive first-person shooter. Ambitious on paper, it doesn't work at all in reality.
Rotten Tomatoes: 11%
Metacritic: 31
Armed Response
Genre: Action / Horror
A team of special forces soldiers approach the designer of a high-tech military compound to investigate the disappearance of another team guarding the facility. The compound, known professionally as a Temple, is an artificial intelligence powered facility designed for interrogating high level prisoners. Upon entering the Temple, the soldiers quickly find the earlier team horrifically slaughtered but no evidence as to who is responsible. Almost immediately upon arriving, the crew begins to experience strange and horrific supernatural phenomena as they attempt to uncover who killed the previous team. Wesley Snipes and Anne Heche star.
Produced by the WWE, Armed Response is one of those notorious movies to end up with 0% on Rotten Tomatoes. Although the premise has promise, the end result is supremely disappointing. The film's stars phone it in, the pacing lags, and, sadly, it's not even bad enough for a laugh. Dull, dull, dull.
Rotten Tomatoes: 0%
Metacritic: 13
Last Updated: December 11, 2017