2014's Godzilla was somewhat light on Kaiju spectacle, but when the king of the monsters made an appearance, you just knew that some serious devastation was about to go down. This year's reboot of King Kong however, is a bit of a different beast and I ain't talking fur over scales. There's a completely different atmosphere at play here, a film set in the afterglow of a humiliating retreat of American forces out of the jungles of the Vietnam War and towards something far, far worse: Kong.
"The first thing I wanted to do was have Kong be a classic movie monster and to walk upright, with the nobility of a god. I also wanted to give him a quality of sadness," Kong: Skull Island director Jordan Vogt-Roberts explained of the influences behind the biggest onscreen incarnation of the great ape to date.
In some ways, our Kong is a throwback to the classic 1933 film King Kong, with an exaggerated brow, big eyes and other exaggerated features.  I wanted him to be iconic, fearsome and godlike. 
It's not just monkey business at play here however! Kong: Skull Island has a helluva cast attached to the film, which includes a certain trickster in the lead role as Conrad, a survival expert who really wishes that he had asked for more money before he accepted the Skull Island tour gig. "Tom [Hiddleston] is amazing because he is one of the most committed actors I have ever known or worked with," Vogt-Roberts said of the casting which also includes Samuel L. Jackson, Brie Larson and John Goodman.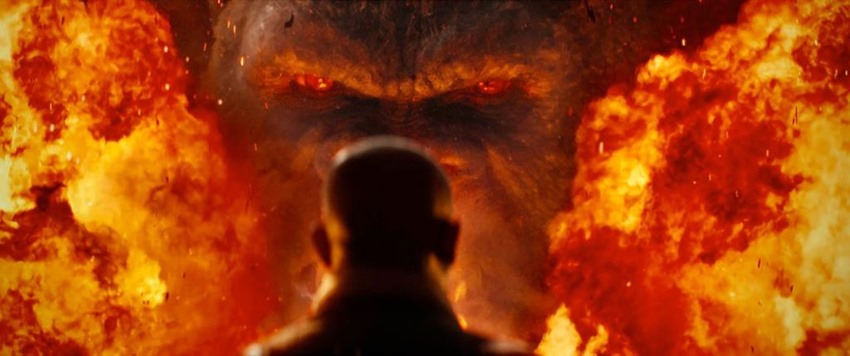 He genuinely wants things to be great.  He cares so much, not just about that movie, but about the medium and the art as a whole.  He has that burning flame in him that forces him to do this. It's rare to find people like that.  It's a great thing to have a cast like this.  I was very, very honoured and fortunate. When I make a movie, I like to build a family of actors and crew.

Going off to make a movie can be a huge undertaking, so it's important to find people that become your brothers and sisters-in-arms and your compatriots.
Any movie featuring Vietnam War influences requires two crucial ingredients: A recognisable soundtrack that defines that wild decade and Bell UH-1 Iroquois combat helicopters, otherwise known as the iconic Hueys that filled the sky of that era.  Both ingredients are present in Kong: Skull Island, but don't expect to see the Hueys in the air for too long, as Kong takes a certain disliking to them.
We had three flying helicopters.  It was important for the actors to have that particular experience in those helicopters," Vogt-Roberts said of the scene where the cast barely survives a crash-landing when Kong swats the intruders out of his airspace.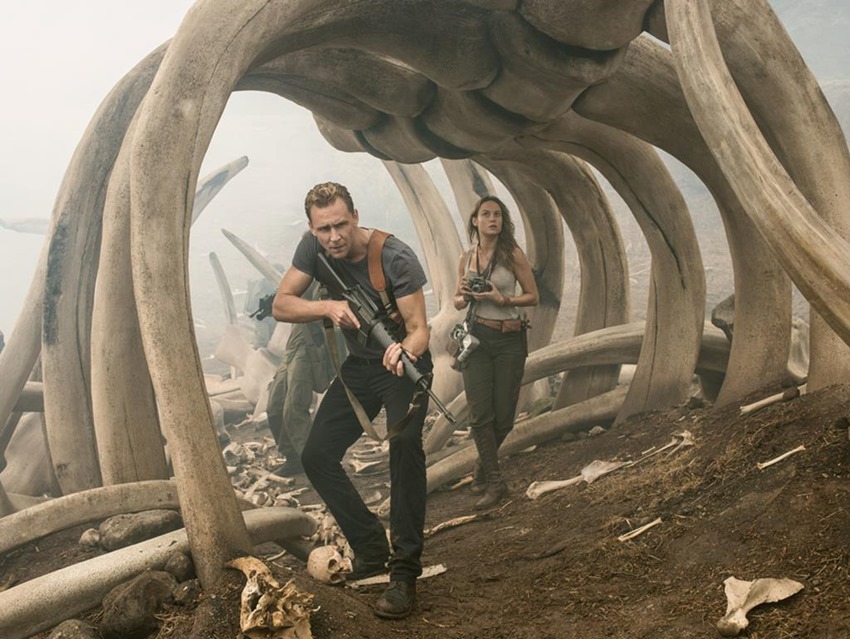 I like to do as many things that are as immersive as possible, because that goes back to what I said about building a family.  I want them all to have a camaraderie, where we're all in the trenches together. Some of the actors had to sit out on the side of the helicopter, strapped in with only one belt. It was important for them to understand the reality of what they were getting into. Plus it's one of the few perks on the job where you can say, "I flew a helicopter today!" [Laughs]
Kong: Skull Island is out on March 10. And in case you missed it, here's the final and grooviest trailer for the film that is ready to lock and load.
Last Updated: March 6, 2017