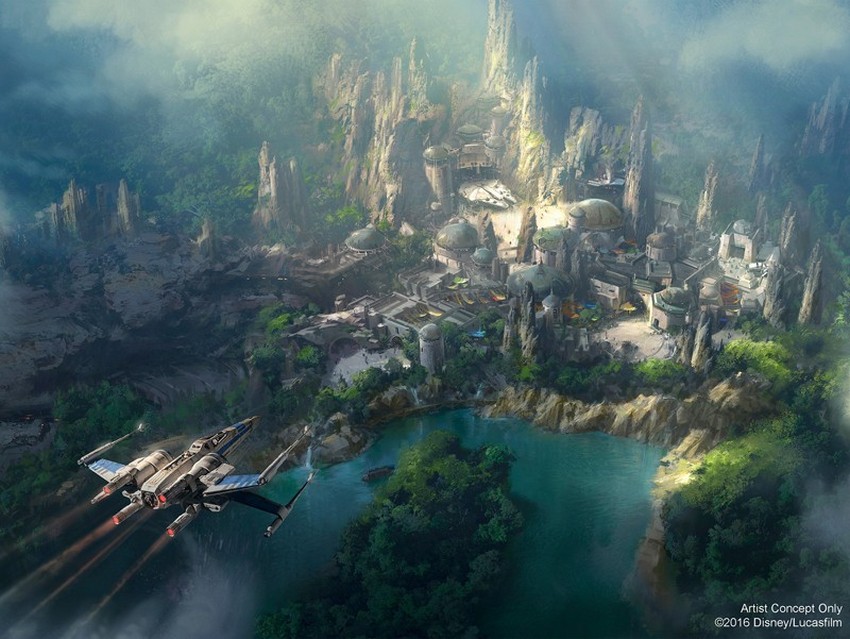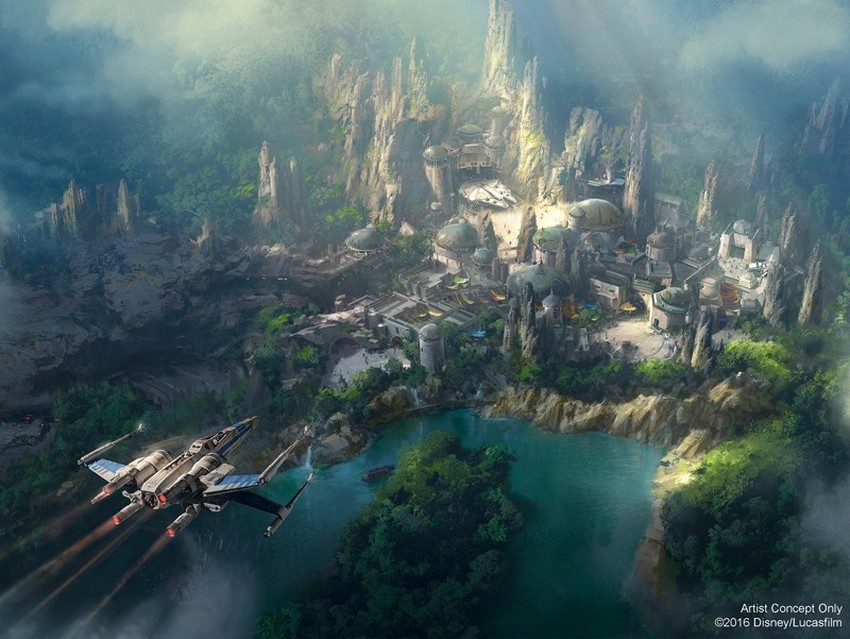 I have a dream. This dream has nothing to do with judging people by the content of their character but instead is something rather ridiculous and far-fetched: I want to pilot an X-Wing starfighter. The fact that an X-Wing fighter is a made up spacecraft in Star Wars has always been a rather large bump in the road when it came to realizing this geeky dream. Please note though, I said it has been. Past tense.
For a while now we've been hearing that Disney is working on a brand new Star Wars attraction at their Disneyland Resort in Anaheim, California. As is typical with everything Star Wars though, the House of Mouse has been keeping things very hush hush. All we've really known for sure about this new attraction is that it will be bigger and more elaborate than anything Disney has ever done. And now, after finally getting a proper glimpse of this "Star Wars Land", I can clearly so how it will live up to that description.
During a panel discussion at this past weekend's Star Wars Celebration, as well as an entry on the Disney Parks blog, we got some new details of this park which will apparently be a living world set in the Star Wars universe that people will be able to visit. While the actual name of this world is still being kept under wraps, it definitely sounds like a Star Wars fan's fantasy come to life.
The team shared exciting new details about the story behind this mysterious destination somewhere on the Outer Rim — lying on the edge of the Unknown Regions. The remote village was once a busy crossroads along the old sub-lightspeed trade routes, but the prominence of the outpost has been bypassed with the rise of hyperspace travel. Now home to those who prefer less attention, it has become a thriving port for smugglers, rogue traders and adventurers traveling between the frontier and uncharted space. It's also a convenient safe-haven for others intent on avoiding the expanding reach of the First Order.

Unusual characters from across the galaxy have landed here, preferring the "no questions asked" environment as well as easy access to exotic supplies and an abundant supply of ready rogues looking to join a crew for their next adventure.
This won't just be a lame mockup space-village that you merely walk through though, but rather a full interactive experience spread across 14 acres – the largest single-themed attraction that the Disneyland resort has ever had. According to Chris Beatty, Executive Creative Director Walt Disney Imagineering, this is "the most ambitious project I've ever seen in the history of Walt Disney Imagineering." And if you don't believe that hyperbole, then check out this new video that gives you a look at what visitors can expect.
That looks incredibly cool. I've wanted to visit Disneyland as far back as I can remember, and this addition has now just pushed that longing into hyperspace. As a Star Wars uber geek for most of my life, this sounds like my ultimate fantasy holiday destination (apologies to my wife, but that 10-year anniversary Paris vacation is going to have to wait). And its not even that far off as Disney has revealed that the Star Wars attraction will be opening its doors in 2019.
And before somebody mentions it, yes, nowhere in that video does it actually say you will get to pilot an X-Wing, but look at some of the concept art below and let me have my completely irrational dream, damn it!
Last Updated: April 19, 2017